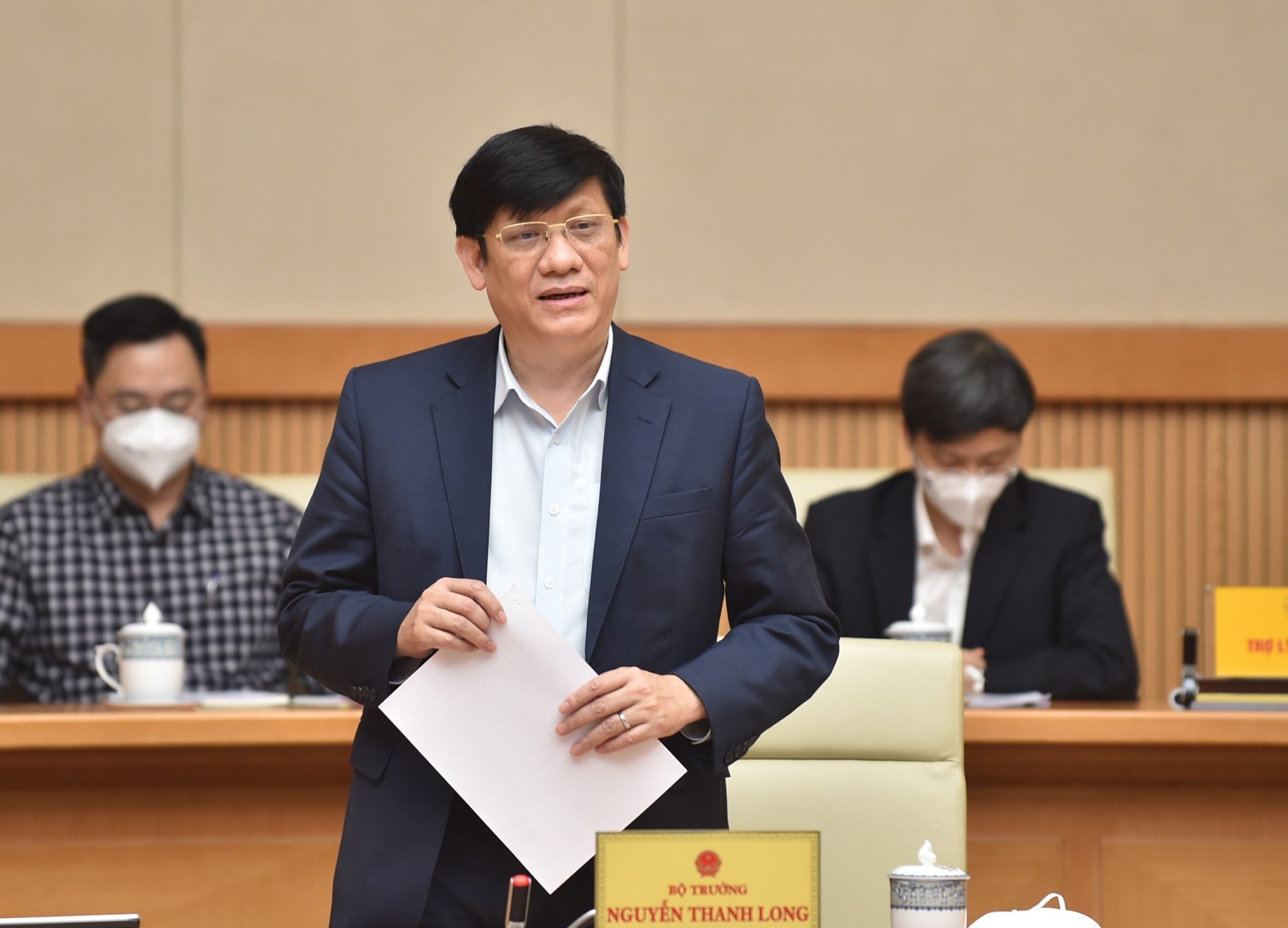 Minister of Health Nguyen Thanh Long
MOH assigns one medical worker to 30-50 Covid patients at home
The Ministry of Health has asked grassroots healthcare units to care for Covid patients at home. One medical worker will be in charge of 30-50 patients or more.
Prime Minister Pham Minh Chinh on December 16 spoke at an online meeting with all 63 cities/provinces about the increase in number of community transmitted cases.
He asked participants at the meeting to focus on solutions to speed up vaccinations.
"Our target is completing vaccinations for people aged 18 and over by December 15. But today is December 16 and the plan has not been fulfilled," he said.
Chinh also asked to speed up vaccinations of children aged 12-18 to pave the way for them to return to school.
Local authorities need to estimate expenditures on pandemic prevention and control so calculate resources needed in 2022.
Chinh stressed the need to reopen the economy and safely adapt to the new conditions. Cities and provinces need to assess the situation, report their difficulties and make clear proposals. Expanding vaccination coverage is a must. Most of the severe cases are unvaccinated or the patients with underlying health conditions.
The ministry explained that Delta is a contagious variant, which led to an increase in the number of infections, severe cases and deaths. This caused overloading at healthcare systems in some localities. In addition, there is now a shortage of medical workers. Many workers have resigned because of the pressure.
A local newspaper reported that nearly 1,000 medical workers quit in January-October.
The nutrition regime for severe cases has a budget of only VND80,000/head/day, not enough for intravenous feeding for critically ill patients.
Drugs for treatment
The Ministry of Health (MOH) said Vietnam has enough drugs for treatment, including 46 drugs prescribed. As for antiviral drugs, MOH has mobilized all resources to provide enough drugs for treatment.
MOH has allocated 514,000 vials of Remdesivir to localities and there are 1.1 million vials in stock. As for Favipiravir, the ministry has allocated 1,750 tablets and has 250,000 tablets in stock. Vietnam expects another 1 million tablets in 2021.
As for Molnupiravir, MOH said it is still under trial stage in Vietnam and other countries in the world. The ministry has allocated 6.5 million tablets under the framework of the pilot program and it has 4.5 million in stock.
The grassroots health system plays a major role as a first-line defence against Covid-19 and it needs to be strengthened in response to the pandemic. One medical worker will be in charge of 30-50 patients or more. 
Thu Hang
In a document sent to the People's Committees of cities and provinces, the ministry asked F1 cases to self-isolate at home within seven days and self-monitor their health for the next seven days. 

People wishing to enter Vietnam will be quarantined at home, a hotel, or other forms of accommodations for three days in the event that they have already been fully vaccinated or have recovered from COVID-19.