Helping others helps themselves, volunteers learn
VietNamNet Bridge – Everybody likes receiving a gift while many enjoy giving a gift because it makes them feel good.
VietNamNet Bridge – Everybody likes receiving a gift while many enjoy giving a gift because it makes them feel good.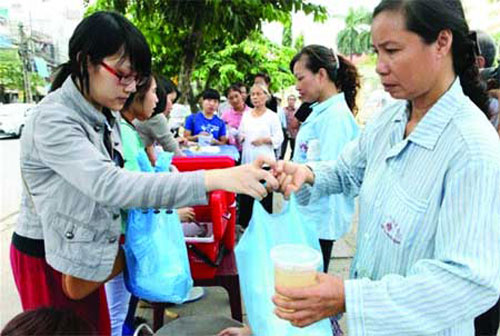 Reaching out: Young volunteers sell affordable meals to poor patients and low-income workers.
Giving also enables the giver to say "thank you" and show respect to the recipient.
For Bui Quang Long, 30, his motive for giving springs from a deep-rooted empathy for disadvantaged groups, as well as the joy and fulfillment he feels whenever he does something good.
It has been more than two years since Long and his peers have begun selling rice meals worth VND5,000 (23 US cents) each to migrant labourers and patients in Ha Noi's poorest and most depressed areas.
Through this act of giving, they want to show that they care enough to help reduce the burden in life that the disadvantaged are struggling to carry, with their meager wages and their inability to keep up with the rising cost of living.
To get involved in the business of charity, Long and other team members at the Ha Noi Volunteer Club have to develop effective lifestyle habits, including waking up early no matter how hot or cold the weather is.
They change from night owls to early birds to catch the proverbial worm at a wholesale market, where they buy fresh food. Later, they cook the food, carry out other kitchen chores, pack the food in spill-proof containers and carry them on motorcycles to places where the food is to be sold.
Working from a deep sense of sharing with the disadvantaged has motivated them to call upon their friends and relatives to donate money to help pay for cheap meals.
It is not surprising that students usually find it hard to donate in cash or kind but find it easy to spend time and energy in helping others.
"No one living in this life is able to enjoy complete happiness, though some people may be more fortunate than others. Since I am fortunate to have enough money to cover for the basic needs of my family, I now want to help those who are less fortunate," Long explained when asked about his motive for giving to others.
An information technology staffmember at the Le Duan Young Pioneers School, Long became an unwilling leader of a project that the Ha Noi Volunteer Club initiated. The project aimed to sell healthy food to the poor and to hospital patients.
His proactive approach of making a model to accomplish a goal rather than waiting for others to make it happen had earned for him much respect and admiration from the group. For this reason, he was chosen group leader for project implementation, though he did not really want the role simply because he had no experience in raising funds, managing a group and finding interested volunteers.
Yet his strong desire to help the poor and find out if he could get the job done made Long accept the offer. Perhaps, he thought, it would be too much for him to think of raising funds from the community to run a charity, so he used his entire VND10-million ($476) savings for it.
Fortunately, his desires have found an echo in hundreds of young volunteers who have accompanied him in the charity work in the past two years.
Long has also received long-term support from his parents, who have allowed his group to use their 40sq.m house to do the cooking on Sundays.
Heart-warming deeds
One thing is certain - the group's charitable behaviour has benefited numerous recipients.
At noon on Sundays, at either end of Mai Dong Bridge, street vendors, motorcycle taxi drivers and masons, among others, are often found standing in a queue behind a small table waiting for their turn to buy rice meals from a mobile food stall.
At the front of the stall, a banner displays the message: "Rice meals worth VND5,000 each are available for labourers, patients and poor students."
Though no one talks with others about their feelings, they all look and feel cheerful. Their realised hopes of saving a small amount of money every Sunday has, in effect, become completely necessary, especially in a time of economic recession.
This sort of cheer tends to multiply as low prices do not necessarily mean low quality. Menus of the day are quite appetising and usually include steamed rice, pork with fish sauce and fried tofu with green onions, as well as vegetables, roast peanuts and vegetable soup with minced pork.
Porter Dang Van Quang revealed that he had become a frequent customer because he could easily afford a nutritious and delicious meal.
"I think young people at the stall are thoughtful towards others and are doing a very good job. While many shops are selling food at expensive prices, the young people are raring to use their own pocket money or raise money from their relatives to help poor people like me. It is noteworthy," Quang said.
Joining some customers, Quang had opted to eat in a hurry by the roadside while others preferred to bring their lunch to private places along the road before resuming the day's work.
Carefully placing her rice meal in a plastic bag hanging from the handlebars of her bicycle, Nguyen Thi Hong, 46, spoke in a low voice: "I only have a small, plain baguette for lunch on normal days. Sometimes I treat myself to rice, tofu and vegetables which normally cost me VND12,000 ($0.57), though the food vendor seems unwilling to welcome me because she knows I am poor."
But when she heard about the mobile food stall that was selling cheap meals to street vendors like her, Hong became a regular.
"They cook so well that I can eat two portions of rice at once. It is good that low-income earners can buy their lunch here. Their kindness has warmed our hearts and has been greatly appreciated," Hong remarked as she wiped beads of sweat from her face with her hands.
To help poor labourers and patients in the city's poorest areas buy cheap meals, the group has also opened mobile stalls along Van Don Street and near Thanh Nhan Hospital, Ha Noi Lung Hospital and Ha Noi Tumour Hospital. After two years, the stalls have sold about 20,000 meals to the disadvantaged.
Long believes that the way one gives a gift is more important than the actual gift itself, so he often reminds his team not to make clients feel inferior when buying cheap meals.
"Indeed, it is the giver, rather than the recipient, who reaps the biggest psychological gains from gift-giving. Because of this, the givers should serve the recipients instead of expecting gratitude from them," Long recalled telling them.
Lay institutions and pop psychology had driven Long and his group to believe that they could survive on self-reliance. But this is not always true.
Though they have tried their utmost to generate their own resources to do charity work, funding constraints forced them to cut down portions of rice served from 350 to 120.
Even so, their charitable deeds have not gone unnoticed, as the group was recently admitted to the Ha Noi Youth Association, a prestigious social organisation of Ha Noi youth, in recognition of its contributions to the well-being of disadvantaged groups and the involvement of numerous young people in charity work.
"Their charity business is quite significant and transparent. Donors can access all details about their contributions and how their money has been spent on their Facebook page. Long and his friends are able to do so because they are devoted and responsible citizens," observed Nguyen Sy Truong, former association chairman.
No matter how much Long and his peers have achieved, they are never satisfied with what they have done.
Recalling the predicament of a 14-year-old boy who suffered leukemia and had to eat instant noodles for a month until his death, Long could not hold back tears as he believes it was the responsibility of his group to give the boy free, nutritious and delicious meals.
"His parents were so busy earning a living to pay for their son's hospital fees, so they could not afford to buy him good meals. To prevent similar cases from happening again, the group will provide free meals to the most vulnerable children at the National Institute of Hematology and Blood Transfusion from next year," Long said.
Source: VNS