VietNamNet Bridge – Malnutrition can occur in people of all ages. Yet awareness of malnutrition is low among the general public, leaving the hidden epidemic under-recognized and under-treated when it comes to adults, elderly people and even patients. The consequences are not only poor health outcomes but also a rising cost of healthcare.
The troubling truth
Recent research has showed that 45% of patients falling down in hospital are malnourished, while one in every three hospital patients diagnosed malnourished experience a further decline in nutrition status during their hospital stay.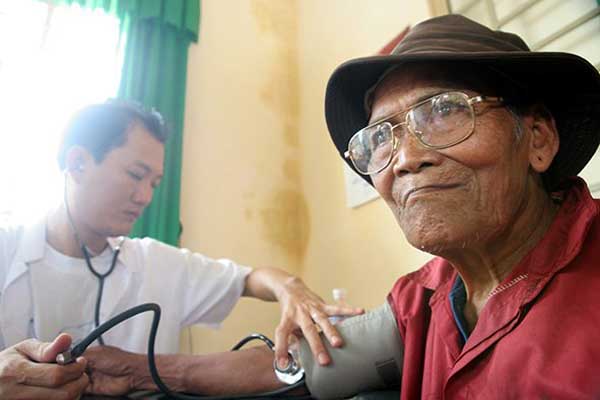 A doctor examines an elderly patient at a hospital in HCMC. Studies show nutrition care can be an efficient help for patients who face undernutrition
According to studies and experts, malnutrition can bring an increase in the risk of surgical site infection, cause pressure ulcers, and decrease wound healing, among others. These severe adverse effects on health outcomes, undeniably, will lead to a significant healthcare expenditure in long term. Otherwise, patients with malnutrition have to spend more on healthcare.
In Vietnam, the situation is even worse since prevalence of inpatients with malnutrition accounts for 56-78%. It is not to mention that local patients are currently facing the burden of rising hospital cost.
According to the General Statistics Offices, CPI in the first eleven months of 2014 averaged out at 4.3% compared with the same period last year. Among that, the pharmacy and healthcare group experienced a higher increase in these eleven months, averaging out at 5.65% compared with the same period last year. Before that, in Hanoi, the cost of healthcare services has risen 20% since August.
Hence, not only policymakers and medical experts but also most patients find themselves reluctantly challenged to find a sound solution which can reduce treatment time and associated cost.
Alleviating malnutrition - not that hard
Despite a variety of drawbacks in terms of health status and expenditure mentioned above, it is still hopeful to know that malnutrition can be treated and highly preventable. Several studies have proved that nutrition care can be an efficient help for patients who face undernutrition.
Accordingly, attention to nutrition during a stay in a hospital or long-term care facility is vital to quality care; post-discharge nutrition planning and follow-up care are likewise essential. Indeed, results of an ever-growing number of studies have shown that proper nutrition care can improve patients' clinical outcomes and reduce health care costs.
Abbott, a global healthcare company, is leading the way in clinical nutrition health economics and outcomes research with insights to look for ways to effectively address health issues while reducing costs. One of its studies, "Effect of Oral Nutritional Supplementation on Hospital Outcomes," was published in the American Journal of Managed Care.
Findings from 11-year (2000 - 2010) database of the study on a retrospective analysis of nearly 44 million adult inpatient episodes also show that adequate oral nutrients consumption provides not just better personal nourishment, but also benefits in remarkable savings up to US$52.63 per individual. This net amount of cost-saving can be added up to US$929,000 when applying this treatment to a hospital with 20,000 annual admissions.
Recently, feedM.E., developed by an international advisory board of leading nutrition experts, in partnership with Abbott, has introduced its new research that aims to improve nutrition care as well as decrease the prevalence of malnutrition around the world, including Vietnam. The Nutrition Care Pathway, recommended in the paper, makes identifying malnutrition simple by asking three key questions: 1) Are you sick or injured? 2) Have you lost your appetite? 3) Have you lost weight without trying? If a person answers 'yes' to any two of these, the patient is at risk for malnutrition.
"Tools which can help to screen hospitalized patients for malnutrition or risks are really essential. From that, healthcare providers can assess the nutrition status of patients and develop appropriate treatment to help them recover faster and reduce the hospitalization cost," said Dr. Nguyen Huu Toan, former head of the Nutrition Department at Cho Ray Hospital.
SGT/VNN