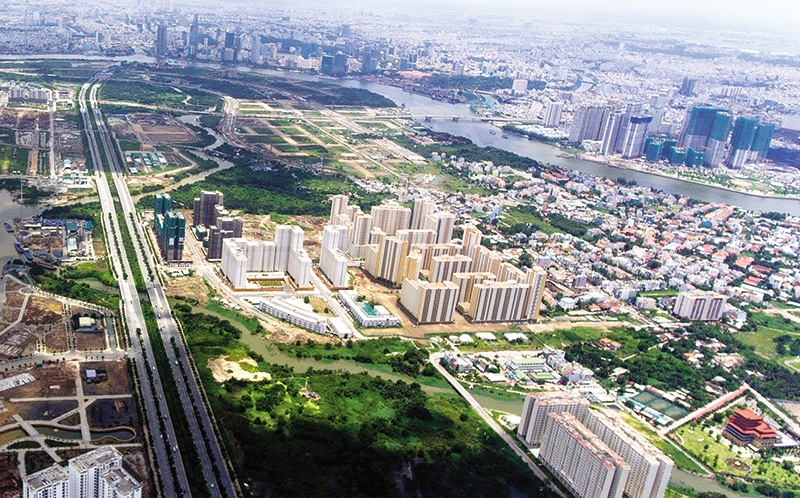 Projects from high-rise apartments to a safari park are on the lookout for funding

Paths to choose investors under current legal framework
- Decision or written ­approval of investment ­policy (based on the laws on Investment and Housing) for projects that ­investors have legal land-use already.
- Auction of land-use rights (based on the laws on Land Law and Property Auction) for projects located on clear land and compensated areas and projects which have assets on the site, and those assets are under state ownership.
- Bidding to select investors (based on the Bidding Law) for projects located in highly-valued land areas which need to be given into selection in order to build new urban areas, commercial housing and service projects, and multi-­functional complexes.
- Public-private partnership (based on the Bidding Law) in cases of projects with contracts between competent state agencies and ­investors to construct, ­renovate, operate, manage, and provide public services.

Ho Chi Minh City is offering a list of major projects which ­desire investment, with some already ­attracting ­interest from ­foreign investors.

Thu Thiem Financial Centre, located in Thu Thiem New Urban Area of District 2, estimated at VND5 trillion ($217.4 million) of investment capital, is one of the most attractive projects.
According to the Ho Chi Minh City Department of Planning and Investment, ­potential investors of the ­project should directly contact the Thu Thiem Management Board for further information.
Expected to be constructed from this year until 2021, the scheme will develop two high-rise towers with an expected height of between 20 and 50 storeys. When completed, Thu Thiem Financial Centre will be home for financial institutions, banks, investment funds, and other economic groups.
Land compensation has been completed at the site and many investors have registered to take part. Among them are domestic REE Corporation, Ho Chi Minh City State ­Financial Corporation, and a joint venture between 216 JSC and Van Phu Invest.
Meanwhile the initiative is also on the radar of foreign ­investors such as American-based Steelman Partners, and a joint venture between ­Australian group Sakkara and Singaporean group GIC.
The Ho Chi Minh City People's Committee has ­also approved procedures for a list of 160 projects which can be developed over the next year.
Dai Quang Minh Real ­Estate JSC was approved for setting up an infrastructure ­system for three projects in Thu Thiem New Urban Area.
The $1.42 billion urban ­development area in Binh Quoi-Thanh Da was also ­recently seeking new investors after the withdrawal of ­previous developers, a joint ­venture between Bitexco Group and Dubai Emaar ­Properties.
The Binh Quoi-Thanh Da Urban Area project is the ­second-largest urban development project in the city after Phu My Hung Urban Area, but it has been in a stalled state for 18 years.
Another project highlighted is the $500 million Saigon Safari in Cu Chi district on the outskirts of the city. This project is now on the list for calling for investors after ­Vingroup withdrew from it ­recently, claiming that it is ­required to focus on its core business.
High potential for investors
According to Le Thi Huynh Mai, director of the Ho Chi Minh City Department of Planning and Investment, the city so far has offered plenty of advantages for investors.
"We are all aware that ­improving the business ­environment is one of the most important issues for us to lure investors," Mai said. "We have simplified ­procedures, offering enough legal frameworks, as well as ­incentives for foreign developers."
She analysed that one of the most difficult parts for those implementing their projects was the barriers on land clearance and compensation.
"Local authorities have been struggling to keep up with their land clearance and compensation commitments and they have been looking for ways to shorten the process," Mai said.
All of these projects, Mai added, were attractive for investors. The problem was how to implement them in the most effective way.
According to Nicolas ­Audier, co-chairman of ­EuroCham Vietnam, many ­European companies have chosen Ho Chi Minh City for investing. "This proves that Ho Chi Minh City is a magnet for foreign investors, even though the city authorities still have many things to do to improve its investment environment," Audier said.
There are many major fields in which foreign investors could join, Audier added, including real estate, urban planning, infrastructure system improvement, setting up smart and innovative cities, and green development.
Bottleneck breakthrough
In an effort to push up the urban development of the city, the local authorities have recently approved permits of 124 projects which were previously suspended for investigations and inspections.
The Ho Chi Minh City Real Estate Association (HoREA) had earlier written to the municipal authorities and the Government Inspectorate proposing quick reviews and processing of 100 halted projects.
The HoREA noted that further extensions would cause the developers of these projects to face losses from higher costs and rising loan interest rates, while they miss out on business opportunities. The high number of stalled projects has resulted in a sharp fall in the number of homes available to be put into service, thus damaging the local real estate market, the association added.
In addition to this, the local construction department has recently approved the investment procedures of another 160 projects. The projects have been approved due to their investors successfully proving they had strictly obeyed all of the regulations and detail plans which were previously committed. Among those, the southern area of Ho Chi Minh City including districts 7 and 8, Nha Be, and Binh Chanh have the highest number of approved projects, at 53.
The eastern part of the city in districts 2, 9, and Thu Duc followed with 48 projects, while fewer projects have thus far been approved in city centre districts 1, 3, and 4. VIR
Quynh Chau

The HCM City housing market is expected to recover again after being flat for over one year with support from the local government.  

The real estate market has slowed in the first months of 2019, which experts attributed to limited bank credit sources for the market.  

The Hanoi Department of Taxation has just announced that hundreds of real estate companies owe a total of VND1.126 trillion ($48.9 million) in tax, administrative fees, and other land-related sums.