VietNamNet Bridge – There will be a free screening of French director Andre Menras's documentary on the Hoang Sa (Paracel) Archipelago at 53 Nguyen Du Street, at 3pm on Friday.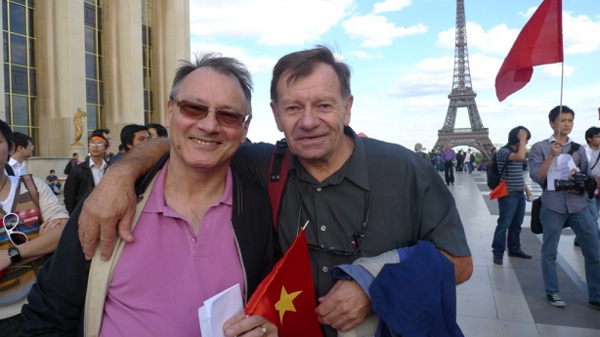 Andre Menras Ho Cuong Quyet (right) with a friend during a protest in Paris against China's intrusion into Viet Nam's sea and islands. – File photo
The 59-minute documentary, titled Hoang Sa Vietnam – la Meurtrissure (Hoang Sa – Painful Loss), features the life of Vietnamese fishermen who spend days and nights fishing in the sea and also guard the country's sovereignty over the sea and islands. It also tells about their spiritual activities, involving the setting up mo gio (tombstones without corpses buried) and celebration of festivals dedicated to the 17th century Hoang Sa Flotilla soldiers, who patrolled the Hoang Sa and Truong Sa (Spratly) archipelagos to tap natural resources and defend national sovereignty.
Director Menras, who is known as Ho Cuong Quyet in Viet Nam, has French and Vietnamese dual citizenship. He taught French in Viet Nam in 1968 and protested against the American War on several occasions in Viet Nam and France. When the Chinese forces invaded Hoang Sa in 1974, Menras spoke against it.
He is both the playwright and the director of the documentary, in an effort to show his sympathy for the fishermen's hard life and fight against the invaders.
Menras will interact with the audience at the venue of the screening on the same day.
Source: VNS