Hoi An homestay services in difficulties

More homestay services in Hoi An Town are losing customers.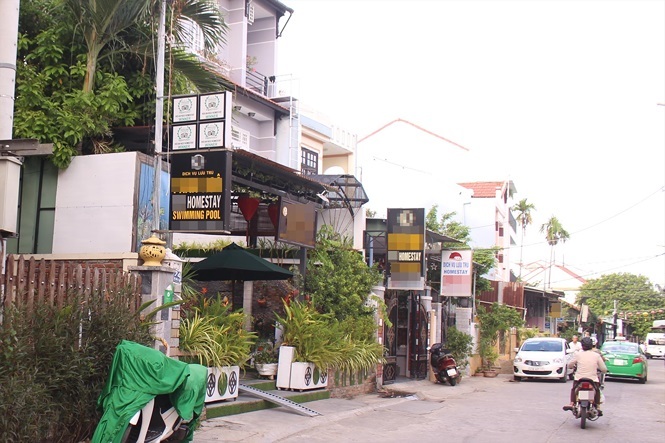 Homestay ads in Hoi An
There is a huge number of homestay services in Hoi An, particularly along Hai Ba Trung Street. Pham Ngoc Trung, a provider said there were dozens of homestay houses in an area with a diameter of one kilometre and many of them are tiny houses.
Advertisements for homestay services can easily be seen along Nguyen Phuc Tan and Nguyen Phuc Bieu streets. Statistics from the Hoi An Department of Culture and Information show that from 2016 to 2018, the town had 151 service providers with 517 rooms. This number by the end of June reached 315 providers with 1,259 rooms.
Nguyen Van Lanh, the department's director, said homestays used to be a type of community tourism, not an accommodation service. Requirements at that time were strict. For example, the house needed to have at least 200 square metres of space and less than five bedrooms.
"However, after the 2017 tourism law took effect, homestays were considered an accommodation service and everything changed. The requirements were less strict," he said.
Pham Ngoc Trung, a provider said he had four rooms but the occupancy rate in the past two years was only 40% and only reached 70% during the peak season. "There are too many homestay services and we have to compete with hotels, hostels, and guest houses. It's tough to maintain businesses when the market is saturated," he said.
Another provider said the listed prices were VND350,000 (USD15) to VND400,000 per room but she had to lower to VND250,000 to VND270,000 per room to attract customers. Sometimes, she didn't earn enough to pay the cleaners. Other providers are struggling to market their services.
Le Ngoc Thuan, chairman of Hoi An Homestay Association, said homestays in Hoi An had taken a wrong turn.
"Homestays are where the tourists can eat, live and chat together with the owners and experience the daily lives of the locals. It's even more important for Hoi An to be able to provide such an experience. But in reality, homestays have become another hotel or guesthouse," he said.
According to Thuan, many tourists have left disappointing reviews after trying homestay in Hoi An.
Nguyen Van Son, vice chairman of Hoi An, said the city would have plans to train the owners about homestays, providing them with operational knowledge.
Tien Phong/Dtinews
Though the homestay market is saturated, investors are still pouring money into homestay projects because the investment can bring high profits.
A fleet of 120 electric cars from the Hoi An Shuttle Bus (HSB) brand are officially set to come into operation in the ancient town of Hoi An.