Homestay hotspots shining brightly

Homestay accommodation is rising in Vietnam to help diversify tourism products, create new experiences for the growing number of tourists at peak season.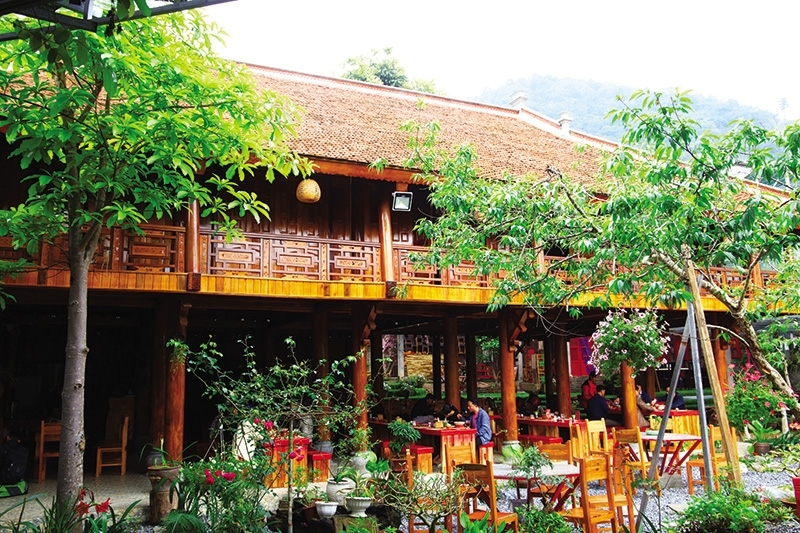 Relaxed Internet regulations mean that more people are happy to seek out alternative accommodation outside of the regular hotel market
Nguyen Van, a resident in Ho Chi Minh City, has chosen a homestay in Dalat for her recent family vacation. The space, Van said, was full of trees and flowers and had a very nice garden where residents could relax.
"I prefer a resort or homestay to a hotel room, as they offer more options for me and my family to enjoy the surrounding nature, and especially interact with the locals and experience local life, food, and culture," Van said.
Nguyen Ha, a resident in Ho Chi Minh City, has bought a home on Can Gio Island in the city's outskirt with a garden for VND7 billion ($304,350) to run it as a homestay for tourists.
Ha told VIR that his homestay mostly targets young people who want to spend a night at the quiet island. Ha's homestay now has five rooms offering very reasonable rental prices from VND5 million ($220) a day for all five rooms. Ha runs the business by himself with some hired assistance. His homestay has been almost fully booked during the dry season (in the first eight months of the year), but he has been having a harder time with vacancies during the rainy season.
Nguyen Phuong, an Airbnb host in Gia Lam district of Hanoi, said that she found very good business when putting her house into lease via Airbnb.
"Via this channel I can easily stay at home and approach international tourists from other countries to stay with our family in Hanoi. Especially, during special festivals tourists jump at the chance to bake cakes and enjoy a normal Vietnamese family life with the host. These kinds of activities they cannot find at hotels," Phuong said.
Emerging homestay trend
According to real estate experts, homestay businesses have been increasingly developing, responding to the demand of tourists who want to catch a glimpse into the real life of the local people and culture.
"It is perfect when you want to listen to local legends, enjoy local food, and dance with local girls," said Hoang Le, another homestay owner in Ta Van village of Sapa, a mountainous tourist hotspot in North Vietnam.
Le Tuan Binh, investment manager at Savills Hanoi, said that homestay is not a new business area in Vietnam. In previous years, homestays mainly developed in tourist hotspots like Danang, Nha Trang, and Sapa, but recently they began expanding to other cities like Hanoi, Ho Chi Minh City, Vung Tau, Can Tho, and Tam Dao.
The development of the Vietnamese tourism market is fundamental for homestay development. In 2018, more than 15.5 million international tourists visited the country, an increase of 20 per cent compared to 2017.
The profit from homestays is mainly higher than other types of accommodation (hotel and condotel rooms) because it now fetches a stable rental yield of 6-8 per cent.
"Investing in homestays carries lower risks than other types of investment," Binh said. "Therefore, homestay is more attractive for investors."
According to market research firm AirDNA, a website tracking Airbnb performances, as of August 2018 Hanoi and Ho Chi Minh City had less than 22,000 properties on Airbnb. The average rental is around $36 per room per night in Hanoi and $44 in Ho Chi Minh City.
According to AirDNA, with the country's tourism growing at a rapid pace for several years, hotels are at full capacity and although Vietnam plans to add 40 per cent hotel supply in 2019, the surge in visitors, lag in new hotel construction, and relaxation of internet regulations means that tourists are turning to alternative sources of accommodation, creating the perfect environment for a home sharing boom.
AirDNA said in a recent report that discerning Vietnamese entrepreneurs have been quick to seize the opportunities of entering the home sharing sector. Over the last two years, the number of homes listed on Airbnb and HomeAway has increased by 452 per cent – far outpacing the global average of 140 per cent.
Currently, there are 50,000 active homestay listings in Vietnam, in the form of entire homes, private rooms, or shared rooms. Further figures from AirDNA said that 66 per cent of all homestay guests in Vietnam are international visitors. The main home bases of international guests are Singapore, Seoul, Melbourne, Hong Kong, Sydney, London, and New York. The largest single source of visitors, however, is Ho Chi Minh City.
The largest home sharing platform, Airbnb, was started by a couple of roommates looking to earn money while providing much-needed accommodation to travelers. Websites like Airbnb, HomeAway, and Booking.com provide a simple way for people around the world to do the same and get wider visibility from guests looking to stay in their cities.
Statistics from Luxstay, a homestay booking platform, shows that the number of residences under this model has been growing quite impressively. Luxstay adds about 300 to 500 qualified rooms per month.
New accommodations
Creating new experiences, products, and services are essential for second home and hospitality developers in a market that is becoming more competitive.
According to real estate services group JLL, hotels have been less affected by online home-sharing platforms than expected, especially in Vietnam, where hotel supply is not yet sufficient to cater for the growing number of tourists at peak seasons. However, although the platform does not pose a threat, traditional hotels should not underestimate Airbnb's potential.
"Millennials are more comfortable with sharing, as evidenced by the incredible growth of Grab and Airbnb in Vietnam. The sharing economy trend presents the market with new opportunities to invest, no matter how much capital or asset investors possess," according to a JLL report.
Grant Thornton's Hotel Survey 2017 reported that Airbnb has grown significantly over the past few years, now supplying over 16,000 units for the Vietnamese market. Homestay properties are usually located in big cities with the high tourism demand like Ho Chi Minh City, Hanoi, Dalat, Nha Trang, or Sapa.
This model offers much larger spaces through offerings that include entire villas, houses, apartments, and bungalows, which can accommodate a larger number of guests than hotel rooms. It can be said that Airbnb creates an additional hospitality market by offering new alternatives to travellers, and attracting a new generation of guests, particularly millennials, who represent an increasing portion of travellers that are constantly seeking new experiences.
This type of short-term rental model started out as a platform for people to rent out their unused space, anytime they want.
According to the General Statistics Office, the first quarter of 2019 had welcomed more than 4.5 million international visitors to Vietnam, an increase of 7 per cent compared to the same period of 2018. Among those, the highest proportion belonged to tourists from Thailand, Taiwan, the Philippines, South Korea, Indonesia, Hong Kong, Switzerland, Malaysia, and Denmark.
In the competition with homestays, developers are beginning to propose international mid-scale and focused-service hotels as well as giving more importance to design and guest ­experience. Well-positioned hotels or resorts with 'instagrammable' design, quality food and beverages, and unique ­facilities or services are currently ­performing better with higher rates and occupancies than more standard ­products.
Hotels now have the possibility to clearly identify categories of travelers to serve their needs in a much more personal way than before – which matches perfectly the changing consumer demand.
The changes in consumer ­behaviour are fuelled by technologies which have increased growth in solo travellers, groups, Instagrammers, ­adventure seekers, last-minute trips, single parent holidays, multi-­generational family trips, and business leisure.
Guests can now use technology to facilitate their journey before, during, and after staying at the hotel. ­Meanwhile, robot butlers, mobile keys, mobile check-in and check-out, and smart guestrooms are being applied more often in hotels to reduce ­operating costs and staff volume. VIR
Bich Ngoc

The number of people coming to Vietnam combining business with tourism has increased significantly in recent times, and is one of the reasons for arrival numbers to jump in recent years.  

Berry Valley, Lacasa Homestay, and Dream Valley are among the most popular in Da Lat city that should not be missed by tourists visiting the Central Highlands province over the summer.

Da Lat is entering the high tourism season when travelers, Vietnamese and foreign, flock there to avoid the summer heat.