'Hop on Hop off' with Tinder Explore this summer
For the first time, young Tinder users joined an iconic double-decker bus ride, "Tinder Explore - Match Your Vibe bus", to explore exciting dating spots in HCM City.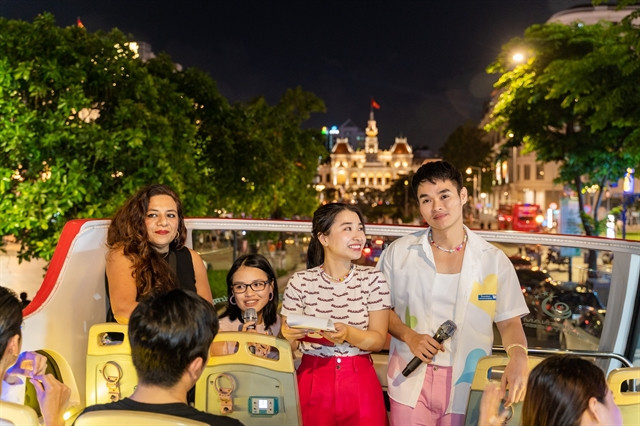 As the Hop on, Hop off bus took the singletons throughout the most iconic hangout spots in HCM City, from the bustling Nguyễn Huệ Street, dreamy Thủ Thiêm 2 bridge, to the nostalgic Turtle Lake and vibrant Central Post Office, members had a chance to see and feel the colourful dating culture among Saigonese youngsters, in which enjoying street food, sight-seeing, and taking fancy photos are an intrinsic part on their journey to making sparks fly.
The tour is a symbolic representation of how one can Hop on and Hop off with varied interests on Tinder Explore to find meaningful connections through multiple, diverse attractions.
Search for the particular interest that excites you and go ahead and explore. Gone are the days when members were only swiping on the stack they had presented," said Papri Dev, Tinder APAC Communications Director.
For young adults, dating is more than the meeting of eyes. According to a recent survey of young Vietnamese singletons by Tinder, 57 per cent of young Vietnamese daters admitted that sharing similar interests is an important quality of a potential match.
When it comes to dating, they seek compatible partners who synchronize their hobbies (78 per cent), taste in food (70 per cent), love for travel (63 per cent), taste in movies (55 per cent), and taste in music (55 per cent) and favourite sports (46 per cent).
"Youths are logging in to Tinder nowadays to stay connected to the world, explore different points of view, find out what is new in the neighbourhood and seek inspirations for exciting dating ideas such as kite-flying near Thủ Thiêm bridges or skate-boarding on walking street Nguyễn Huệ," said Uyên Phương, a Tinder user.
When coming from a URL to dating IRL, youngsters are creative in the ways they share experiences to connect at a deeper level. Besides simple coffee or movie dates, 40 per cent of young Vietnamese daters prefer checking out new brunch spots/restaurants together on a first date, and 22 per cent choose a music date.
One-fifth like participating in an active experience like climbing, hiking, cycling or a cultural date in museums or galleries.
As young daters value authenticity and honesty when meeting new people, they can only do so when it feels safe, and they have control. According to the survey, 70 per cent of Vietnamese respondents found safety extremely important when dating online.
Source: VNS