VietNamNet Bridge – As many as 14,000 hospital beds were additionally arranged in the local hospital system last year but the overload at local hospitals has still remained a headache, heard a conference in Hanoi last Friday.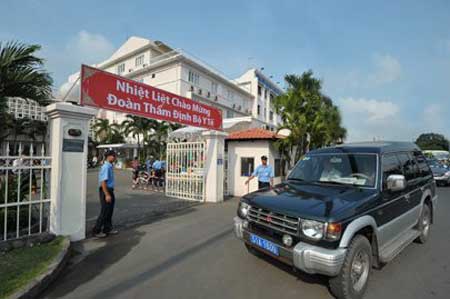 The former obstetrics and gynaecology department of the HCMC University of Medicine and Pharmacy on Hoang Van Thu Street is to be renamed the Mekong Obstetrics and Gynaecology Hospital this month. Despite new clinics being built, hospital overload remains the biggest headache for the healthcare system.
At the conference, Associate Professor Luong Ngoc Khue, director of the Department of Medical Service Administration, said the number of hospital beds surged by more than 14,000 units in 2012. But the overload at local hospitals, especially central hospitals, still happens regularly, he said.
The 2012 medical service report shows that the occupancy rate of hospital beds system-wide hit 99.4% but it amounts to an incredible 112.5% at ministry-level hospitals. Meanwhile, the World Health Organization and many other scientific organizations warn that the occupancy rate of hospital beds must be no more than 85% to ensure the efficiency and quality of the healthcare service system.
"Hospital overloads would happen regularly if the occupancy rate surpasses the mark, especially over 95%," Khue noted. Delegates at the conference agreed that the challenge of the local healthcare system is hospital overloads while local demand for health examination and treatment is rising.
To deal with the challenge, the Government already passed a plan to reduce hospital overloads in 2013-2020. Under the plan, the country is looking to raise the number of hospital beds per 10,000 residents to 23 in 2015 and 26 in 2020.
At the conference, Minister of Health Nguyen Thi Kim Tien said her ministry has also approved a project on developing satellite hospitals and another plan to send voluntary doctors to 62 poverty-stricken districts nationwide. At the same time, she said, the ministry will soon approve a family doctor scheme to improve competence of local medical agencies and the quality of initial healthcare services as part of the overload reduction scheme.
"Besides, the ministry will continue to make investments into provincial hospitals, with an estimated VND4.5 trillion for upgrading a series of provincial hospitals to attract patients to lessen the current overload at central hospitals," she added.
Source: SGT