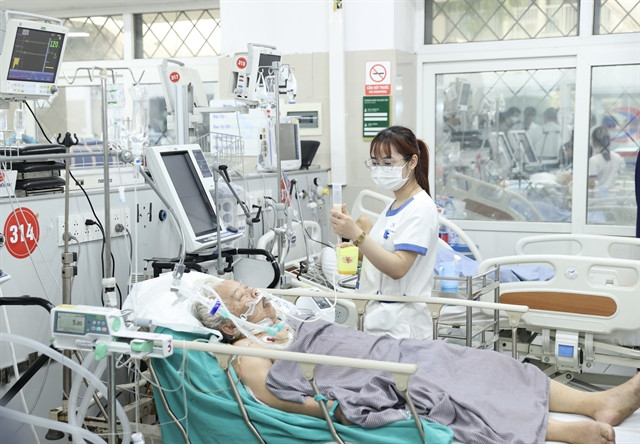 A patient being treated at Bạch Mai Hospital in Hà Nội. — VNA/VNS Photo Dương Giang
The five hospitals are the biggest and most capable ones managed by the ministry across the country's three regions: Bạch Mai, Việt Đức and 108 Central Military Hospital in Hà Nội, Chợ Rẫy Hospital in HCM City and Huế Central Hospital in Thừa Thiên-Huế Province.
The ministry hopes that the upgrade will help reduce the number of Vietnamese needing to go abroad for medical treatment as well as to attract foreign patients to the hospitals.
In addition, the health ministry also proposed to invest in 47 provincial-level general and specialised hospitals to serve as regional healthcare facilities in the northern midland and mountainous, Hồng (Red) River delta and south-eastern regions which have high population density.
According to Assoc. Prof. Dr. Lương Ngọc Khuê, director of the ministry's Medical Services Administration, one of the advantages of Việt Nam's healthcare is that the costs are lower than other countries in the region or in the world, while the treatment quality is not inferior.
Vietnamese doctors, especially in tertiary referral hospitals, have mastered many advanced and specialised techniques such as organ transplants, in vitro fertilisation, dental porcelain, stroke treatment, endoscopic surgery, cancer treatment, angioplasty, heart surgery, hip and knee join replacement and musculoskeletal treatment, Khu↑ said.
"This development in medical technology has attracted a lot of overseas Vietnamese to return home for treatment, even foreigners in some major hospitals, in recent years," he remarked.
Vietnamese doctors are able to perform organ transplantation of heart, liver, lung, kidney, pancreas and intestines, master the technologies of endoscopic surgery, cardiovascular intervention, porcelain crowns and denture at a cost reduced by half or one third compared to the services in other countries, according to Khu↑.
"This allows patients to access the latest technologies in the treatment of serious diseases as well as attract many overseas Vietnamese and foreigners for treatment," he said.
In the field of oncology, the application of advanced technology in diagnosis and treatment including surgery, radiation therapy, chemotherapy and endocrine and biological therapy increases the cure rate of some diseases, especially for breast cancer, to over 70 per cent.
This result is equivalent to the results of Singapore and developed countries in the world.
In terms of specialised health care, HCM City is the leading locality in the country in professional and technical development with the successful implementation of many difficult techniques to treat fatal diseases so the city's residents are getting the best health care conditions in the country and neighbouring localities have also benefited greatly from this.
HCM City has also become a destination for medical examination and treatment of people from neighbouring countries.
According to Khuê, at present, the healht ministry is setting up a project of developing high-tech healthcare to not only "retain" domestic patients but also attract foreigners and overseas Vietnamese coming to Việt Nam for medical examination and treatment.
One of the other strengths of Vietnamese health care is traditional medicine. "I think this has potential for us to attract overseas Vietnamese and foreigners. But we need to continue to pay attention and invest resources to bring Vietnamese traditional medicine into full play in the health care system," the doctor added. — VNS