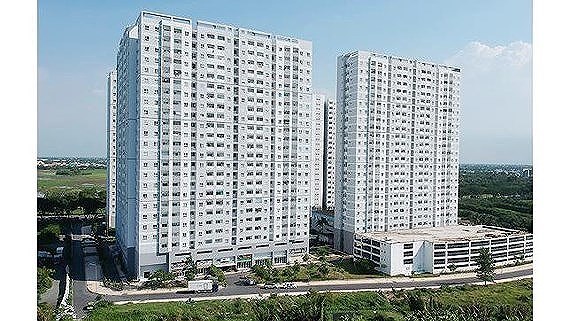 A view of HH Linh Dam Urban Area, which violated its approved plans by adding extra floors, Ha Noi's Hoang Mai District.
He said National Assembly deputies and the public had expressed concern about urban plans being arbitrarily adjusted to suit investors. Infrastructure had been overloaded in some cases after developers had increased construction density of their buildings and reduced public space. Some buildings had extra floors added that were not in the approved plans. This had caused overcrowding and reduced residents' quality of life.
Builders of projects found to have violated their approved plans would be handed strict punishments. Those who had not completed construction would have their projects halted.
According to Dung rising urban populations are a common trend in Viet Nam and around the world. People often move to big cities in search of amenities and work.
"Ha Noi and HCM City have growing populations," he said. "Population in the two big cities has increased by about 200,000 per year."
Dung noted that investment in infrastructure and transport systems had not kept pace with population increases, leading to traffic jams and pollution.
He suggested the Government control the construction of high-rise buildings and monitor construction density in urban areas. It should also plan satellite residential areas with modern infrastructure to reduce population pressure on existing urban centres.
In the long term, the deputy PM suggested creating a national strategy for urban areas that would include building industrial zones in rural regions to create more jobs outside of cities to allow people to stay in their hometowns.
Skyrocketing housing prices
Answering deputies' questions at the NAs session, Minister of Construction Pham Hong Ha said the country's real estate prices were too high compared to their actual value and average local incomes. This made it a challenge for those who earn low incomes to find accommodations.
Ha said the inflated prices were due to a lack of control in the property market. The sector had also not ensured transparency.
Compounding the problem was the fact that localities had not paid attention to the real estate market or closely controlled supply and demand.
"Localities have approved many property projects which were not suitable to market demand – mostly in the high-end segment," he said. "They have not found ways to attract investors to social housing projects."
The minister said it was necessary to increase the number of housing projects for low- and middle-income people.
He said the ministry would tighten management on housing planning adjustments. It would conduct more inspections of projects suspected of violating their plans, especially in big cities. — VNS
The HCM City Department of Construction has asked the city's People's Committee to propose new regulations on the sale of State-owned housing.

HCM City is home to thousands of migrant labourers working in industrial parks (IPs) and export processing zones (EPZs), but its housing projects meet only a fraction of the demand for stable accommodations.

Developers in the south are ignoring the workers' housing segment despite the huge demand for it, analysts said.