VietNamNet Bridge - The Civil Aviation Authority of Vietnam (CAAV) has confirmed that airlines will have to include the environment fee in their adjustments of airfare ,but it is still unclear how this would be implemented.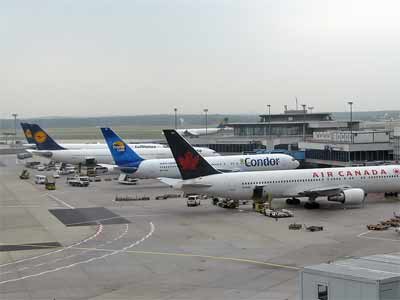 Airlines have asked for permission to adjust the airfare as the environment fee has increased from VND1,000 per liter of fuel to VND3,000 as per a government request. If the cannot, the airlines want to be exempted from the environment fee to ensure profits.
CAAV's head Lai Xuan Thanh told the press that CAAV would report the airlines' current situation to the Ministry of Transport to find a reasonable measure.
"If the environment tax is imposed on consumers, airlines would not raise the airfares, but would collect environment fee as a surcharge item, because the money would go to the state budget," he explained, adding that in this case, airlines would just collect fees from passengers on behalf of the state.
"If the tax is imposed on fuel traders, the tax will surely be included when calculating airfares," he said.
Thanh said the first option was preferred by airlines.
However, Thanh said that in case airlines raise the airfares, this would not affect consumers' benefits.
Raising the environment tax is a decision made by the State which must be respected by airlines, which then have to enter the fee increase in the accounts when calculating airfares.
Thanh reassured the public by saying that even if this happens, the airfares will not exceed the ceiling level set by the state.
Thanh, in an interview with the local press, denied that CAAV did not instruct air carriers to reduce the airfares due to air fuel price decreases.
A local newspaper quoted a passenger as saying that airlines have not reduced fares despite the sharp drop in fuel prices, and instead have insisted on raising the airfare amid slight environment fee increases.
"The Ministry of Transport and CAAV requested air carriers to reduce their ceiling ticket prices and register the changes to the airfares to the watchdog agency," he said.
The problem is that the airfare reductions are most visible in high-class tickets, while the passengers flying with economy tickets cannot see the reductions clearly.
"There are many different airfare levels, depending on the air carriers' policies," he explained.
Air carriers voiced their complaints about the difficulties they are facing at a workshop held recently in Hanoi.
Vietnam Airlines' deputy CEO Duong Tri Thanh said while the JetA1 petrol price has dropped sharply, the import tariff increased by 25 percent and the environment fee increased by 300 percent. As such, the petrol price decrease cannot offset the tax increases.
Dat Viet