How the private sector transforms Vietnam tourism's images
Twenty years ago, Vietnam was mostly seen as a tourism destination for intrepid travelers and backpackers. Thanks to the vision of private developers, the country now boasts an array of world-class luxury resorts and cultural attractions.
On the world map
Just 10 to 15 years ago, Vietnam had a very limited number of luxury resorts, limited infrastructure and no world-class theme parks. But that's no longer the case. Today, the country possesses some of the world's leading luxury accommodations and theme parks.
At the World Travel Awards (WTA), often described as 'the Oscars of the World Travel Industry', Hotel de la Coupole - MGallery (Sa Pa – Lao Cai Province) was named 'Asia's Leading Design Hotel' and 'Vietnam's Leading Luxury Hotel' in 2019 and 2020. Meanwhile, Sun World Fansipan Legend, also located in Sapa, was named the 'World's Leading Cultural Tourist Attraction' award in the same years.
The WTA has also honored six luxurious hotels and resorts in central and southern parts of Vietnam, namely: Sun World Ba Na Hills (Danang), InterContinental Danang Sun Peninsula Resort (Danang), Premier Village Danang Resort (Danang), Mercure Danang French Village Bana Hills (Danang), JW Marriott Phu Quoc Emerald Bay (Phu Quoc), and Premier Village Phu Quoc Resort (Phu Quoc).
In Northeast Vietnam, Van Don International Airport – the first privately developed airport in Vietnam, which gives tourists easy access to Halong Bay – was awarded 'World's Leading Regional Airport" in 2020.
The airport and all of above resorts – now seen as iconic landmarks – were developed by Sun Group, one of the largest real estate developers in Vietnam. Commenting on these prestigious international prizes, Chairman of Sun Group Dang Minh Truong said: "To invest in tourism, we have embarked on a challenging journey that has been far from easy and will continue to pose many difficulties. However, our biggest aim is to find the best way to help Vietnam become a bright spot on the world's tourist map."
Clearly these aspirations are already being realized. Sun Group's world-class projects have not only enhanced the attractiveness of destinations, but also improved the quality of life for many local communities. Furthermore, many more major private businesses and enterprises have followed suit, contributing to the dynamic development of the locals as well as national economy by delivering luxurious, sustainable and high-quality tourism products.
Building for a bright future
According to the government's master plan for tourism from 2020 to 2030, the country will benefit from total investment capital of US$94.2 billion, of which State budget funds, including ODA capital, will account for 8-10%, and funds from the private sector, including FDI capital, will account for 90-92%. Clearly, the private sector's role in the development of Vietnam's tourism industry is vital.
Looking back over the last decade, we can see seismic changes in how private businesses, such as Sun Group, Vingroup and Viettravel, have built new capabilities and launched various types of tourism products and services ranging from hotels, entertainment and resort complexes to transport infrastructure with a network of airports, ports and roads. These strategic projects have made an immense contribution to the dynamic development of Vietnam's tourism industry.
Today, there are investment projects developed by the private groups in some of the country's most popular destinations, including Danang, Nha Trang, Quang Ninh, Lao Cai and Phu Quoc.
Once a sleepy, remote destination, Phu Quoc Island City in the southern province of Kien Giang has now become one of Vietnam's most luxurious tourist hubs thanks to developments from Sun Group, Vingroup, BIM Group… and the arrival of international operators such as JW Marriott, InterContinental, Hilton, Hyatt and many others.
Located on Hon Tre Island, Vinpearl Land Nha Trang is another world-class entertainment paradise, which attracts a large number of tourists each year. Since FLC Group officially inaugurated FLC Quy Nhon Beach & Golf Resort, Quy Nhon has also emerged as an attractive tourist destination in Central Vietnam. Additionally, Tay Ninh has seen a rise in the number of tourists in recent years after a new modern cable car system was launched to help visitors conquering the roof of Ba Den Mountain. Developed by Sun Group, the cable car system is part of the entertainment and cultural attraction, Sun World Ba Den Mountain.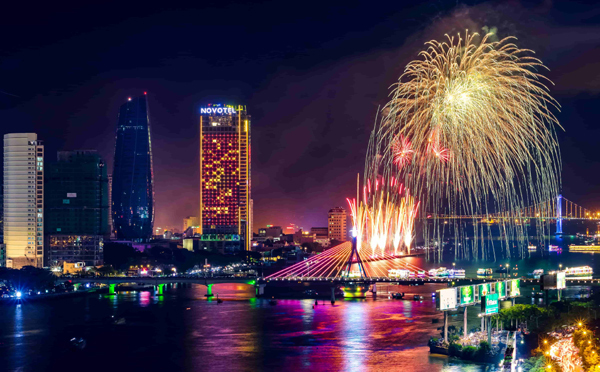 The first time Sun Group awoke a 'sleeping beauty' was in Central Vietnam with Ba Na Hills, which opened over 10 years ago. The development has also been a huge boost to Danang, which for many years was seen just as a hub for travelers going to Hoi An. Recognized at the WTA in 2016 as 'Asia's Leading Festival & Event Destination', Danang has been transformed in recent years with the development of a number of stunning luxury resorts and entertainment complexes. The private sector has financed highly successful events in the city, such as the Danang International Fireworks Festival and the Danang Street Carnival, helping Danang to top a list of Google's Trending Destinations in 2020.
Well-known economist Tran Dinh Thien said: "The private sector has made great contributions to Vietnam's tourism industry", and in the near future, we can expect private businesses to create more luxury developments and cultural attractions in less heralded destinations, such as Van Don (Quang Ninh), Cat Ba (Hai Phong) and Tuy Hoa (Phu Yen), helping to drive the Vietnamese economy and attract international tourists from all over the world.
PV