How to ignite the night-time economy in Vietnam
Vietnam boasts multiple qualities for a night-time economy to grow, including a rich culture, superb foods, a young population and many deeply integrated cities.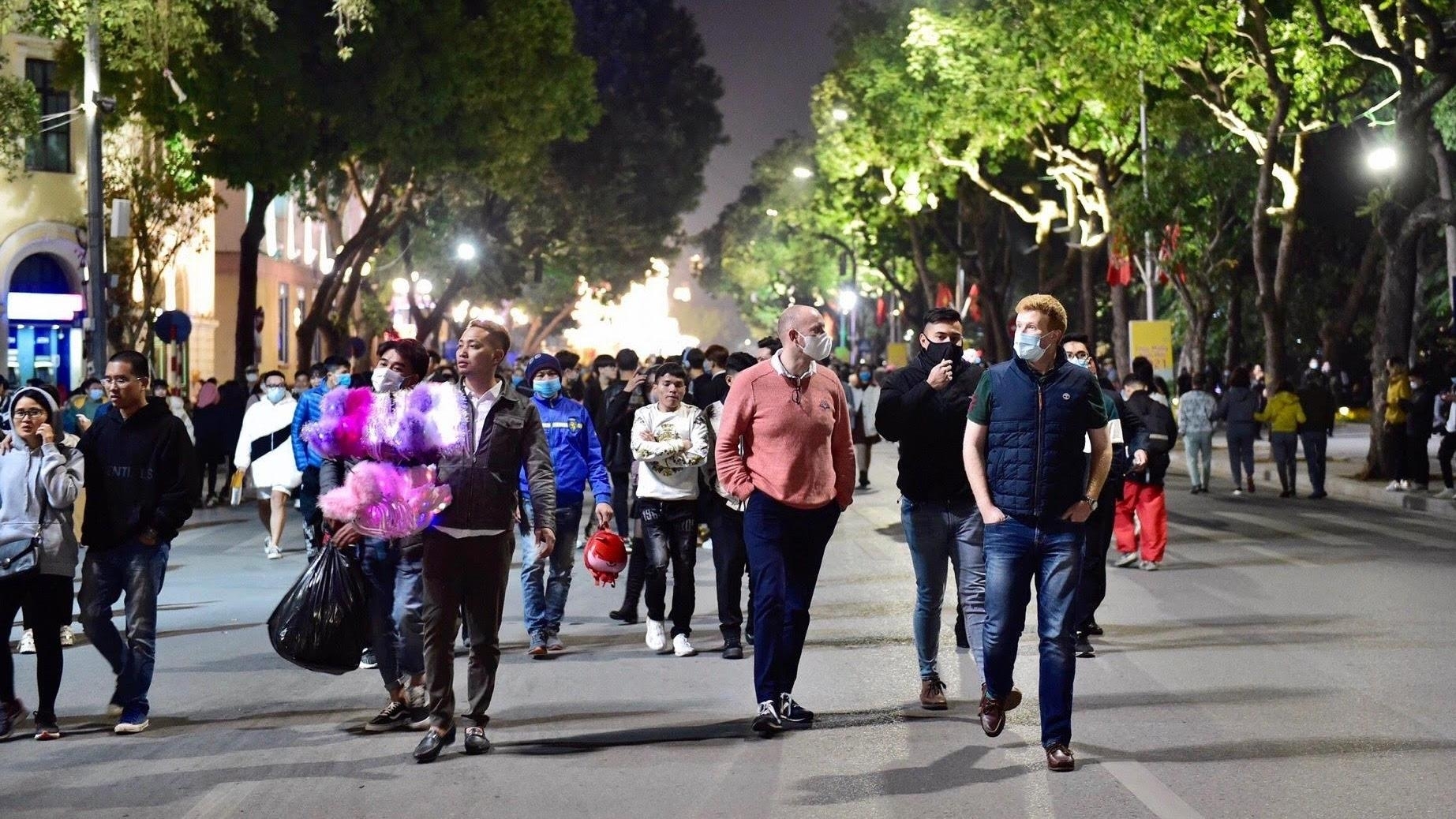 Visitors at Hoan Kiem Lake on New Year's Eve
Model of a sleepless city
Vietnam does not currently have an actual night-time economy but there are night-time only activities, namely entertainment facilities, night markets, convenience stores, pedestrian streets and so on, in major cities and tourist destinations, which usually come to an end by mid-night.
Statistics by the Ministry of Planning and Investment show that Vietnam has about 20 night markets to serve tourists while about 1,000 of 2,300 convenience stores are open round the clock, mainly in Hanoi and Ho Chi Minh City.
For a long time, some night-time activities have become an essential part of local culture and an attraction to tourists. One of the prime examples is night markets within Hanoi's Old Quarter and the pedestrian streets around Hoan Kiem Lake at the weekend, attracting about 3,000-5,000 people during the daytime and up to 20,000 at nighttime.
Since the opening of pedestrian streets and night markets in 2016, Hanoi has staged more than 300 large-scale cultural events, with the participation of artists from 8 Vietnamese provinces and cities as well as 17 countries around the world. At major events, the crowds gathering in the area can number as many as 30,000. With such nigh-time activities, Hoan Kiem Lake earned revenue of over VND7.7 trillion (US$333 million) in 2018.
In the south, Ho Chi Minh City is considered Vietnam's most active city at night with the Ben Thanh Night Market, Nguyen Hue Street and especially Bui Vien Street, which is always packed with people. In this dynamic city, there are also streets where local businesses are mostly open at night, offering food, coffee and art performances.
The central city of Da Nang also began to pilot developing the night-time economy in tourism activities in October 2019 for three main services: food, entertainment and shopping, in order to create new spaces and entertainment models for a sleepless city. Along the coastal streets of Da Nang, night camps, night swimming at the beach, night film screenings and food courts have been put up to keep tourists engaged.
In addition, there are also a wide range of other activities held on the streets along the Han River, with the highlights being the Dragon Bridge spitting fire and water at 9pm and the Han River Bridge swinging at 11pm.
But compared to the world at large, the night-time economy in Vietnam is lacking in variety and has yet to develop into a well-known brand attractive to domestic and foreign tourists.
In Hanoi's Hoan Kiem District, the revenue of businesses opening until 2am the next day surged by 50% in 2016 but the increase fell to 30% in 2018, causing a drop in the number of businesses registering to open at night. Foreign tourists may find Vietnam less attractive because they have few choices for entertainment and relaxation activities at night.
It is one of the reasons why tourism revenues and foreign travellers' spending in Vietnam are lower than other markets as research has shown that tourists' daytime expenditure only accounts for 30% while the remaining 70% is spent on nigh-time activities.
Boosting domestic consumption and tourism
The coronavirus pandemic has made Vietnam adopt a new approach to the development structure, in which the night-time economy is expected to be a new driver of growth.
The government's plan to develop the night-time economy has two goals: boosting domestic consumption and bolstering tourism. Based on the general plan, localities in the piloting list will begin to formulate appropriate plans tailored to their specific conditions.
Da Nang is considering offering a wide range of night-time services as a boost to revive the local tourism industry post-coronavirus and as a long-term strategy to develop its night-time economy.
According to Dr Tran Dinh Thien, an economic advisor to the Prime Minister, the night-time economy is playing an increasingly greater role in the economy of many countries. Vietnam has yet to have an actual night-time economy and no agency has measured the full scale of night-time economic activities as well as their contributions to the wider economy but there remains much room for this area to grow.
In order to ignite the night-time economy, it is necessary to introduce distinct policies suitable with the night-time economy, not just existing policies concerning land, human resources and technology for an ordinary economy. Policies to encourage pioneers are needed because the interest of tourists and consumers might be lower than expected in the early period.
Among the solutions to proactively develop the night-time economy, those on raising awareness of the benefits and risks of the night-time economy are given top priority in order to accurately assess the scope and role of this sector.
At the same time, it is necessary to gradually reduce and eliminate the bias towards the night-time economy, followed by the fine-tuning of policies and legal frameworks in order to facilitate night-time economic activities and control their risks.
The government is asking for a review of policies and legal frameworks related to night-time economic activities, focusing on regulations on zones for night-time activities, priority products, opening times, operating licenses, and operating criteria of businesses involved in night-time economic activities.
It is necessary to study and assess the interaction between night-time economic development policies and new/modern economic models and activities in order to introduce comprehensive and synchronous measures.
At the same time, measures are needed to use planning as a means to manage night-time economic activities, such as incorporating night-time economic development policies in the wider plans and planning the zones for night-time economic activities in alignment with infrastructure development so as to limit the impact of noise pollution and domestic waste. Nhan Dan

For HCMC, the delicious cake slice of evening economy in store for years will come to light as the Government is going to give it the greenlight soon.