How to "play" with China for mutual benefit?
As a girl just wonders "Love is pain but it is great loss without love" so how should she do. The issue is which way that she "loves" to earn "profit" not to get loss from "love". It is similar for the trade relations between Vietnam and China.
VietNamNet Bridge - As a girl just wonders "Love is pain but it is great loss without love" so how should she do. The issue is which way that she "loves" to earn "profit" not to get loss from "love," Dr. Nguyen Thi Dung said. It is similar for the trade relations between Vietnam and China.
Identifying China as trade partner
Vietnamese businesses must know how to "play" with China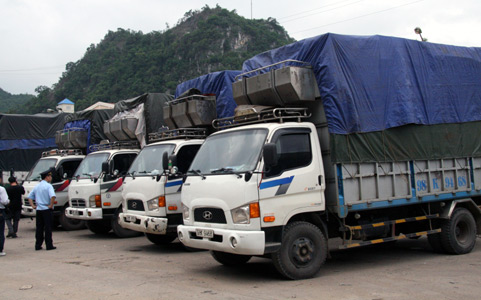 Ms. Vu Kim Hanh - Chair of the Association of High Quality Businesses, Director of the Business Research and Enterprise Support Center: "A lot of Thai businesses participated in trade fairs in China. They joined together to make a "common house of Thailand" to introduce Thai goods to Chinese customers. Vietnamese businesses opened several stalls introducing fine-art wood products, which could not help promote Vietnamese brands in China."
Dr. Nguyen Nha - a well-known historian - said: Experience of fighting foreign invaders of our ancestors in thousands of years shows that Vietnam is very small in compared with China but our ancestors were "not afraid" of that giant to defend the country's independence. In commerce, I think, our businesses should not be afraid, just do it to know about our partner, about ourselves to achieve good results.
Dr. Nguyen Thi Dung - Vice Chair of the Foreign Economics Faculty of the University of Foreign Trade, an expert of the Japan International Cooperation Agency (JAICA): We are afraid because we do not have enough information about them. We must have a consistent approach. "Love is pain but it is great loss without love" so how should she do. The issue is which way that she "loves" to earn "profit" not to get loss from "love." "Love" means to open the door, to boldly do business with them.
China is the emerging economic power in the world. There are three major markets in the world that any nation which is strong enough to dominate one of them will win. The first is energy, the second is the food market, and the third is the financial market. China has made deep penetration into the global market and its power is increasingly rising to be strong enough to dominate the global food market.
In other words, China will control the world agricultural market with the Chinese-made price. These countries that have the ability to provide agricultural products like it or not will also be affected. For example, Vietnam's 90 percent of raw cassava is consumed by Chinese buyers. It is the same for rice and rubber. This is the syndical relations, or controlling the supply-demand relations in the international market.
Whether we like it or not, Vietnam must be very wise in this relationship to benefit itself.
Mrs. Vu Kim Hanh: Many businesses of Vietnam had a fallacy that China can produce from the plane to the needle so how can Vietnamese goods enter that market.
In fact, in the vast range of consumers, there are a lot of opportunities for Vietnamese goods. I visited many supermarkets in China and I saw that Vietnamese goods were sold well, particularly coffee, especially Trung Nguyen coffee. Tea, Biti's and Bita's footwear, food were also favored by Chinese consumers.
In particular there are huge opportunities that we can take advantage of. Chinese consumers no longer trust the quality of Chinese goods, especially food so they have turned to foreign goods. Vietnamese goods are also interested by Chinese people.
Dr. Nguyen Thi Dung: Who dare to say that America is not strong? It is so strong, the strongest in the world. But why America has to impose "anti-dumping" tax to protect American businesses? It is clear that though it is very strong, the US is not strong at some points.
China, too, is very strong but it also has some points that are not strong. If we find out these points, we will succeed. Some Vietnamese businesses have found out the point and gained success. I think that Vietnamese businesses can successfully bring catfish to the Chinese market like they did with the U.S. market.
The next is the Chinese market is changing quickly so we have to change our products constantly otherwise we will fail. For example, our Ben Tre coconut candy was initially successful in the Chinese market. But the product was not changed for a long time. Chinese people researched of Vietnamese coconut candy then bought fresh coconut from Vietnam to product coconut candy in China. Vietnamese coconut candy producers lost this market.
Vu Kim Hanh: We will succeed if we are determined. I believe so. I know some successful Vietnamese investors in China. For example, Nhon Hoa Scale Company has pursued that market for a decade. They built a scale manufacturing plant in Guangxi. Nhon Hoa scales not only defeat Chinese scales in Vietnam but also compete very effectively in the Chinese market. The Chinese made faked Nhon Hoa scales and lost in a lawsuit with Nhon Hoa in the land of China!
Who is the conductor?
Ms. Vu Kim Hanh: We need a strategy for Vietnamese goods to enter China. To do so, we must have strong distributors in China or we can be associated with Chinese enterprises. We can also hire reputable companies of China to bring Vietnamese to China's consumption systems.
The initial difficulty is setting up a distribution channel for Vietnamese goods in China.
In the country, the state should strictly manage the local market and have institutions that research of the Chinese market besides organizations to advertise Vietnamese goods in China during trade fairs.
Who will do this? Our business cannot afford to do that. It must be carried out by the trade promotion agencies of the State.
But is it the violation to Vietnam's commitments to the WTO?
Ms. Vu Kim Hanh: No violations at all. In contrast, the WTO also encourages such activities. As long as the state does not give money to businesses to distort the competitive environment, the state can support businesses through policies and providing market information.
At the macro level, the State should adopt policies to increase the official trade exchanges and gradually slash border trade. A few months ago I had the opportunity to read the recommendations of a group of experts, led by former Trade Minister Truong Dinh Tuyen, with some interesting recommendations and measures for the Chinese market.
2015 is coming, then the Asean + 1 market is formed, without tariffs. Can our goods go to other countries when their goods flood our market?
Dr. Moc Que - Deputy Director of the Micarcen Research and Consultancy Center: China has about 1 million supermarkets and wholesale markets. Vietnam should have policies and measures to promote Vietnamese goods there.
In the Qing Dynasty, 12 capitalist countries established trade offices in China to take their goods to China. China has well used this experience in trade promotion. We need to learn similar experience. Vietnamese businesses should have offices in China and promotion plans to bring their goods to supermarkets and wholesale markets in China. The state should support capital, technology and warehouses for businesses that export goods to China.
Professor Ngo Vinh Long, University of Maine (United States): Vietnam is difficult to reduce the trade deficit with China while China has huge volumes of stock and they are ready to sell to Vietnam at any price. In addition, Vietnam goods are more expensive while the quality is worse. If consumers in Vietnam with higher incomes can buy better goods, they will purchase goods of other countries, not Vietnam goods. Consumers of low income need cheap goods so if the government bans Chinese products of low quality, it is still hard to stop the smuggling. The ASEAN countries have a trade surplus with China because they sold high added value products to China. Vietnam sell only agricultural products and raw materials, fuels to China and these items always have lower value than processed items.
Therefore, Vietnam should re-orient its trade and development policy.
In other words we need diversify the market!
Duy Chien