Vietnam is going to finish its ASEAN Chair 2020 that has been unfolding in an incredibly difficult time when the region is threatened by the Covid-19 pandemic and aggravated by severe natural disasters.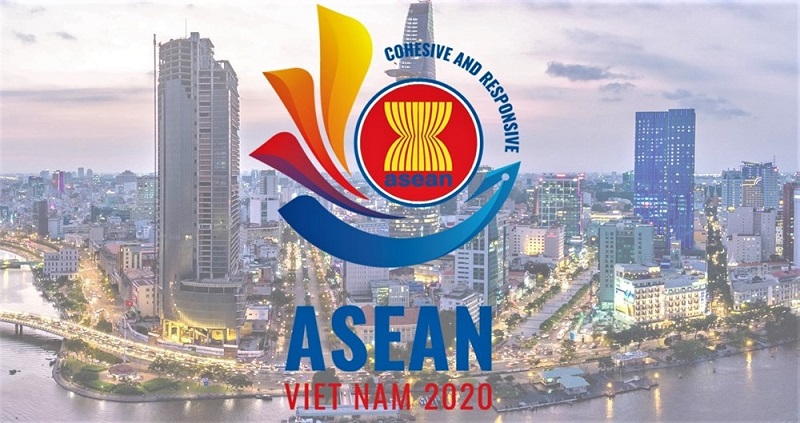 Vietnam chooses "Cohesive and Responsive" for ASESAN Chair 2020. Photo: MOFA
The country has been dedicated to a "cohesive and responsive" ASEAN as it has strived for in the course that most of the regional meetings take place via videoconference.
Vietnam's Prime Minister Nguyen Xuan Phuc has said that in solidarity and resilience, ASEAN shall overcome challenges, bringing abundance and prosperity to its more than 600 million citizens and contributing to peace, stability and development in the region and the world.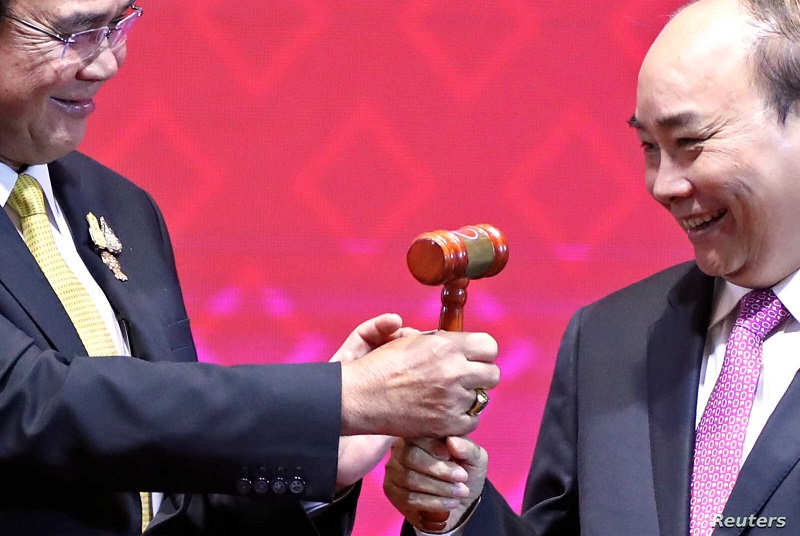 Vietnam takes over the chairmanship gavel from Thailand for ASEAN Chair 2020. Photo: Reuters
The following are comments on how Vietnam performed the chairmanship amid the global health crisis.
ASEAN Secretary General Dato Lim Jock Hoi singled out Vietnam for its outstanding performance during the ASEAN Chairmanship Year, saying the country has demonstrated strong leadership of ASEAN in spearheading a collective regional response to the Covid-19 pandemic.
"ASEAN has been united and has quickly responded to the pandemic since February. Its strong responses have been largely attributed to Vietnam's leadership, especially in promoting dialogue and cooperation among member states," Vietnam News Agency (VNA) quoted him as saying.
Indonesian Foreign Minister Retno Marsudi affirmed Vietnam has always displayed its leadership role very well, especially in 2020 when Covid-19 broke out. She said the 37th ASEAN Summit was very important for regional leaders to address the Covid-19 challenge and cushion the impact of the disease on regional economy and citizens' life.
The Scoop quoted Brunei Darussalam's Sultan Haji Hassanal Bolkiah as sayiing despite the disruptions caused by Covid-19, Vietnam has guided ASEAN to create a cohesive response to the pandemic.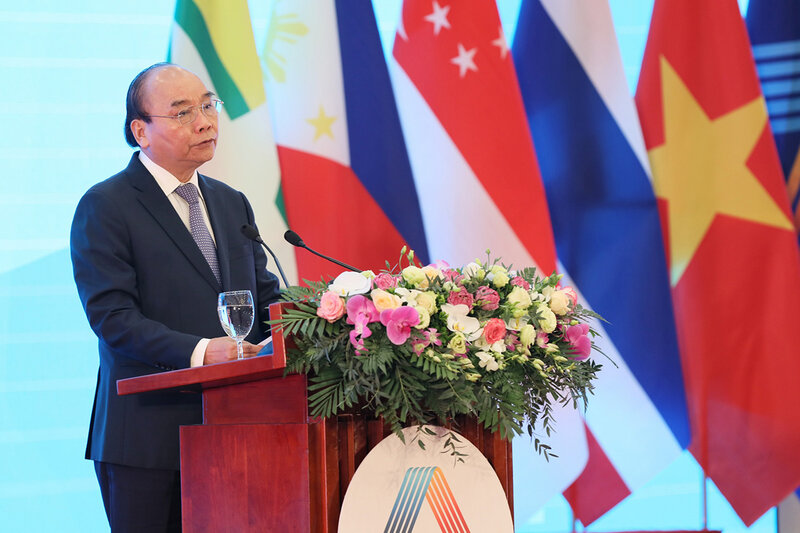 Vietnam's Prime Minister Nguyen Xuan Phuc presides over most of the regional meetings in the year of chairmanship. Photo: AIPA 41
In an interview with VNA,
Noel Servigon, Ambassador and Permanent Representative of the Philippines to ASEAN, said Vietnam is an invaluable member of ASEAN and has actively introduced a number of important initiatives and led efforts that continue to enrich the ASEAN agenda and experience.
Ambassador and Permanent Representative of Indonesia to ASEAN Ade Padmo Sarwono said that as the ASEAN Chair this year, Vietnam has proved its capability in leading ASEAN in a challenging time, promoting the interests of member countries and fostering ASEAN ideals to create a more prosperous community and maintains peace and stability in the region during the ASEAN Chair 2020.
Dr. Hoo Chiew Ping, senior lecturer in Strategic Studies and International Relations under the National University of Malaysia, said Vietnam has done well in ensuring that the bloc has continued to meet and perform in the context of the Covid-19 pandemic.
It also shows Vietnam's tremendous leadership in fostering intra-ASEAN communication while maintaining the bloc's partnership with external partners.
Echoing Hoo Chiew Ping, Dr. Ngeow Chow Bing, director of the Institute of China Studies at the University of Malaya, said given the sudden emergence of the pandemic, Vietnam has done well in its own response, and in preparing the various contingencies facing ASEAN.
Vietnam's chairmanship of ASEAN this year has been full of difficulties and the country has played an active role in building a common community in ASEAN since it became a member of the bloc and has increased its stature in recent years, according to Dr Balaz Szanto from Webster University Thailand. Vietnam will continue to demonstrate its guiding role at the regional forum, including promoting a unanimous view regarding emerging regional issues, he said.
Indonesian senior journalist Veeramalla Anjaiah told VNA that "It was a big success for Vietnam's ASEAN Chairmanship. Throughout the year, all ASEAN meetings and summits were held virtually. Many of Vietnam's targets have been achieved so far."
Malaysian Professor Yeah Kim Leng, Director of the Economic Studies Program at the Jeffrey Cheah Institute on Southeast Asia at Sunway University, said Vietnam has made great contributions to economic growth and stability in ASEAN which is now recognized as one of the most attractive regions for foreign investors and becomes an important part of the global supply chains.
Prof. Liu Ying, an expert in trade and international relations from Chongyang Institute for Financial Studies under the Renmin University of China, told VNA that Vietnam has made efforts to ensure ASEAN meetings take place safely, contributing to the group's development across the spheres of economics, trade, politics and health.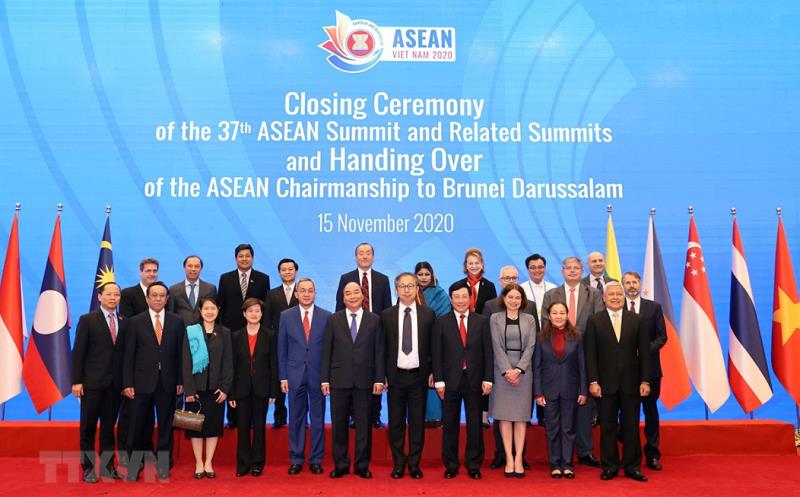 Vietnam closes the 37th ASEAN Summit in mid-November in support by regional and international friends. Photo: Thong Nhat
Indonesian Ambassador to Vietnam Ibnu Hadi told the Voice of Vietnam (VOV) that Vietnam has successfully performed its role, making substantial contributions to promoting closer regional cooperation to deal with Covid-19 and step up economic recovery. "From the very beginning of its term, Vietnam took ASEAN seriously and considered the bloc as a focal point in its foreign policy."
Secretary General of the ASEAN-Japan Centre (AJC) Masataka Fujita said Vietnam took the lead surviving and becoming stronger in the Covid-19 pandemic and it promoted the post-pandemic recovery among the region.
"Vietnam is a respectable, trustworthy, and constructive member of ASEAN," Frederick Kliem, an analyst with the Centre for Multilateralism Studies at the Singaporean-based S. Rajaratnam School of International Studies (RSIS).
"Vietnam has an active and leading role in the ASEAN political-security community, particularly in regional and maritime security," he said, noting that Vietnam is progressing quickly in the region and is playing an important role in connecting the five founding member states of Indonesia, Malaysia, the Philippines, Singapore, and Thailand and also with CLM countries (Cambodia, Laos and Myanmar).
At a virtual meeting in Hanoi on November 10, ASEAN foreign ministers said 2020 is a year of challenges and uncertainties, competition among economic powers, and traditional and non-traditional security threats.
The regional countries, with the Vietnam chair, has gained significant success in building the ASEAN Community and affirming the role of ASEAN Centrality in the regional architecture.
At the East Asia Summit (EAS) on November 14, member countries highly appreciated Vietnam's role in the ASEAN Chair 2020 and the 15th EAS in initiatives on the bloc's Covid-19 Response Fund and the Regional Reserve of Medical Supplies.
On November 15, ten ASEAN member state and its five partners namely China, Japan, South Korea, Australia, and New Zealand signed the Regional Comprehensive Economic Partnership (RCEP). This is the world's largest trade pact  that covers 30% of the world's GDP. Hanoitimes
Linh Pham

Foreign media outlets have run various headlines on the signing of the world's largest trade deal – the RCEP, with ASEAN at the centre during the grouping's summit virtually hosted by Vietnam as ASEAN 2020 Chair last week.