How will Vietnam's social networks compete?

Lotus, the newly launched 'made in Vietnam' social network, aims to focus on distributing content for press agencies and entertainment content producers.
In the last three years, three Vietnam's social networks started with funding commitments from investors.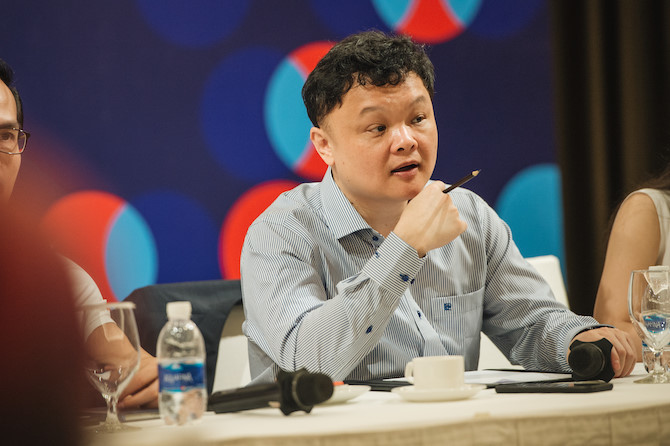 Nguyen The Tan, CEO of VCCorp


In June 2019, Hahalolo, a social network believed to be the first developed by Vietnamese, integrates social network, online tourism services and e-commerce.

Like other big social networks, Hahalolo has functions allowing users to make friends, and chat online without limitations in space and time.

Hahalolo users can interact through the features of posting, commenting, sharing and expressing emotions. 

Lotus, the newly launched 'made in Vietnam' social network, aims to focus on distributing content for press agencies and entertainment content producers.
Hahalolo also integrates online travel and e-commerce service models, which helps it be a bridge which links travel enthusiasts, and link with travel service providers, retailers with customers.

In July, another social network, Gapo, made its debut. At a press conference to introduce Gapo, Gap Technology, the developer, received commitment from G-Capital to invest VND500 billion. The amount of money would be used in the first phase of the project. It hopes to obtain 50 million users after two years.

While Hahalolo is the integration of social network, e-commerce and online travel, Gapo follows a model which is close to Facebook.

Gapo Technology's CEO Ha Trung Kien recently announced that the social network has more than 1 million users and the number increases rapidly day after day.

The third social network introduced in the last three months is Lotus, developed by VCCorp.

A representative of VCCorp said the project has VND700 billion worth of investment from VCCorp and domestic investors. It plans to call for VND500 billion worth of capital more for 'long-term development'.

The representative affirmed that Lotus 'will be different' which will focus on content.

As for Facebook, the social network is based on relations of members. TikTok is based on videos shared on the system. Lotus users can see creative content.

Lotus has a tool that helps recognize the content contribution by others called Token. Token is a kind of bonus point which users can receive when sharing articles or posting interesting content. Token is not sold by the social network, but will be generated during content creation.

Each Vietnamese social network has its own development strategy. However, no one can say for sure if the social networks can compete with foreign giants and attract Vietnamese users.

Pham Hong Phuoc, a journalist in technology, commented that Vietnamese social networks should go to niche markets, that they should avoid direct confrontation with Facebook, but should focus on features and services that global networks cannot provide.
Ha An

The Vietnamese social network Lotus revealed its plan to attract 60 million users in Vietnam during its official launch in Hanoi last night.  

VCCorp has announced that the pilot version of its VND700 billion ($30.1 million) Lotus social network will officially be launched on September 16.