VietNamNet Bridge – On Saturday evening, seven giant lotus flowers floating on the central Huong River in Hue were lit up to inaugurate a cultural week celebrating Buddha's 2560th birthday.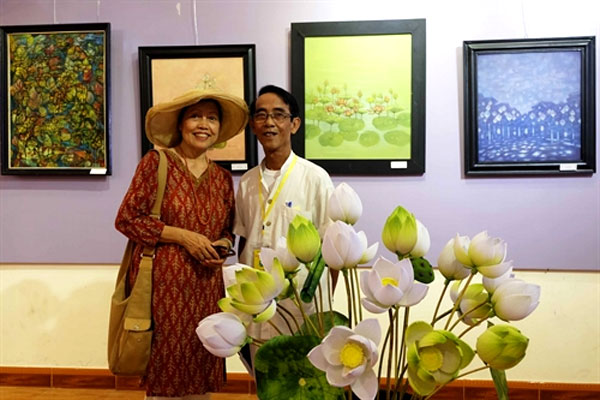 Hue in bloom: Artist Than Van Huy (right) showcases his handmade paper lotus flowers and paintings. VNS Photo Minh Nhat
The blooming lotus flowers represent the first seven footsteps of Buddha after his birth and are constructed of pink cloth petals around a steel frame, with each flower weighing up to 300kg, and measuring 7.6m wide and 3.7m tall.
The lighting of the flowers marks the start of a series of activities including charity groups visiting patients at hospitals and members of the city's Association of the Blind and laying wreaths for the war martyrs at the City's Martyrs Cemetery leading up to Buddha's birthday on Saturday.
Hue locals consider Buddha's birthday to be an important local holiday and will take time off from their daily schedules for pagoda trips and prayer. The flower installation is designed to create a peaceful ambiance in the city and will be available to view for the rest of the week, until May 21 or the fifteenth of the lunar month.
During the week, a number of ritual ceremonies will take place in almost 300 pagodas around the city and its surrounding areas. Some of them will be accompanied by street parades.
A parade of vehicles decorated in flowers and Buddhist themes will entertain the public on Thursday evening as it meanders through the streets. The next afternoon, hundreds of monks and nuns will join a parade to transfer a Buddha statue from the former national pagoda Dieu De to Tu Dam, current capital of local Buddhism.
Also, yesterday afternoon, an exhibition showcasing paintings by local artist Than Van Huy, venerable Mai Chau, and local teacher Minh Thu began a free exhibition in the Lieu Quan Buddhism Centre in Hue City.
A total of 48 paintings, featuring the zen beauty of pagodas, relics from ancient Hue and lotus flowers will give visitors a glimpse of Hue and its cultural heritage.
Titled 'The Blooming Season of Lotus,' the exhibition will also include the graceful vases of handmade paper lotuses by artist Huy, who created the flowers in 2007 by reviving a paper technique used by the local Thanh Tien traditional craft village.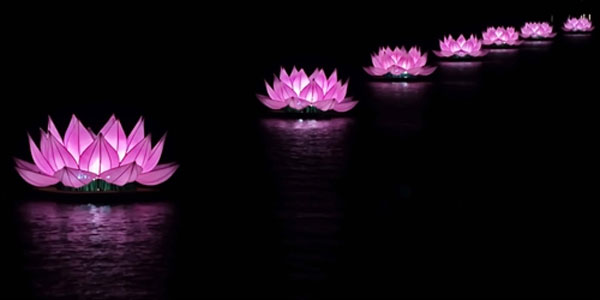 Glowing lotus: An installation of floating lotus flowers on the river in Hue. VNS Photo Hue Phong
VNS