Hue launches golden tourism week
Hue launches golden tourism week to lure more visitors; Jetstar Pacific opens Ha Noi-Bangkok route; Luxury US cruise ship visits Phu Quoc Island; Vietnam Airlines launches online ticket, hotel reservation package
Hue launches golden tourism week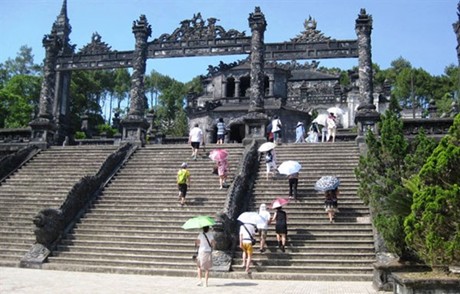 The Hue Monuments Conservation Centre will offer a variety of promotions to visitors during the Golden Tourism Week, which is running from December 24-30, said its Director Phan Thanh Hai.
Regarding promotional packages, tourists can use a single ticket they buy to visit the Royal Palace, Ung Lang (known as Khai Dinh Tomb) and Hieu Lang (known as Minh Mang Tomb) to enter other monuments that require tickets.
Meanwhile, a group of 10 visitors will receive a 20 percent discount for visiting the sites, and those enjoying nha nhac concerts at Duyet Thi Duong Theatre will receive half-price tickets.
The centre will hold a ceremony to greet the two millionth visitor to the Hue relic site this year and the 30 millionth visitor since it was recognised as a world cultural heritage in 1993 by UNESCO.
On the occasion, awards will be presented to three outstanding tourist agencies which have brought the most visitors to the site.
Furthermore, a conference will also be held on the sideline of the week to review the operation of the tourism services at the site.
In the Jan-Nov period, the centre received more than 1.8 million visitors, including nearly 846,000 international ones, generating 129.72 billion VND (6.1 million USD) in pre-tax revenue, exceeding the yearly target by 3.77 percent.
Vietnam Airlines launches online ticket, hotel reservation package
The national flag carrier Vietnam Airlines (VNA) launched VNAHolidays in Hanoi December 1; permitting passengers to book round-trip tickets, hotel rooms, and make payment through a singly online transaction.
The service is available 24/7 at website www.vietnamairlines.com. Online payment will be made via Vietcombank and Smartlink system.
VNA deputy director general Trinh Ngoc Thanh said that the carrier yields a revenue of VND4 trillion (US$187.76 million) annually via online ticket sale. VNA-Holidays will better serve this group of passengers.
Jetstar Pacific opens Ha Noi-Bangkok route
Viet Nam's low-cost carrier Jetstar Pacific announced its launch of a direct flight route between Ha Noi and Bangkok (Thailand) by Airbus A320.
Accordingly, the route is planned to operate from March 29th, 2015 with a daily return flight. Flights from Ha Noi will depart at 12:25 pm while the return leaves Bangkok at 15:35 pm.
Every Tuesday, Wednesday and Saturday, the flights from Ha Noi will depart at 12:00 pm and the return from Bangkok will take off at 14:40 pm.
Tickets for the route are being sold at www.jetstar.com and booking offices nationwide, or call 19001550.
Previously, the carrier inaugurated its service between Ho Chi Minh City and Bangkok, which will officially operate on December 10.
This is the second route linking Viet Nam and Thailand opened by Jetstar Pacific.
Hanoi, Da Nang listed among Asian most attractive destinations
Readers of Smart Travel Asia, the region's most dedicated online travel magazine, have voted Hanoi and Central Da Nang city of Vietnam as two of the top ten most attractive destinations in Asia.
Indonesia's Bali Island is first in the list, while the two Vietnamese cities are on the eighth place along with Singapore.
Hanoi, which recently has made the list of the world's top 10 most culturally rich cities compiled by Lifehack website, is home to a great number of famous tourist attractions, including four UNESCO cultural heritage sites and traditions. They are the central sector of Thang Long Imperial Citadel, the 82 stone stele records of doctoral laureates in the Temple of Literature, the Giong Saint Festival in Soc Temple, and ca tru (ceremonial singing).The city is also popular for its many colonial buildings and the lively daily activities of the locals.
Meanwhile, Da Nang with many beautiful beaches is at the centre of many tourism destinations and world heritage sites, including Hoi An, the My Son Sanctuary, the Hue Monument Complex and Phong Nha-Ke Bang.
Da Nang is also considered one of the emerging ten tourism destinations in Asia in 2014, alongside Mandalay (Myanmar), Kenting (Taiwan), Okinawa (Japan) and Lombok (Indonesia).
Over 2.6 million visit Thua Thien-Hue in 11 months
The central province of Thua Thien-Hue welcomed more than 2.65 million tourists, including more than 935,000 foreigners, in the Jan-Nov period this year, up 9.13 percent compared with the same period last year.
The tourist sector posted 2.5 trillion VND (118.4 million USD) in turnover during the period, a year on year increase of 14.86 percent.
The figures show that the province's targets set for 2014 at 2.85 million visitors and 2.7 trillion VND (128.6 million USD) of revenue are within reach.
In the coming time, the province will continue to offer more products and services as well as a variety of promotions to attract more tourists.
A Golden Tourism Week will be held from December 24-30 in the Hue relic site with many discount packages.
The provincial Department of Culture, Sports and Tourism is implementing a 230,000 USD project on developing sustainable and responsible tourism which is funded by the International Labour Organisation (ILO) and the United Nation's Education, Science and Culture Organisation (UNESCO).
The project aims to promote the ancient Thanh Toan bridge in Thanh Thuy Commune, Huong Thuy district, as a tourist site through developing sight-seeing tours and training locals in service and business skills.
At the same time, the locality continues to cooperate with other provinces in the central region on the heritage tour project.
Luxury US cruise ship visits Phu Quoc Island
The 6-star luxury cruise ship, The World, run by a US-based firm took 180 tourists to Phu Quoc Island, southern Kien Giang province on December 2.
The passengers hailing from all over the world had explored Ha Long Bay, in northern Quang Ninh province, Hue imperial city, Vung Tau city, Ho Chi Minh City before landing in Phu Quoc Island, which is known widely as the Pearl Island.
During their one-day stay on the island, they toured popular landscapes, pepper orchards, fish sauce factories, and Phu Quoc Prison where Vietnamese communists were jailed during the war time.
The luxury cruise ship with 12 floors offering all kinds of facilities for entertainment, sports and shopping can accommodate up to 270 guests plus crewmembers.
Beaches, seas and islands, cultural heritage, and eco-tourism have been specified as priorities in a recent tourism marketing strategy until 2020, drawn up by the Vietnam National Administration of Tourism.
The top-priority markets are Japan, the Republic of Korea and mainland China, as well as Taipei (China), Russia and Southeast Asia, besides Australia and New Zealand. India and the Middle East are promising markets.
Vietnam has so far this year welcomed over 7.2 million international arrivals.
In 2015, Vietnam targets to welcome 8.5-9 million foreign arrivals and 41.5 million domestic holiday makers, raking 290 trillion VND (13.6 billion USD).
VNA/VNS/SGT