Hue's headwear showcases local charm
VietNamNet Bridge – Conical hats produced in the central Thua Thien-Hue Province, which includes the historic Hue City, are similar to those made in other regions in the country.
VietNamNet Bridge – Conical hats produced in the central Thua Thien-Hue Province, which includes the historic Hue City, are similar to those made in other regions in the country. But innovations by local artisans have added charm and made Hue hats famous.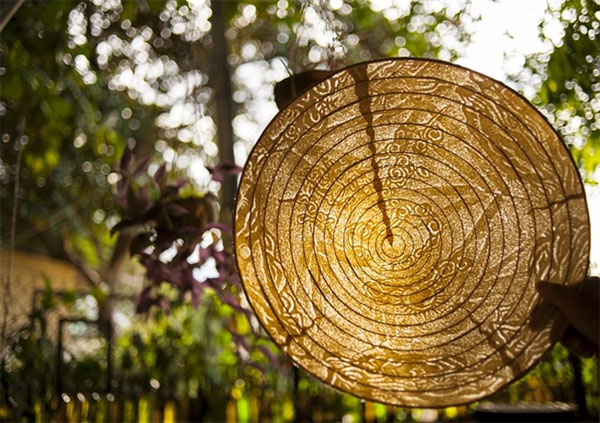 Beautiful patterns: A trúc chỉ conical hat, an artistic variation of the hat. VNS Photo Le Huy Hoang Hai
Conical hats are synonymous with Viet Nam, and hat-making artisans in the former capital city of Huế have added a little extra charm to the iconic headwear.
Conical hats have been made and worn by Vietnamese for some 3,000 years. Images of people wearing the hats are depicted on Dong Son and Ngoc Lu bronze drums. Along with their long history, conical hats remain popular today thanks to their ability to shield wearers from the elements.
Women wearing traditional dresses of ao dai or ao ba ba use conical hats as an accessory, either wearing or carrying them. Although in the past bicycle and motorcycle riders would wear conical hats, safety concerns mean you're more likely to see people zooming by wearing helmets.
Hue is known for producing the hats. Researchers suggest that the area's abundant sunshine during summer and heavy rain in the winter made hats more popular than in other parts of the country, especially among women.
"I saw women from Hue wearing conical hats everywhere, at all times and from all walks of life. That interested me and I tried to capture images of women wearing the unique hats," says freelance photographer Vo Huong Lan.
The popularity drives the production of this type of hat in the former capital city. In the past, almost every village in and around Hue had weavers who could make conical hats for their own use and for sale.
Today there are 15 villages making conical hats, including those working on the palm leaf processing and on weaving the hats.
They are Doc So, My Lam, An Luu, Dong Do, Dong Di, Tan My, Thanh Duong, Truyen Nam, Duong No, Thanh Tan, Huong Can, Thuy Thanh, and Phu Cam.
Phu Cam, My Lam and Doc So are known as the biggest producers of Hue hats. The villagers were the main suppliers of good quality hats during the Nguyen Dynasty (1802-1945) in Hue.
In addition to these villages, others in mountainous areas of A Luoi, Nam Dong and Binh Dien supply the unprocessed leaves and bamboo for making hat frames.
Doc So Village is not only known for the good quality hats but also as a standard material supplier.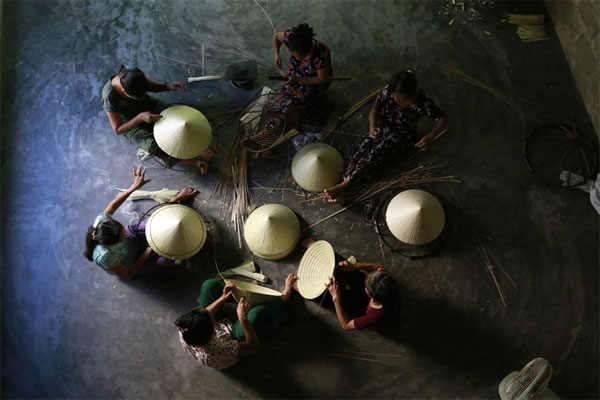 Traditional skills: Hue artisans making conical hats. VNS Photo Nguyen Van Sum
Hoang Thi Khanh Nhat, owner of a leaf processing workshop in the village says her dry leaves have been the main supply for both weavers at the locality and other provinces around the country.
According to Nhat, fresh leaves are transported from mountainous areas to her workshop before they are separated into individual petals and dried under the sun or by charcoal.
Some of the villages have up to 100 weavers while others have no more than ten, including some who do the work part-time when not working on their farms.
Vo Thi Toan, a 75-year-old weaver living in An Luu Village, says she has been weaving conical hats since she was thirteen and has no plans to retire yet.
"This is not a hard job but it requires patience. Skillful weavers make nice, durable hats while others produce hats of lower quality," she says.
"In my era, almost every woman knew how to make this type of headwear for their own use. It is quite easy and it's not time consuming for one to learn the techniques."
To make a hat, makers first iron the leaves to flatten them and put them on round bamboo frames. Normally a Hue hat has 16 frames arranged on a conical frame holder, then they start to tie the leaves into the frames using a needle and thin plastic thread.
They stick a round cotton button on top and glue the tiny needle holes to make the item. Wearers can tie a silk ribbon on the bottom edge to help stop the hat from blowing away in the wind.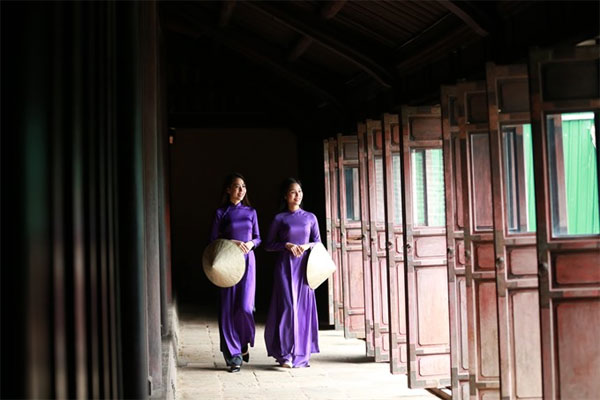 National dress: Conical hats are a great addition to any outfit. VNS Photo Nguyen Van Sum
In general, Hue hats use the same materials, shape and techniques like those used by weavers in other localities. However, those made by Hue weavers are said to be more elegant and more durable.
Researchers explain that the difference is due to the royal roots of Hue, saying that local weavers had to make the best hats for use by the royal family.
This may be apocryphal, but dedication and innovation to conical hats mean that Huế hats and their weavers are the best in the country. Variations of Hue hats include ones with poems or inscriptions, known as non bai tho. Today, local weavers make a range of hats including truc chi hats and lotus leaf hats.
Non bai tho are normal conical hats using the same materials. But weavers use two layers of leaves instead of one. Leaves making the additional layer can be inscribed with poems and drawings.
With these, the poems and images can be seen when the sun shines on the hat, giving them the name of 'poem conical hat'.
Poem conical hats are believed to come from Tay Ho Village in Hue, which was famous for skillful hat makers and beautiful girls wearing conical hats in the 1960s. At that time, a hat-making artisan, who was also a poet, came up with the idea of writing poems on the hat. The idea proved popular and was quickly adopted by other makers.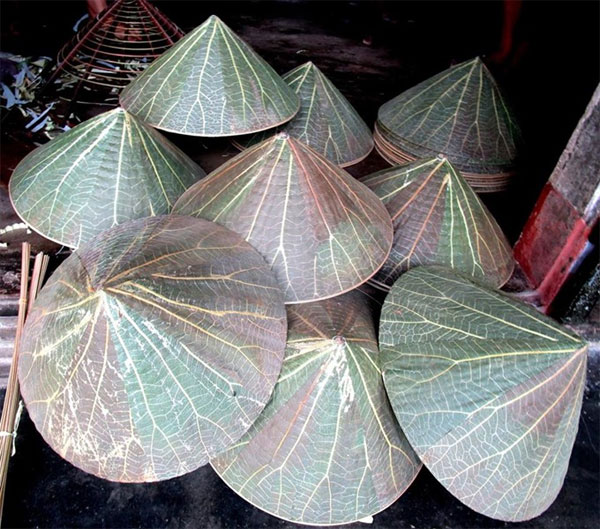 Modern twist: Lotus leaf conical hats, an innovation by Hue locals. VNS Photo Tran Ba Dai Duong
Another style of hat that is popular today is the embroidered conical hats. During the final stages of making a hat, weavers embroider the surface of the leaf with images of landscapes around Hue like Thien Mu Pagoda and Truong Tien Bridge, or girls wearing long dresses.
Truc chi conical hats appeared for the first time in 2013 when truc chi artists replaced the palm leaves with bamboo pulp paper. The paper is produced with artistic patterns on it, which can be seen during the final stages of production. Like the poetry, the images on truc chi hats are best seen in sunlight.
Despite being favoured by the art community and those who love innovation in traditional crafts, the paper hats are not suitable for heavy rain.
Ngo Dinh Bao Vi, director of the Truc Chi workshop, says the artists do not want to inspire a revolution in making conical hats, but to bring the work closer to art by using the special kind of paper instead.
Earlier this year, Nguyen Thanh Thao, a graduate from Hue University of Arts, started using lotus leaves, which are found in abundance in Huế, to make a covering layer on the traditional conical hats.
Thao was born in Doc So, one of the most well-known villages for hat making in Huế, and has been around the headwear-making process almost every day. "Adding a layer of lotus leaf to the hats makes them more charming," he says.
He soaks the lotus leaves in bleach and dry them before handing them over to the hat weavers he works with to make a cover on the palm leaf hats. The technique is popular, and many buyers are fond of the lotus leaf hats because they remain functional but look interesting with the new cover.
These innovations have sustained the popularity of Hue's conical hats. The typical beauty of Hue and the image of school girls riding bikes along sunny streets, wearing white long dresses and conical hats, is sure to endure for many years to come.
In general, innovative additions applied to traditional crafts can help preserve the traditional Vietnamese skills that are being kept alive by many of Hue's artisans.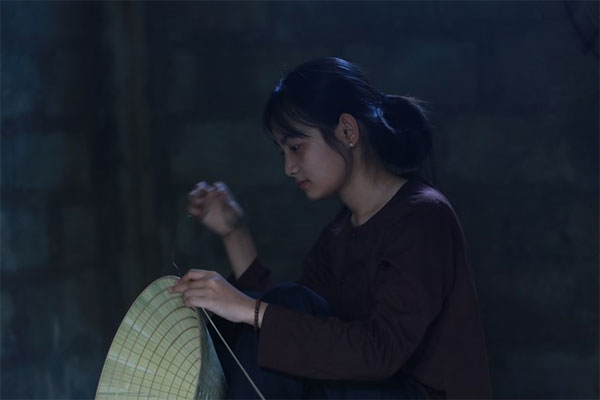 Nearly complete: A girl puts the finishing touches to a conical hat. VNS Photo Nguyen Van Sum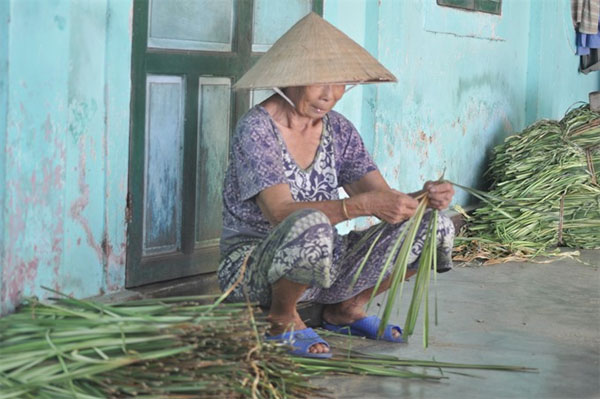 Forging ahead: A woman tears palm leaves before they are processed for hat making. VNS Photo Phuoc Buu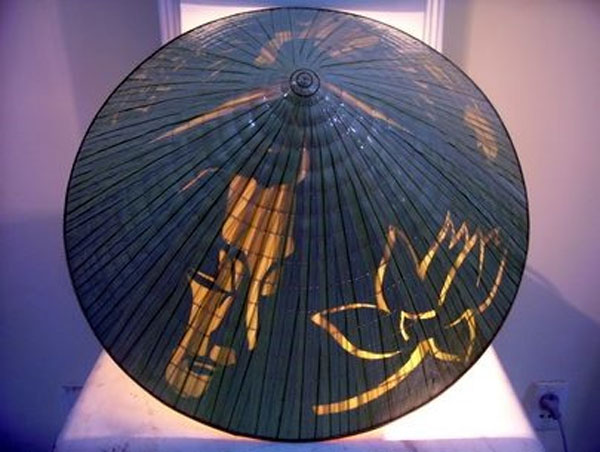 Picture of peace: An image of Buddha on a conical hat, a type of non bai tho. Photo danviet.vn
Phuoc Buu
VNS