Huge opportunities await foreign telco investors

Mr. Sesto E Vecchi, Managing Partner at Russin & Vecchi, and Mr. Chu Bao Khanh, Associate, talk about the prospects for Vietnam's telecommunications industry attracting foreign investment.
Mr. Sesto E Vecchi, Managing Partner of Russin & Vecchi
How would you comment on the prospects for Vietnam's telecommunications industry to attract foreign investment?
Vietnam's telecommunications market has, in one sense, become saturated in recent years. The latest information available reveals that total revenue in the industry decreased from $8.4 billion in 2012 to $7.4 billion in 2013. In 2015, it dropped to $6 billion and then rose slightly to $6.1 billion in 2016. These trends continue. In 2016, the number of mobile subscribers exceeded the population (139 mobile subscribers per 100 people). The three largest operators account for more than 90 per cent of market share in mobile services and broadband services.
Having said that, there is still room to grow. For example, the number of households with internet access at home is only 27 per 100 households. Similarly, only 9.3 per cent of Vietnamese households have fixed-line telephone - although this is a diminishing market. In addition, although the number of mobile subscribers exceeds the population, most of them still mainly use 2G services (calls and SMS).
The number of mobile subscribers with 3G data connection is still below the world average (39 subscribers per 100 people). The number of subscribers with 4G data connection is much lower. The 5G network is not yet developed in Vietnam. We note that data demand is on the rise in Vietnam and will keep increasing in the near future. According to predictions from the Ministry of Information and Communication (MoIC) and telecom experts, the number of 4G subscribers will increase by over nine-fold from 2019 to 2024.
In addition, due to Vietnam's commitment to trade agreements it has recently became a signatory to, the Vietnamese Government understands that it must divest from State-owned enterprises (SOEs), including telecommunications companies. MobiFone and VNPT plan to have their IPOs finished in 2019 and 2020, respectively. This presents a huge opportunity for foreign investors to invest in Vietnam's telecom market if indeed divestment occurs and if bidding is open and appropriate.
What challenges do you see for a foreign telco in Vietnam?
The biggest challenge that a foreign telco will face in Vietnam is the competitive environment. Vietnam's telecommunications market is dominated by the big SOEs, including VNPT, Viettel, MobiFone, and FPT. The market share that belongs to private firms is either small or negligible. What is worrying is that not all of these dominant positions have necessarily developed as a result of superior skills, business foresight, and technology advances, but because of the dominance that government links give them.
State ownership, full or partial, can bring advantages to SOEs. Some of these advantages are quite obvious and they contribute to strengthening their financial/capital base as a result of support they can receive from the government: land use rights, rights of way, credit provided by State-controlled financial institutions on favorable conditions, etc. Some are not so obvious. For example, SOEs may also benefit from information asymmetries since, as part of the State apparatus, they naturally have access to data and information that are not available to their private competitors or only available to a limited extent. Most importantly, in many cases, governments entrust SOEs with exclusive or monopoly rights over some of the activities they are mandated to pursue (without a regulatory bidding process) and with loose supervision.
There is another challenge that foreign telco investors will have to deal with. The government does express a clear and strong intention to equitize the main mobile operators according to a plan with specific timelines. But as with SOEs in other industries, or companies with State capital, in practice, the intentions, while good, are not generally complied with. For example, and within the telecoms space itself, the IPO for MobiFone which was in fact planned to be finished in 2018 was not. Due to delays, the equitization plan has been delayed to 2019. Other examples abound.
Major telcos in Vietnam have switched their business strategy to service differentiation and cross-country partnerships in areas of mobile payments, digital marketing, cyber security, and cloud-based services. In what areas would foreign telcos be interested in collaborating with Vietnamese telcos?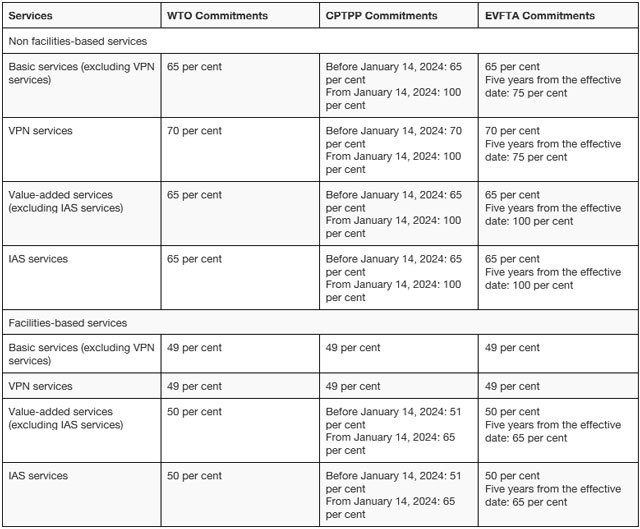 Mr. Chu Bao Khanh, Associate at Russin & Vecchi 
Although a number of telecom sectors are saturated, there are still sectors with room to grow. Opportunities exist for foreign exporters in providing equipment and infrastructure and value-added services, such as developing wireless and alternative broadband technologies and partnering with established network operators to provide 3G/4G/5G services, and Pay TV infrastructure and media broadcasting services, etc., have much room to grow.
In addition, since the satellite-based telecom market is not yet developed in Vietnam, we think there is an opportunity for foreign companies to provide satellite services into Vietnam on a cross-border basis.
Policies are key to the development of the industry in Vietnam. What policies would boost the development of new business collaboration and newcomers?
A national strategy on Information Technology and Telecommunications through 2010 and Development Orientation through 2020 was approved by Decision No. 246/2005/QD-TTg dated October 6, 2005. Vietnam's Telecommunications and Internet Development Plan through 2020 was approved by Decision No. 32/2012/QD-TTg from the Prime Minister dated July 27, 2012. It provided some detail on Vietnam's national strategy. In particular, the country aims to record total service revenue of between $15 billion and $17 billion in 2020. Data are not available, but this would be an important increase if achieved.
On July 7, 2007, MoIC issued Instruction No. 07/CT-BBCVT on the Orientation of Information Technology and the Telecommunications Development Plan from 2011 to 2020. According to Instruction 07, Vietnam aims to accelerate the development of information technology and the telecommunications industry by 20-30 per cent each year. A further objective is to give people access to high quality telecommunications services at low prices. We have seen no data that reports on what Vietnam has actually achieved, but its objective is to reach a mid-level technology ranking in the region.
With Vietnam joining the CPTPP and signing the EU-Vietnam Free Trade Agreement (EVFTA), it is clear that it intends to open up its telecom market, well beyond its current WTO commitments. In general, Vietnam's commitments under the CPTPP will be more open than those of the EVFTA. Specifically:
Non facilities-based services: Under the EVFTA, Vietnam will raise the foreign equity cap in basic services from the current 65 per cent (under Vietnam's WTO commitments) to 75 per cent five years after the effective date. The foreign equity cap in virtual private network services will increase from the current 70 per cent (under WTO commitments) to 75 per cent under EVFTA five years after the effective date. In value-added services, the foreign equity cap will be removed for the first time, enabling European investors, five years after the effective date, to acquire up to 100 per cent ownership, thereby removing the obligation to form a joint venture. Under the CPTPP, from January 14, 2024, all foreign equity limitations and joint venture requirements will be removed, for both basic and value-added services.
Facilities-based services: For most basic services, Vietnam's commitments under the EVFTA and the CPTPP are the same as its WTO commitments (the foreign ownership cap is still 49 per cent), except for VPN services. Under the EVFTA, the foreign equity cap in VPN services will increase from the current 70 per cent (under WTO commitments) to 75 per cent, five years after the effective date. Regarding value-added services, the CPTPP requires Vietnam increase the foreign equity cap from 50 per cent (under its WTO commitments) to 51 per cent, and then to 65 per cent from January 14, 2024. However, under the EVFTA, the current 50 per cent foreign equity cap will be increased to 65 per cent five years from the effective date.

Vn Economic Time