VietNamNet Bridge – Illegal loggers and timber traders now can easily escape the foreign rangers' notice and carry illegally cut wood in broad daylight.
The itinerary of illegally logged timber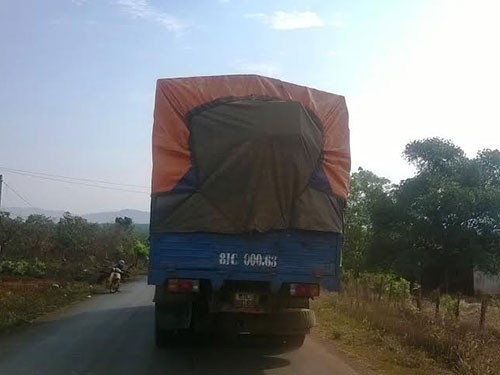 Wood from the Vietnam-Cambodia border area and Sa Thay District of Kon Tum Province was carried across Ia Grai District, and then followed inter-province Highway No 664 to reach to Pleiku City, Gia Lai Province, where it was sold as legal goods.
This was the itinerary of the illegal wood trading ring in the central province that Nguoi lao dong's reporters have discovered.
At 6:30 pm on April 6, three trucks fully loaded with timber were seen following each other past the Ia Krai Commune People's Committee's office and heading towards a timber workshop.
About one hour later, the trucks went back and ran towards the Ia Krai Commune's cemetery area. Six similar trucks carrying wood had come to the workshop by 11 pm of the same day.
Reporters later found out that the timber workshop was owned by a woman named Vui. Though it had just become operational some days earlier, it was the biggest one in the area.
At 8 am of April 7, when reporters came to a timber gathering site, about 300 meters far from the Ia Krai Commune's cemetery, they could see a number of large logs (40-80 cm in diameter and 3-4 meters in length) lying about on the ground. They could also see two trucks fully loaded with timber covered by canvas sheets, which were preparing to depart.
The timber had been brought there from the Sa Thay District of Kon Tum Province, on waterways and by land.
While the reporters were taking pictures, another truck ran across, followed by a car, which served as "bird prey", in charge of dealing with policemen or forest rangers if the timber-laden truck was discovered.
Local authorities turn a blind eye towards illegal timber trade
At 10 pm on April 12, a truck was seen on the highway, heading towards the Ia Krai Commune's center and running straight through the check-points.
Even though the trucks made terrible noise, no one took notice of them. It was dark at the check-points: the officers on duty had turned off the lights and were busy watching a football match on TV.
None of them stopped the truck or asked the drivers to show documents or examined the goods the truck carried.
There were some 15 big traders specializing in collecting illegally chopped wood from loggers. Low-quality timber was sold to the local workshops, which then "legalized" the timber, assigning it legal sources for sale. Meanwhile, the precious timber was destined for Pleiku City, to be sold at higher prices.
At a meeting with reporters, Nguyen Van Thang, head of the Ia Krai Commune's Forest Rangers' Unit, maintained that no illegal timber trade exists in the locality – notwithstanding what the reporters had seen with their own eyes. Thang also claimed that there were seven licensed timber trade workshops, of which four are operating at a moderate level, while the other three have stopped operation.
However, the reporters have found that at least three large-scale workshops are in operation. Vui's workshop puts out 1-2 containers of timber every day.
NLD