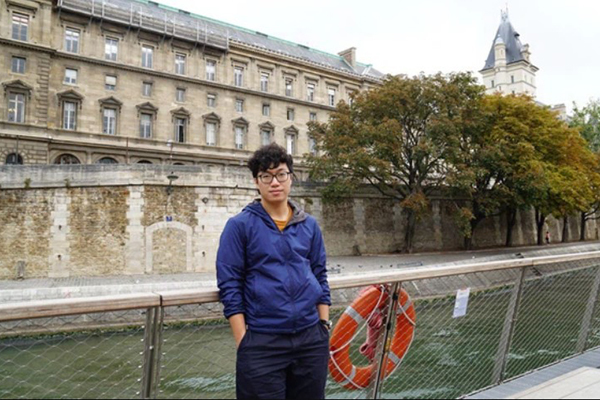 Nguyen Thanh Trung, founder and CEO of Axie Infinity
Axie Infinity is a game developed by Sky Mavis, a game studio headquartered in HCMC, where there are many Vietnamese engineers.
The startup has become famous as its AXS token capitalization value has reached $2.4 billion. Axie Infinity has attracted a high number of gamers from many countries in the world. In terms of value, Axie Infinity has surpassed Flappy Bird, a Vietnamese developed game that became popular worldwide.
How did the idea about a blockchain-based game come to you and how was it marketed?
I once disliked blockchain. Before Axie Infinity came out into society, people often talked about bitcoin prices and ICOs. At that moment, in my eyes, not everyone needed capital to develop blockchain projects in appropriate ways. Some people considered ICOs as products. This was contrary to my professional ethics as a technology engineer.
One day, I became curious when hearing about a game developed on the platform of blockchain. I tried it and realized that blockchain is not as bad as I had imagined before. The key lies in how you apply the technology.
I decided to give it a try and Axie Infinity was created. When the game began getting positive responses from the community, I decided to quit my job to focus on the project.
Axie Infinity was created by me and four co-founders, including Tu Doan, a co-founder of Lozi. The other three are Aleksander Larsen from Norway, Jeffrey Zirlin from the US and Andy Ho, a co-worker at the old company.
I met the two foreign co-founders via the blockchain-based game we played together. Later, we did not meet each other face to face, but worked online. It was the start of Axie Infinity in late 2017 and early 2018.
Are you surprised that your company is valued at billions of dollars?
We did not think too much when beginning to develop Axie Infinity. At that moment, we just wanted to do something with an entrepreneurial spirit. As people who have passion for games, we wanted to make some changes to the industry.
As for our way of project development, we have more perspectives and information. Desires and goals of the project development become clearer, and plans and strategies to reach that goals have taken shape.
The growth of Axie Infinity recently was a little beyond the team's expectations.
The growth model of normal enterprises has a linear form. But it is different for technology firms because of the appearance of singularities. These occur when the firms' growth rates soar. What are the singularities of Axie Infinity then?
There are a lot of singularities on the development path of Axie Infinity, including moving of the game's infrastructure to Ronin, a blockchain developed by our team. This is an important milestone which created a foundation for the development of Axie Infinity later.
The investments by billionaire Mark Cuban and other prestigious institutional and individual investors were also an influential factor.
In general, startups focus on the domestic market before reaching out to the world. But Axie Infinity is doing the opposite. Why?
At the time when the project started, the number of blockchain game players was modest, just 6,000-7,000 all over the world. The figure was too small to be divided by region and country. Therefore, we decided to target the world market.
It is easier to develop the world market in the blockchain industry, in terms of people's acceptance, the legal support and ecosystem as well. The first players will play an important role in laying a foundation for a community later.
Could you please tell us about the Axie Infinity staff?

Sky Mavis has 40 workers, with 80 percent Vietnamese. Three of the five founders are Vietnamese.
In the future, Axie Infinity will use more foreign workers, especially for positions related to creativity. Vietnamese people have advantages in technical skills.
Are you really a dollar billionaire?
It is not correct to call me a dollar billionaire, because the market capitalization of AXS token is completely different from the capitalization of Sky Mavis. The company has an amount of AXS, but the amount of tokens is locked.
The locked tokens will be gradually unlocked to ensure the commitment of the company and people to the project.
The developers of Axie Infinity now have 21 percent of total supply of AXS tokens. Of this, the company is holding 17 percent, while the 4 percent is used as a bonus for developers.
Of the total capitalization value of $2.4 billion, we are holding $500 million only. The figure just shows the value of the tokens the team is holding, and does not truly reflect all the value of Sky Mavis.
What are your goals? Becoming a technology billionaire, or something else?
Personally, my current goal is educating my kids well. I think I won't chase numerical goals. Money is a tool to create better things and implement my wish of doing something to bring benefits to people and society. But now I feel higher responsibilities than previously. 
Trong Dat

The market capitalisation of Axie Infinity, a blockchain-based trading and battling online video game developed by a Vietnamese studio, currently stands at 2.5 billion USD with about 61 million AXS traded.