In Vietnam, convenience stores facing target hurdles

In contrast to expectations, owners of many foreign convenience stores in Vietnam may not be able to meet their ambitious targets in carving a firm niche in the domestic market, due in part to fierce competition from the biggest players.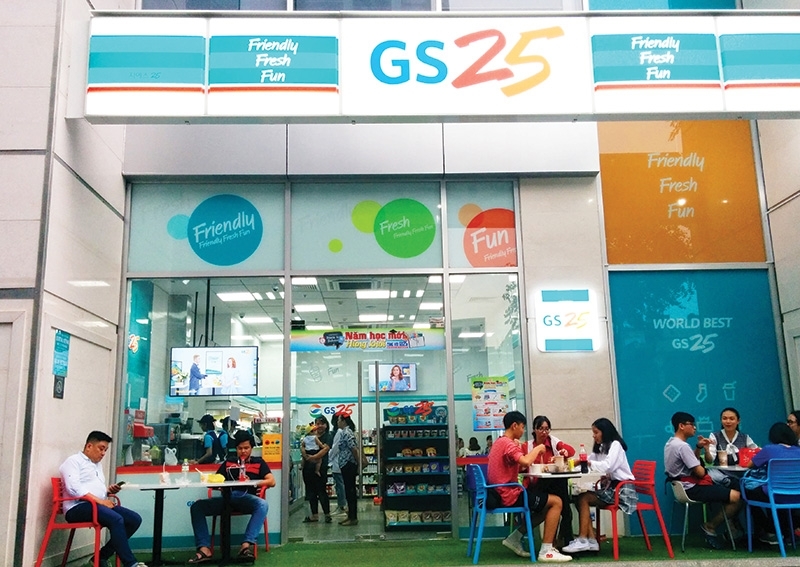 Many chains are posting tiny percentages of openings compared to initial ambitions
There is one year left for Japan's second-largest convenience store chain FamilyMart to reach its target of opening 1,000 stores in Vietnam. Despite beginning operations in the country a decade ago, the group has opened only 151, a paltry 15 per cent of the intended target.
In 2011, Japan's Ministop also landed in Vietnam with the desire to open 500 stores in the first five years, with that figure increasing to 800 units by 2018. However, only 27 such stores can be found now.
FamilyMart and Ministop are two of the more outstanding cases of convenience store chains failing to develop in Vietnam in the way they intended.
In the meantime, other foreign players have also faced difficulties in developing chains to expectations despite the long deadlines they have imposed on themselves.
According to a new report on Vietnamese retail store status by domestic market researcher Q&Me (owned by Asia Plus Inc.), Thailand's B-Mart chain expected to open 3,000 stores by 2027, South Korea's GS25 with 2,500 stores by 2028, and Japan's 7-Eleven with 1,000 stores by 2027.
In reality, the stores of these brands currently number 125, 32, and 27, respectively, massively lower than initial ambitions.
Circle K  is today the foreign convenience chain now with the largest convenience store network in Vietnam. However, its pace of expansion is difficult to assess as – unlike other players – it has not posted a ­target for store openings.
If comparing expected stores with current stores, aforementioned brands will have to realise up to 200 stores each year or thereabouts, in order to achieve targets set by each retailer.
But the obstacles in the way are many – from monetary considerations and land issues, to supply and demand as well as actual competition with each other and new players, including mini supermarkets.
SATURATION POINT
The Q&Me report showed that the number of convenience stores in Vietnam this year may actually increase to around 2,600 units, up 62 per cent from last year (not including new chains Zakkamart, GS25, and Bach Hoa Xanh) but the increase is driven mainly by the rise of the Vinmart+ chain.
The numbers show that retailers, especially foreign investors, could still expand their convenience chains, but not in line with the huge targets set many years ago.
According to British market research firm Euromonitor International, during the review period, convenience stores recorded booming expansion in terms of the number of outlets, as the format was still relatively new to Vietnam. However, in 2018, outlet growth slowed down significantly.
Many urban areas have become overcrowded with convenience stores, while rural areas do not generate enough demand for industry players to invest there.
In suburban and rural areas, convenience stores compete with many traditional grocery retailers, street stalls, and cafes that sell almost identical items at a cheaper price.
"Despite continual growth in the urban population, the rate of urbanisation is not fast enough to keep up with the growth of convenience stores," said Benedicte Dia, a representative of Euromonitor International.
"Some players even find it challenging to open new outlets, and several had to close non-performing outlets in 2018. Over the forecast period it is expected this trend will continue, resulting in a much slower growth rate compared to the review period."
Meanwhile, Kengo Kurokawa, founder and CEO of Asia Plus Inc., told VIR that convenience stores in Vietnam differ greatly to those in Japan, which has a much more developed sector.
"The quality of traffic in Vietnam is not bad but the average pricing per person is much lower," Kurokawa said.
"Sales currently concentrate too much on food and beverage categories. At the same time, investors do not yet enjoy high margins due to customers' low purchasing power, as the number of stores in Vietnam remains low with a focus mainly on cities."
Kurokawa added that the rent payable for stores in the urban area is high, making it difficult for investors to maintain their profitability.
Meanwhile, international groups try to differentiate themselves with the quality of services but in general, Vietnamese customers mostly pay attention to price-oriented marketing plans.
Due to this, many are hesitant to open the number of stores as originally anticipated.
However, some local players are performing well. For example, in April 2019, VinCommerce, the retail arm of Vingroup and the corporation managing VinMart and VinMart+, announced acquisition of 87 convenience Shop&Go stores with a surprising nominal sum of $1.
According to a VinCommerce statement, the deal was derived directly from a proposal from the Shop&Go chain owner.
"Vietnam's retail industry has a lot of potential to exploit but competition is fierce and not as straightforward as we imagined, so we decided to withdraw," said a Shop&Go representative.
UNIQUELY SUCCESSFUL PLAYER
The success of Vingroup's subsidiary in acquiring a ­number of retail chains such as Vinatexmart, Oceanmart, Maximark, Fivimart, and now Shop&Go could show its determination to develop a network in order to gain market share as its strategy.
Vingroup set its foot in the retail market in 2014 via the purchase of Oceanmart. At the time, the country's leading real estate developer was considered inexperienced in the retail sector, despite its powerful financial capability.
The advantage of finance contributed to helping the group gain more market share from foreign players.
Notably, after five years, the group developed 1,465 Vinmart+ stores, which is now by far the fastest-growing convenience store in the country.
The speedy growth is shown via the gap between expected stores and current stores, with a target to open 4,000 Vinmart+ stores by 2020.
The number makes up 36.6 per cent compared to expectations, compared to the 3 per cent ratio of other stores.
With the existing average growth of an additional three stores opening each day, Vingroup may see potential for the target to be reached next year.
"Domestic companies have the edge in terms of finding the right locations and the speed of decision-making," remarked Kurokawa from Asia Plus.
"Location is a key aspect for success, and a company like Vinmart+ is very quick to securing the best spots. While foreign companies became more cautious about the profitability and try to make decisions based on a detailed business plan, the domestic conglomerate does not hesitate to invest in mid-term goals."
Another heavyweight competitor of the convenience store are the mini-supermarkets, and in 2018 their ­numbers continued to thrive.
Mini-­supermarkets have similar selling spaces to those of convenience stores, and therefore they can be located near to each other.
With their small selling space, mini-supermarkets can also penetrate small lanes and crowded residential areas.
Even though they do not focus on fast food, they usually carry a wider range of grocery and household products. VIR
Kim Oanh

As consumer demand for convenience soars across Southeast Asia, convenience retail channels are experiencing record growth rates and higher rates than any other retail channel, according to a new study by Nielsen.  

As consumer demand for convenience soars across Southeast Asia, Vietnam saw strong growth of 13 per cent in Fast Moving Consumer Goods (FMCG) sales growth in convenience stores in the past year.