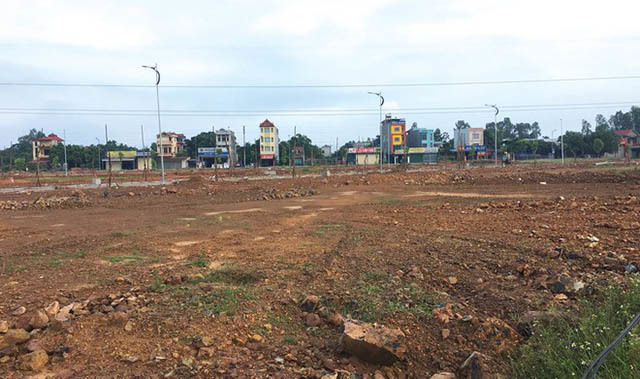 Experts estimate that in Vietnam, someone who starts working and has income increasing in accordance with seniority and doesn't spend money on anything needs 20 years to buy an affordable apartment with an area of 60sqm in cities. While the income per capita in Vietnam is still low, the land prices are sky high.
Many land auctions were held within a short time in the last months of 2021 and the winning prices were several times higher than the starting prices.
According to the Vietnam Realtor Association (VRA), the real estate prices have been increasing since 2014 by 10 percent per annum. The increase is over 20 percent in some localities. The land price increase is attributed to speculation and artificial price inflation caused by brokers, not high demand.
The movement of hoarding real estate has caused market prices to escalate, and resources of society to be 'buried' in real estate. Not only small investors buy land with idle money, but businesses also trade land. The investments in production and business are yielding property speculation.
A businessman in Bac Ninh province said manufacturing electronic products is a very costly process which takes a lot of time and money, but profit is just 10-18 percent. Meanwhile, if investing in real estate, one can expect sky high profit as the land prices may increase by 100 percent of even 200 percent within a short time. Many people would rather buy land to hoard and sell some years later, when the prices increase, than making investment in production.
The problem that if land is bought just for hoarding and speculation, not for use, it won't create wealth for society. When one man gets richer, another one will get poorer, which leads to a big gap in income and increase in inequality.
In an effort to prevent speculation, the Ministry of Finance (MOF) wants to impose property tax. However, the idea has been applauded by experts.
They said that the State needs to apply comprehensive measures to increase transparency and improve supply to prevent land speculation and drive capital into production and business. Meanwhile, property taxes should be applied in the long term, when the market develops and becomes stable.
In the world, 174 out of 193 countries impose property tax. The US, for example, imposes high property tax and progressive tax on land or houses left idle. However, this is the story of developed countries which are transparent and stable. Meanwhile, in Vietnam, land resources and still very important and need to be prioritized for development.
Some days ago, answering inquiries from National Assembly Deputies about the plan to tax land speculation, Minister of Natural Resources and the Environment Tran Hong Ha said it's necessary to amend regulations in both the Tax Law and Land Law.
Le Hoang Chau, Chair of the HCM City Real Estate Association (HOREA), suggested that in order to reduce real estate prices and prevent speculation, it's necessary to impose very high tax rates if transferring land and houses in the first year and keep high tax rates in the second and third years. After that time, if people can prove that the transfer is legitimate, they would enjoy normal tax rates.
Chau also suggested applying progressive tax on individuals and organizations which own a lot of real estate but don't use the real estate for accommodation or for business.
Meanwhile, analysts said the increasing tax rate and property valuation of land plots is a necessity to prevent speculation and artificial inflation of land prices.
In fact, the property tax has been considered for 10 years. The Ministry of Finance once proposed imposing a progressive tax on real estate. The taxation targets institutions and individuals with valuable real estates left unused.
In 2018, the draft property tax law was built, but it was not included in the law-making program of the National Assembly because of many objections.
More recently, in the document dated February 24, 2022 to ministries, branches and localities to collect opinions to review several laws, MOF mentioned combining the tax law on agricultural land use and the tax law on non-agricultural land use, and building of property tax.
However, on March 14, the ministry said that it has not built a separate law on property taxation.
Vietnam is striving to become a higher middle income country by 2030 and a developed country with high income by 2045. In order to do that, it's necessary to overcome the middle income trap. International practice shows that a developing industry is a must to become a high-income country.
However, the policies on developing industry are not seen as not attractive enough, while the policies on real estate are designed in a way to encourage people to trade land. 
Tran Thuy

Imposing property taxes on houses is not a radical solution to build a healthy market, experts say. Taxation will make the real estate market, which is in difficulties because of legal problems and short supply, become even more deadlocked.

While some people support the Ministry of Finance's (MOF) plan to tax houses, others warn that taxation is not feasible and this may bring the opposite effect.