VietNamNet Bridge – In discussions between filmmakers and tourism managers on December 19, Indian directors expressed interest in filming movies in Viet Nam in the future.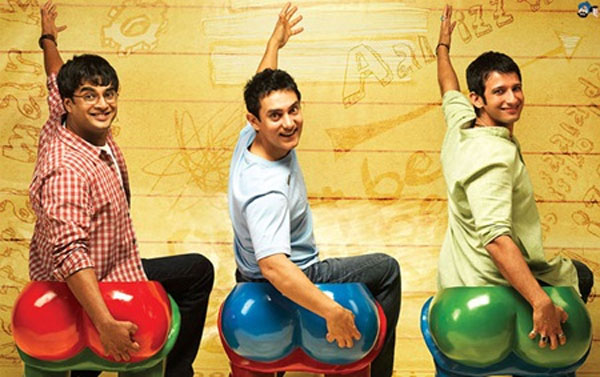 Remake: In the conference, many directors expressed their interest in making Three Idiots in Vietnamese. — Photo santabanta.com
Vietnamese tourism managers, however, have called upon the Indian party to spotlight the country's lesser known sides, rather than focusing on subjects, such as cheap labour and popular landscapes.
The conference further sought to discuss opportunities to promote the nation's tourism through the cinema industry.
"Apparently, the community of young people in Viet Nam is more focused on Hollywood movies, or Japanese or South Korean films. What happened to Indian films?" asked Indian Ambassador Preeti Saran.
In 2016, over 3 million Indian tourists are to visit ASEAN countries, while the number of travellers to Viet Nam is expected to remain at 60,000.
"It's a modest number," she continued. "However, it also shows the promising opportunities to develop the tourism industry."
Saran said Spanish tourism had increased 32 per cent since an Indian Bollywood movie was filmed in Spain in 2011. Earlier, the Indian cinema industry caused similar increases in Indian tourism in Switzerland and the UK.
According to Ngo Phuong Lan, director of Viet Nam Cinema Department, Viet Nam has up to 384 film production companies to work with Indian filmmakers.
Nguyen Hoang Diep, director of Flapping in the Middle of Nowhere, which won the Best Film award at the Venice Film Festival's International Critics' Week in 2014, said the facilities and experience of Vietnamese film producers were not inferior to foreign countries, except for work in post-production and sound editing.
"It's advisable that they should prepare a good English transcript and standard interpretation, which would shorten the censorship process," she said. "A number of movies had been approved, mostly due to removing the language barrier."
In term of the censorship, director Lan said it would not be a large concern since, many years ago, the French movie, The Lover, which was shot in 1992 in Viet Nam, did not raise concerns with officials, despite a large amount of erotic content.
A number of Indian directors agreed that, like Viet Nam, Indian film censorship is under the control of the Bureau of Indian cinema. Rather than censorship, they noted, their work falls closer to the registration of filmmaking.
Rizwan Ahamd, deputy director of the International Film Festival of India, under the Ministry of Information and Communications, said there was no censorship in the film festival.
Another issue hindering Indian filmmakers is the shortage of websites providing views of Vietnamese landscape videos, which those in the film industry check before choosing final locations for filming.
Indian director Peter Hien, whose mother is of Vietnamese origin, said he plans to make a movie in Viet Nam. It would be an action movie and he expects to shoot footage in Son Doong Cave.
"It has been always my plan to produce a movie in my mother's homeland. And I have to say the best thing you've got in Viet Nam is manpower," noted Hien.
However, according to Lan," Indian directors should not just recognise the Vietnamese market for its cheap labour or beautiful scenery. Instead, Viet Nam should be seen as a new piece of land to explore."
The conference, held at the Viet Nam Cinema Department, coincided with the Indian Film Festival 2015.
Eight select films, including Jodhaa Akbar, Wake Up Sid, Three Idiots, Paheli, and Oh My God, will be screened in Da Nang, Ha Noi and HCM City through December 23.
"We want to introduce to Vietnamese audiences our best films from the Indian cinema. We want them to know, apart from Baby Bride (which is now one of the most top-rated drama series in Viet Nam), we still have many other good movies," added Saran.
VNS