Industries hit as epidemic cuts off raw materials

The textile industry suffers from a shortage of raw materials since they are mostly imported from China, which is reeling under the coronavirus epidemic.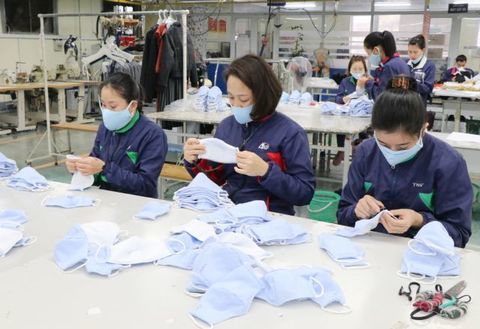 Face mask production by TNG Investment and Trade Co in Thai Nguyen Province.
Vu Duc Giang, chairman of the Viet Nam Textile and Apparel Association (VITAS), said the textile and apparel industry mainly depends on the import of raw materials from China.
Cao Huu Hieu, general deputy director of Viet Nam National Garment and Textile Group (Vinatex), said the Chinese Government had ordered the companies making the raw materials to close and stop foreign trade.
"Viet Nams textile and apparel companies only have enough raw materials to produce this month."
VITAS said to minimise the negative impacts, businesses need to discuss the issue with their customers, look for raw materials at home or in other countries and ensure continued production.
It also asked businesses to closely monitor the epidemic situation in China and other countries.
According to the General Statistics Office, textile and garment exports in the first month of 2020 dropped by 21 per cent year-on-year to US$2.6 billion and imports of raw materials from China were down 7.1 per cent to $6.2 billion.
The rubber industry too faces a shortage of raw materials since 70 per cent is imported from China, Nguyen Quoc Anh, chairman of the HCM City Rubber-Plastic Manufacturers Association, said.
If by March Chinese partners are still not able to resume supply, businesses have to import from Japan and South Korea at 15-20 per cent higher prices, he added.
The coronavirus has spread to many cities in China and 26 other countries and territories after being first detected in Wuhan city in December.
As of 7am yesterday, the epidemic had claimed 565 lives and infected 28,276 people in 27 countries and territories. Viet Nam has 12 confirmed cases.— VNS

The Ministry of Planning and Investment (MPI) has submitted two scenarios for economic growth this year to the Government, as the country faces the impact of coronavirus in China, one Viet Nam's biggest trade partners.  
To cope with the threat of coronavirus, many in Ha Noi are choosing to shop online or order food at home instead of facing crowds at brick and mortar stores and restaurants.