VIETNAM BUSINESS NEWS DECEMBER 2
Industry in need of strategic links
With not everyone in Vietnam's industrial landscape yet recovering from 2021's troubles, many groups have no choice but to move from low-cost production to manufacturing higher-value products.
Next year, pressures and new risks for the Vietnamese economy will increase, said Ramla Khalidi, resident representative in Vietnam for the United Nations Development Programme at the Vietnam Economic Pulse Forum on November 22.
According to Khalidi, the risks to the continuation of economic recovery mainly come from outside. The war in Ukraine, economic slowdown in China, rising international interest rates, a stronger USD, and growing recession risks in Europe could affect demand for Vietnamese exports and increases the risk of macroeconomic instability.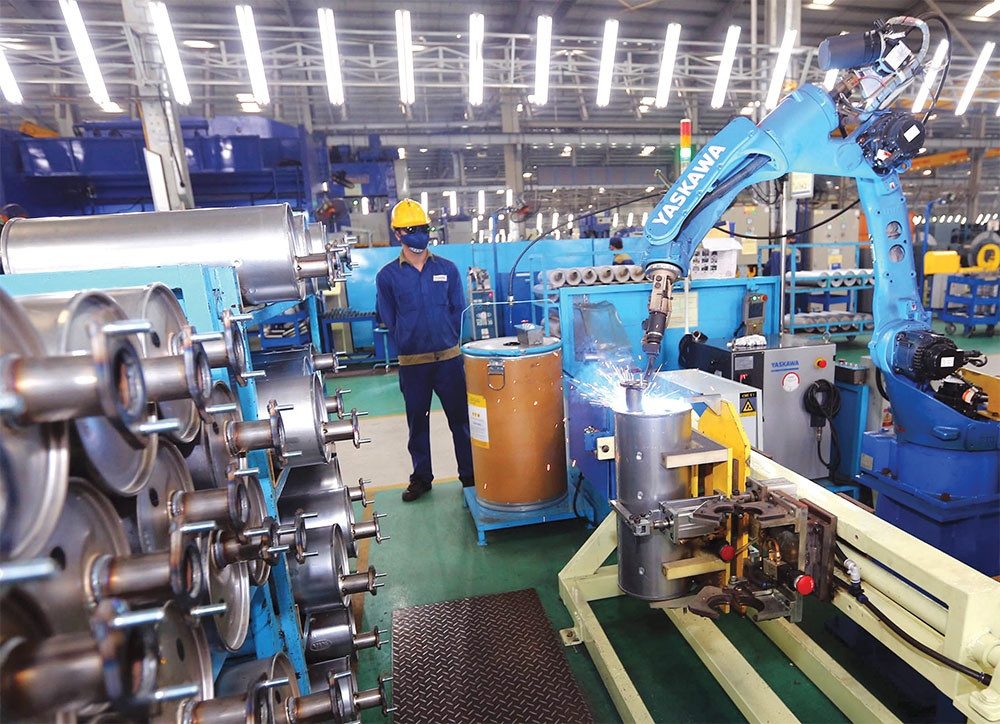 Despite the slow growth of manufacturing, Vietnam's trade landscape remains positive, photo Le Tien
The Industry and Trade Development Report released by the Ministry of Industry and Trade (MoIT) a week ago showed that the Purchasing Managers' Index in the first 10 months of 2022 of some industries decreased, such as for metal production (by 1.5 per cent) and rubber and plastic (down 5.4 per cent).
The MoIT's data also shows a number of shortcomings and limitations, such as many difficulties in industrial production due to rising raw material costs, high transportation and logistics costs, and a local labour shortage in several industries.
Meanwhile, some key localities in the processing and manufacturing industries, such as Ho Chi Minh City and Long An, have not yet regained their previous growth momentum. The resumption of foreign markets has been very positive, but the supply chains have not returned to normal, affecting the overall growth rate of import and export, as well as the whole country.
According to the MoIT's assessment, the number of new orders has slowed down since September in major export sectors such as textiles, footwear, electronics, and furniture. Some companies sold a smaller number of goods than expected, causing manufacturers to limit production in October, when industrial production increased only 3 per cent and manufacturing 3.4 per cent compared to a month earlier.
Despite the slow growth of the industry, Vietnam's trade landscape remains positive, and directly connected to the performance of foreign-invested enterprises, which led the import and export growth in the first 10 months of this year with a total value of $428.99 billion, up 14.6 per cent. Meanwhile, the import-export value of domestic enterprises was $187.31 billion, up 12.9 per cent, equivalent to an increase of $21.4 billion over the same period last year.
Matsumoto Izumi, secretary of the Embassy of Japan to Vietnam, said, "The world needed to diversify supply chains due to the pandemic, and many enterprises related to the manufacturing industry, including Japanese ones, are focusing their attention on Vietnam."
About half of Japanese enterprises want to expand operations within the next 1-2 years in Vietnam, up 8.5 percentage points from the previous year and ranking first in ASEAN, as survey results of over 700 companies in Vietnam by the Japan External Trade Organization showed in February.
Many businesses find that Vietnam's manufacturing and supporting industries are shifting from low-cost manufacturing to producing higher-value products and increasing access to digital technology.
Quang Ninh uses mine waste for construction to save the planet
Going green with construction work, TKV, a unit of Vietnam Coal and Mineral Industries Group (Vinacomin), started recovering its mine waste with soil and rock for levelling of civil and industrial works at Suoi Lai mine in Quang Ninh province recently.
After the end of land and rock recovery from the waste dumps, cleaner land will allow for infrastructure and industrial parks to be built according to the province's traditional model of the coal industry.
Vinacomin has assigned TKV to plan areas for waste soil and rock from coal mining and processing that can be used as sanding materials, ground levelling, building materials, and using and trading waste soil and rock after obtaining the permission of the State and local management agencies.
The company has signed economic contracts to provide land and waste rock for projects, including Cua Luc 3 Bridge and Coal Industry Urban Area. It continues to negotiate signs with project owners/contractors.
The demand for building materials for civil, industrial, service and tourism projects increased. In the period from 2021 to 2025, the demand for levelling materials to develop the land fund for the socio-economic development of registered projects was about 640 million cu.m in the local area. By 2030, the demand for levelling materials for registered projects will be about 1.02 billion cu.m.
From the process of mining coal by the open-pit method for decades, excavated and waste soil and rock have been dumped into landfills at more than 1 billion cu.m with a very large area of land.
Currently, an annual amount of soil and rock excavated and dumped more than 150 million cu.m, partly to fill in the mining pits, improve the waste layers, and improve and restore the environment.
Newly-established, re-operating enterprises up over 33% in 11 months
Vietnam saw nearly 194,700 newly established and re-operating enterprises in the first 11 months of 2022, up 33.2% over the same period in 2021, a 1.3 times higher than the average rate in January – November period from 2017 - 2021, according to the Business Registration Agency under the Ministry of Planning and Investment (MPI).
In November alone, the country counted 11,943 new enterprises with a total registered capital of 104.49 trillion VND (over 4.27 billion USD) and 73,988 labourers.
The figures represented a 0.3% increase in the number of firms, and decreases of 30.3% in capital and 3.4% in workforce compared with the same period last year.
Meanwhile, as many as 6,267 enterprises resumed their operation in the month, up 26.4% year-on-year.
On the opposite side, there were 132,339 enterprises withdrawing from the market in the last 11 months, an increase of 24.3% year-on-year.
A total of 70,220 enterprises temporarily ceased operations, a yearly hike of 34.8%. Another 45,271 were in the dissolution process, and 16,848 completed dissolution procedures, year-on-year rises of 14.7% and 13.3%, respectively.
The agency said the total registered capital of enterprises tends to decrease, and the average amount of registered capital of newly-established firms is expected not to rise in the remaining months of this year.
In January – November, the total registered capital added to the economy rose by 21.5% over the same period in 2021, it noted.
To support businesses, General Director of the General Statistics Office (GSO) Nguyen Thi Huong urged ministries and sectors to ensure adequate supply of raw materials and energy to meet the demand for production and business recovery and socio-economic development; and work hard to remove difficulties and obstacles for important industrial projects.
She also underlined the need to strengthen support for eDecline in orders kicking in for footwear, garment, textile industries
Enterprises in the textile, garment and footwear industries are facing difficulties on a variety of fronts, including a reduction in export orders, and the plight is likely to continue until the first half of next year.
Pham Van Viet, Chairman of Viet Thang Jean Co., Ltd., reported that orders at his firm have decreased since June. He said that orders are waning in key markets, adding they are down some 60% in Europe and 30-40% in the US market.
Currently, Viet Thang is operating at only 80% of its designed capacity. Because customers cancel orders in light of high inventory, Viet Thang always has to closely follow market information.
To maintain operations and ensure employees' income, the company is looking for orders in new markets. Orders are coming in from Canada and Australia, but they have not been able to offset the decline from the US and European markets, he said.
Other businesses in the footwear industry are also facing similar problems.
Nguyen Chi Trung, Chairman of the Board of Directors of Gia Dinh Group Joint Stock Company, said most markets have reduced orders by 30-40% compared to the same period in 2021. This trend is likely to continue, with orders likely to decline further in the coming months.
Due to a reduction in export orders, the company's workers must now alternate shifts, he said, adding that it has nearly 5,000 employees.
Enterprises in most sectors said that import and export activities in the second half of the fourth quarter of 2022 and the beginning of 2023 will face many difficulties compared to the third quarter of this year. Key export industries are forecast to witness a large decrease in orders, especially textiles, footwear, furniture, iron and steel and cement. Currently, many businesses have to reduce the number of workers and production scale to wind down in the last months of 2022.
Phan Thi Thanh Xuan, Vice President and Secretary General of the Vietnam Leather-Footwear and Handbag Association (Lefaso), said that it is necessary for manufacturing enterprises to diversify the markets in the context that export markets are shrinking and demand is on the decline.
Lefaso is coordinating with the Ministry of Industry and Trade to deploy trade promotion programmes to support businesses to access more markets.xport enterprises to effectively respond to trade remedies, saying that the work plays an important role in maintaining and expanding Vietnam's export markets.
State budget revenue surpasses target, rises 17.4% y-o-y
The 11-month state budget revenue is estimated at nearly 1.64 quadrillion VND (67 billion USD), equivalent to 116.1% of the target and up 17.4% from a year earlier, the Ministry of Finance (MoF) announced on December 1.
In particular, the central budget collection was equivalent to 114.9% and the local budget collection 117.4% of the respective targets.
The MoF attributed this to sustained economic recovery and growth as seen in the nine-month GDP expansion of 8.83%, along with retail sales up 17.5%, the index of industrial production up 8.6%, exports up 13.4%, and trade surplus at 10.6 billion USD in 11 months.
Price hikes in oil, some commodities, and input materials have also contributed to an increase in the collection from crude oil and foreign trade. Taxation and customs agencies have also enhanced tax management.
As of November, the state budget spending stood at almost 1.36 quadrillion VND, equivalent to 76.2% of the target and rising 7.1% year on year.
The MoF said budget spending tasks were carried out as planned, meeting the demand for socio-economic development, defence and security safeguarding, state management, repayment of debts, settlement of natural disaster and disease outbreak consequences, and social security ensuring.
Index of industrial production enjoys impressive growth
The index of industrial production (IIP) in the first 11 months of 2022 is estimated to increase by 8.6% year-on-year, doubling the 4.2% of the same period last year.
According to the General Statistics Office (GSO), in the reviewed period, the processing and manufacturing industry grew by 8.9%, contributing 6.8 percentage points to the overall growth; electricity production and distribution by 7.7%, contributing 0.7 percentage point; water supply, waste, and wastewater treatment and management activities by 7.1%, contributing 0.1 percentage point; and the mining industry by 6.5%, contributing 1 percentage point to the overall increase.
In the contrary, the IIP of several industries recorded decreases, including manufacturing of rubber and plastics products (7%), and manufacturing of basic metals (2.6%).
According to the GSO report, 61 provinces and cities saw rises in the 11-month IIP, with the highest recorded by Bac Giang (38.3%), Can Tho (37.8%) and Vinh Long (28.8%).
Dong Nai expects trade surplus at 5.8 billion USD in 2022
The southern province of Dong Nai expects to see a record trade surplus of 5.8 billion USD in 2022, according to the provincial Statistics Office.
In the January-November period, Dong Nai earned over 22.7 billion USD from exports, while imported nearly 17.5 billion USD worth of goods, resulting in a trade surplus of almost 5.3 billion USD.
The southern industrial hub currently has more than 50 key exports, with major currency earners being footwear, textile-garment, wood products, transport vehicles and parts, and coffee. Big export markets of Dong Nai are the US, Japan, China, Europe and the Republic of Korea.
The US alone accounted for nearly one third of Dong Nai's export revenue, spending nearly 6.7 billion USD on products from Dong Nai in the first 10 months of this year, up over 30% from the same period in 2021.
Head of the provincial Statistics Office Tran Quoc Tuan said high inflation all over the world caused a strong drop in consumption and investment demand and disruption in supply chains.
In such circumstances, enterprises in Dong Nai managed to maintain production and secure new orders thanks to their capacity in producing goods of high demand.
As orders from European and American countries have reduced, Dong Nai enterprises are looking to boost export to the Middle East, southern Africa and the Association of Southeast Asian Nations (ASEAN).
Besides the foreign market, businesses also needed to focus on the domestic market, experts said.
In recent years, foreign-invested enterprises accounted for more than 75% of the province's export turnover, with the remainder belonging to non-state and State-owned enterprises at 23% and 2%, respectively.
Nguyen Thi Hoang, Vice Chairwoman of the provincial People's Committee, said since the beginning of the year, the province had strengthened trade promotion to connect foreign enterprises in Dong Nai with domestic enterprises in the same field to cooperate and provide products for each other.
Many enterprises had found a source of domestic raw materials, which had reduced imports allowing Dong Nai's trade surplus to increase and its trade deficit to decrease.
Businesses urged to utilise resources to fulfill bond commitments
The Ministry of Finance has sent documents to bond issuers, asking them to utilise resources to fulfill their commitments to investors, said Deputy Minister Nguyen Duc Chi on solutions to difficulties in the corporate bond market at the Government's regular press conference in Hanoi on December 1.
The market has seen a contraction since only about 331 trillion VND (13.5 billion USD) worth of bonds had been issued as of November 25, down more than 31.6% year-on-year, the official pointed out.
Issuers' ahead-of-schedule bond buyback also reflects negativity in the market, with some 161 trillion VND repurchased as of November 25, exceeding last year's amount by 14%.
Violations by some issuers and commercial banks have eroded the confidence in the market, and inaccurate rumours also adversely impacted the market, he said, noting that issuers are facing problems in liquidity, capital and credit.
To stabilise and develop the bond market, the Government has issued a decree on enhancing publicity and transparency of the market, handling problems and protecting rights and interests of investors, Chi said.
The Government has also ordered a review and necessary supplements to deal with changes in the market.
Minister Ho Duc Phoc on November 23 had a working session with 37 bond-issueing firms and nearly 10 securities companies, during which participants sought solutions to restore the faith, remove liquidity difficulties, and consolidate the legal framework, according to Chi.
The official affirmed that the businesses that violate laws will be handled strictly to ensure legal rights and interests of investors under any circumstances.
Deputy Minister of Construction Nguyen Van Sinh briefed participants on the performance of a working group established under the Prime Minister's decision to deal with obstacles facing enterprises in the real estate market so as to ensure its stable and healthy development.
The group gathers representatives from the Ministries of Construction, Finance, Natural Resources and Environment, and Public Security, and the State Bank of Vietnam.
Through working sessions with localities and businesses, the group has identified a number of issues regarding institutions, especially legal regulations on land allocation, land use purpose conversion, land auction, and land project bidding, among others.
It has urged localities, including Hanoi and Ho Chi Minh City, to deal with the problems within their capacity.
In this regard, Minister-Chairman of the Government Office Tran Van Son noted that the biggest problems lies in procedures in land and credit, saying reviewing market segments with a focus on commercial and social housing should be done first.
Vietnamese startups and digital economy attract Canadian investors
Vietnam has emerged as an innovation and technology hub in Southeast Asia amid the region seeking to bridge the gap with other world-leading economies through digital technology, thereby helping to attract foreign investors, including Canadian businesses, according to industry insiders.
This statement was made at the workshop named "Meet Canada" held in Ho Chi Minh City on December 2.
Tony Le, CEO of Intrinsic Innovations Vietnam, said there are more than 260,000 overseas Vietnamese residing in Canada, which has made major contributions to the Canadian economy, as well as serving as a bridge which strengthens linkages of trade and investment with the country.
Sharing this perspective, Andrew Sanden, president of Intrinsic Innovations Vietnam, pointed out that the Vietnamese startup ecosystem boasts great potential with more than 3,800 tech startups, including 2,000 tech startups operating in Ho Chi Minh City.
Moving forward, the Canadian company aims to co-operate and invest in startups and high-tech companies based in Vietnam in the fields of education and information technology, especially companies whose founders are interested in the Canadian market.
Linda Truong, economic development investment director of Calgary - Alberta – Canada, revealed that that support and funding typically comes through the local business community and governmental programmes for international innovative start-ups to invest in Canada, noting that Vietnamese firms must seize this opportunity to expand their investment market.
Meanwhile, Nguyen Tan Thanh, vice president of the Vietnam Chamber of Commerce and Industry (VCCI), said that this year marks the fifth anniversary of celebrating the establishment of the Vietnam-Canada Comprehensive Partnership, which has recorded several major achievements despite the complicated development relating to the COVID-19 pandemic and global unpredictable fluctuations.
Both sides have effectively implemented the Comprehensive and Progressive Agreement for Trans-Pacific Partnership (CPTPP) agreement which has helped to remove obstacles and created the optimal conditions for the business communities to fully tap into each other's markets.
At present, Canada is Vietnam's second largest trading partner in the Americas market, while the country represents Canada's largest trading partner in ASEAN. In the 2017 to 2021 period, two-way trade turnover between both sides increased from US$3.5 billion to US$6.03 billion. During the past 10 months of the year two-way trade turnover between both countries reached more than US$5 billion.
Up to now, Canada ranked 14th out of 139 countries and territories investing in the Vietnamese market with 236 projects and total registered capital of over US$5 billion.
For its part, Vietnam voiced support for Canadian efforts in kicking off negotiations for a free trade agreement (FTA) with ASEAN, which has not only helped to further strengthen the mutual trade relationship between Canada and Vietnam, but also with ASEAN as a whole, Thanh emphazised.
He noted that the two nations will continue to expand linkages as a means of further developing bilateral relations in all fields, especially trade and investment.
Vietnam Wind Power 2022 event launched
Vietnam Wind Power 2022 ("VWP22"), an annual event since 2018, is taking place at Lotte Hotel in Hanoi.
The two-day event was co-organised by Royal Norwegian Embassy in Hanoi and its Commercial Section - Innovation Norway, the Global Wind Energy Council (GWEC), and other partners including the Power Engineering Consulting Joint Stock Company (PECC4).
Vietnam Wind Power provides a platform for the government and the industry to discuss pressing issues around the development of wind energy in Vietnam.
VWP22 will spotlight the participation of Ambassador of Norway to Vietnam Hilde Solbakken, Regional Director Asia & Middle East at Innovation Norway Ole Henæs, and Director of Innovation Norway in Hanoi, Commercial Counsellor Arne-Kjetil Lian, together with the Norwegian companies leading in wind energy sector including Equinor, Scatec, Mainstream Renewable Power.
In her welcome message, Ambassador Hilde Solbakken emphasized that like Vietnam, Norway is in the process of developing the offshore wind industry.
Vietnam Wind Power 2022 offers a great forum for all stakeholders to discuss these matters as well as challenges. The Norwegian Embassy and Innovation Norway, along with the Norwegian energy companies in Vietnam stand ready to contribute to unlocking the full potential of wind power in Vietnam."
He noted that at VWP22 Norwegian companies will take part in different panels and share their experiences on different topics (such as from policy making to practical operation, management of wind project, offshore supply chain and port infrastructure development, and how they can assist the Government and businesses of Vietnam in the implementation of offshore wind energy target by 2030.
Back to Vietnam in a new capacity, Regional Director Asia & Middle East at Innovation Norway, Ole Henæs stressed that Vietnam is considered to have the best wind resources in Southeast Asia with a long coastline, shallow water depths and high consistent wind speeds.
Source: VNA/SGT/VNS/VOV/Dtinews/SGGP/VGP/Hanoitimes