Innovation is the strongest growth engine for Vietnam as the country aims to become a high middle-income country in the next 10 years.
Head of Prime Minister Nguyen Xuan Phuc's Economic Advisory Council Nguyen Duc Kien stressed the view at the virtual launch of World Bank's new report today [February 24] with title "The Innovation Imperative for Developing East Asia."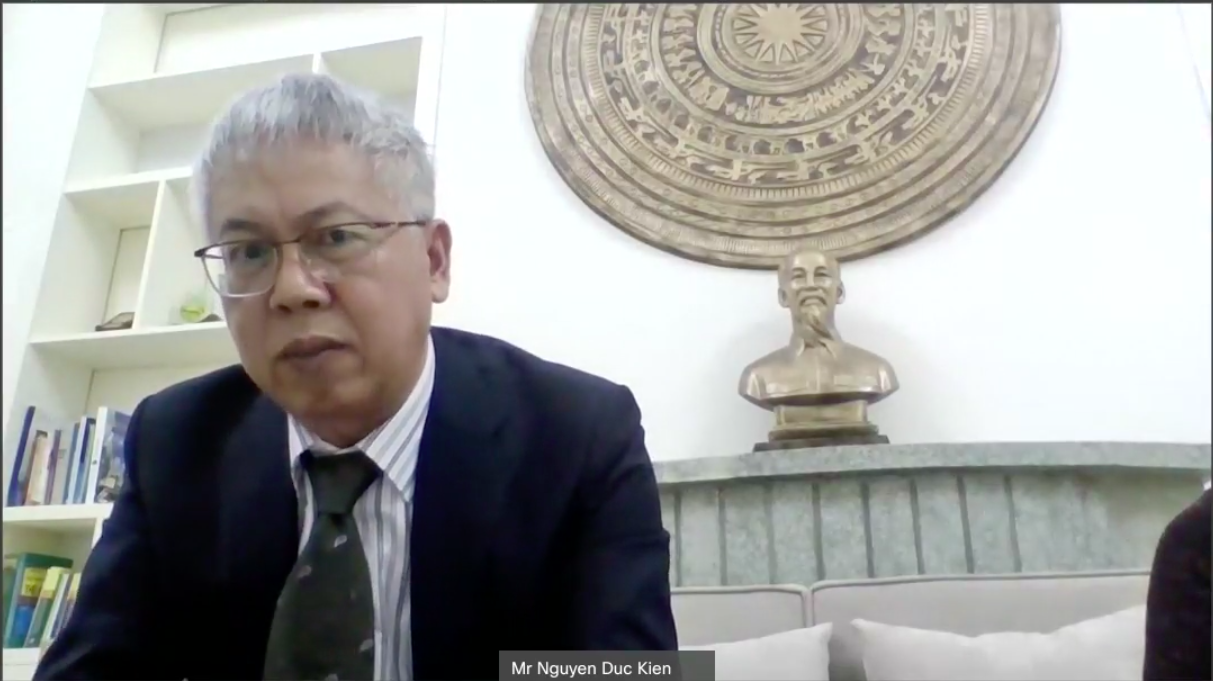 Head of Prime Minister Nguyen Xuan Phuc's Economic Advisory Council Nguyen Duc Kien at the virtual launch. Photo: Hai Yen. 
According to Kien, one of the major challenges for Vietnam to achieve this goal is that a substantial part of Vietnam human resources is concentrated on labor-intensive industries.
"While this is the country's advantage in the process of industrialization in the next 10 to 15 years, the lack of high skilled and technology competent workforces, however, will limit Vietnam's capacity to accelerate in the next development stage and turning the country into a green economy," Kien added.
"To address these challenges, macro-economic and intersectoral economic structure will need to be transformed toward modernization, and the education system be comprehensively reformed," he asserted.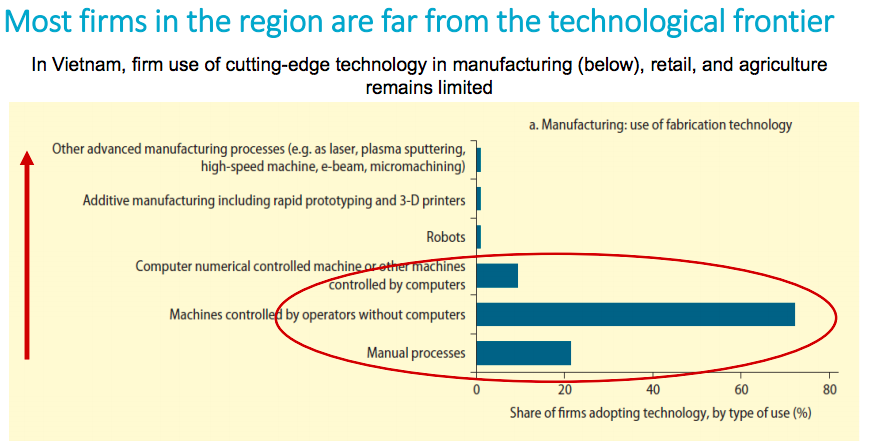 Source: World Bank. 
"Meanwhile, given small and medium sized enterprises (SMEs) accounting for 97% of total number of operating firms in Vietnam, they are still slow in adopting new economic mindset and catching up with global modern technological trend, therefore, reforming corporate governance associated with technology and market innovation is an urgent requirement for Vietnam," Kien stressed.
Kien noted the top priority for the government in the current period is actually influenced by the Covid-19 pandemic.   "The pandemic has totally changed the mindset of not only the government but also the public in the importance of technology and innovation," he said.
"As a result, the government would continue to put up efforts in revising and improving regulatory framework in order to accommodate quick and fast changes in the field of technology," Kien added.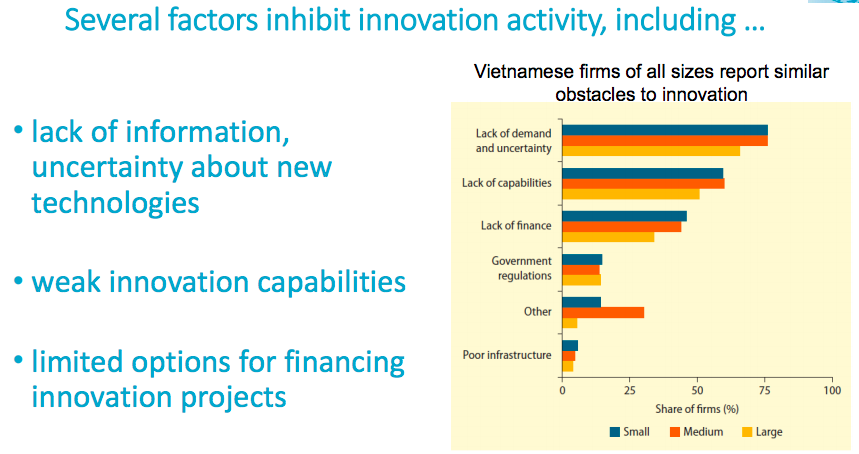 Source: World Bank. 
Kien suggested the country would adopt two approaches in the next five years, including a focus on improving infrastructure development to incentivize enterprises taking part in innovation and technologies application, while enhancing tech policies and mechanisms to  mobilize more resources from the private sector in R&D.
Action needed to spur innovation-led growth in Asia-Pacific
At the launch, Victoria Kwakwa, World Bank Vice President for East Asia and Pacific, stressed "the Covid-19 pandemic, climate change, along with the fast-evolving global environment, have raised urgency for governments in the region to promote greater innovation through better policies."
While developing East Asia is home to several high-profile innovators, data presented in the report show that most countries in the region (except China) innovate less than would be expected given their per capita income levels. Most firms operate far from the technological frontier. And the region is falling behind the advanced economies in the breadth and intensity of new technology use.
"Aside from some noteworthy examples, the vast majority of firms in developing East Asia are currently not innovating," said Xavier Cirera, a lead author of the report. "A broad-based model of innovation is thus needed – that supports a large mass of firms in adopting new technologies, while also enabling more-sophisticated firms to undertake projects at the cutting edge."
The report identifies several factors that impede innovation in the region, including inadequate information on new technologies, uncertainty about returns to innovation projects, weak firm capabilities, insufficient staff skills, and limited financing options. Moreover, countries' innovation policies and institutions are often not aligned with firms' capabilities and needs.
To spur innovation, the report argues that countries need to reorient policy to promote diffusion of existing technologies, not just invention; support innovation in the services sectors, not just manufacturing; and strengthen firms' innovation capabilities.
Hanoitimes

Deputy Minister of Planning and Investment Tran Duy Dong speaks about plans to support innovation in Vietnam.

The development of public and creative spaces on the basis of "industrial heritage" can achieve the "dual goal" of reducing air pollution and making urban appearance more beautiful.