Inspectors to check food safety throughout country

The national steering committee on food safety has set up six inspection teams to check food safety and hygiene for the coming Tet (Lunar New Year) festival.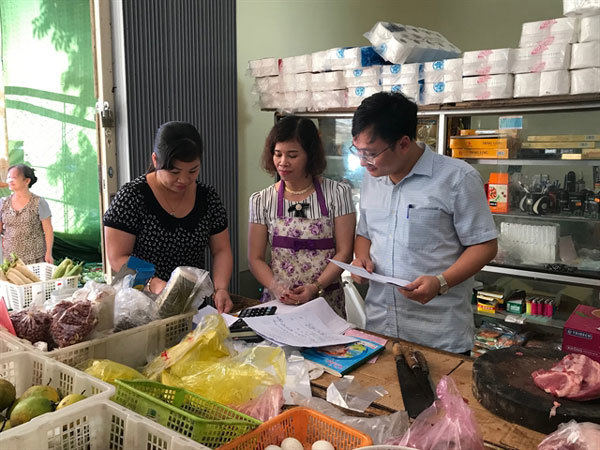 Inspectors check food safety and hygiene at a shop in the central province of Thanh Hoa. — VNA/VNS Photo Hoa Mai
The inspectors will check in 12 main provinces and cities including Hanoi, Thai Nguyen, Quang Ninh, Hai Duong, Dien Bien, Lai Chau, HCM City, Vinh Long, Khanh Hoa, Lam Dong, Ca Mau and Bac Lieu from December 15 this year to March 25 next year.
Provinces and cities will also set up their own inspection teams and check food safety before, during and after the festival.
The inspection will focus on main goods which are used widely during the Lunar New Year festival such as meat and products made from meat, alcohol, soft drinks, vegetables and confectionery.
The inspectors will check enterprises, markets, supermarkets and slaughterhouses.
The inspection will be combined with education to improve people's awareness on ensuring food safety and hygiene.

Efforts to improve food service quality have spurred positive changes in the capital city of Hanoi, however, challenges remain in food safety control work, experts said.

HCM City wants to upgrade its Food Safety Management Board into a department and plans to seek Government approval for it.

Hanoi's Food Hygiene and Safety Control Department has recently inspected 50 street food restaurants and taken food samples for testing, reported online newspaper vietnamplus.vn.
VNS