Insurance SMS service to provide better access to information: VSS

Deputy Director-General of Viet Nam Social Security Pham Luong Son speaks with Nhân Dân (People) newspaper about the recent deployment of an SMS service which allows labourers to look up information regarding their benefits
 or whether their insurance documents have been processed.
Network operators struggle to attract new subscribers in MNP campaigns
Informal workers wary of opt-in social insurance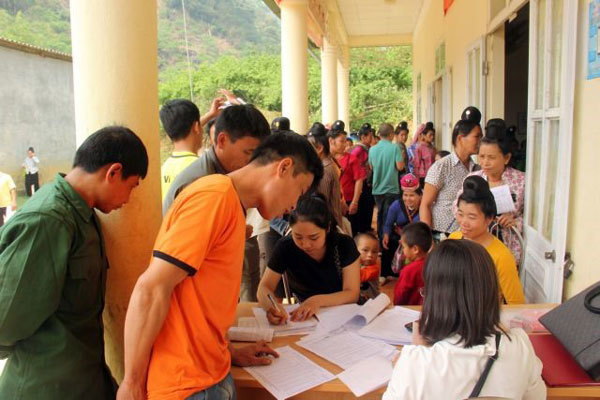 Local people in the northern mountainous province of Son La sign up for the voluntary social insurance system.— VNA/VNS Photo Huu Quyet
Can you tell us more about the SMS information lookup service, which is of great interest among the public?
The SMS-based insurance information lookup service is part of our interactive multimedia system which uses information technology to facilitate the relations between the workers enrolling in insurance schemes, enterprises, and social security State agencies.
Two types of SMS service have been deployed – the VSS-branded SMS service, which means text messages sent from the Viet Nam Social Security will have its own number and name displayed clearly when the users receive the messages, and a syntax-based information lookup service, which means users can receive information they need regarding social insurance, health insurance, or unemployment insurance by sending text messages using predefined syntaxes to 8079.
The 'brand name' SMS service will be used by VSS to send notifications to enterprises' representatives after the enterprises pay social insurance, health insurance and unemployment insurance premiums for their employees as well as notify the employees if the enterprises stop paying for their premiums. It will also be used to notify users when the documents they submitted to VSS agencies have been processed, or tell the users that their social insurance or health insurance cards are nearly expired 30 days in advance.
How do you personally assess the benefits of this SMS service?
The information lookup service brings ease and convenience to the whole process, allowing the public, especially labourers, to easily and proactively access information on their insurance payment or benefit status, which we hope will enable them to better collaborate with State agencies in reporting and combating legal violations in order to protect the lawful interests of the labourers. For example, there have been multiple cases when an employer unilaterally stops paying benefits without telling their workers, only when the workers decided to switch to another job did they find out about this flagrant offence but it was too late and their interests were severely affected. When this SMS service is in place, the users will be notified immediately when any changes to their insurance plans are made and they will be able to report errors to their employers or violations to the authorities to handle.
For employers, the lookup service will help those in charge of insurance affairs stay on top of the premium payments made, and ease their work in monitoring the increase or decrease of employees, saving time and human resources.
For the social security agencies, the service showcases our efforts to modernise the sector and reform administrative procedures to bring higher quality services and satisfaction to the public.
To deploy the SMS service, the social security agencies have been collecting mobile phone numbers of enterprises' representatives and individual labourers to include on VSS' software systems, a process we hope will receive cooperation from all parties.
VSS is deploying a Social Security 4.0 ecosystem, so aside from the SMS information lookup service, what other applications or services are in the pipeline to bring more convenience to the insurance participants?
In recent years, information technology and modernisation of the social security system has been a priority for the VSS, evidenced by the establishment of the centralised database for the entire sector, making a system to issue ID numbers for all social insurance, health insurance and unemployment insurance participants to prepare for the integration into the e-Government portal in 2020.
Aside from the SMS service that has been deployed in late April, in the future, VSS will be deploying online payment services, mobile applications for the VSS, AI-powered chatbot system to help customers with basic information regarding insurance policies as well the customers' personal information, as well as spending more resources on big data and social media presence.
Businesses and individuals can look up insurance information by texting to 8079:
• Social insurance participation duration by texting (without brackets): TC BHXH [social insurance code]
• Period of time of joining social insurance by texting TC BHXH [social insurance code] [from month-year] [to month-year],with no space between month and year. For example, April 2019 can be texted as 42019
• Years of joining social insurance by texting TC BHXH [social insurance code] [from year] [to year]
• Duration of use of health insurance cards by texting TC BHYT [health insurance code]
Document status by texting TC HS [document code]
VNS