VietNamNet Bridge - Vietnamese have every reason to be optimistic about the country's economic performance in the time to come. International institutions all have raised Vietnam's forecast GDP growth rate for 2015.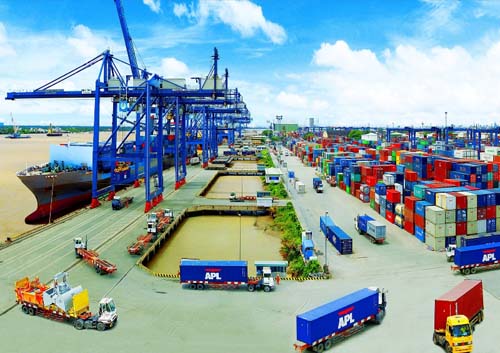 The World Bank's updated report on East Asia – Pacific economies released on April 13 unexpectedly raised Vietnam's forecast growth rate to six percent, or 0.5 percent higher than previously predicted.
Vietnam is the only one of nine East Asian countries which the World Bank expects to see GDP growth rate higher than initially forecasted.
Explaining its decision, the World Bank said Vietnam's economy, after overcoming from difficulties in mid-2014, has bounced back, which led to the 2014's GDP growth rate exceeding the expected level.
The sustainable growth of exports, increased foreign exchange reserves, improved business environment and important renovations have been cited as the most outstanding achievements gained by Vietnam recently.
The World Bank believes that the conditions are now favorable for economic development. Particularly, the bilateral and multilateral trade agreements, if inked, will bring more opportunities to Vietnamese businesses.
That is the reason why the World Bank has predicted the 6.2 percent and 6.5 percent GDP growth rates for 2016 and 2017, respectively.
HSBC has also forecast a bright future for Vietnam. The GDP grew by 6 percent in the first quarter, which shows the stability of the PMI (purchasing managers index) and the recovered domestic demand. The high credit growth rate helped gain the trade surplus of $1.8 billion.
The National Finance Supervision Council (NFSC) proves to be more optimistic when predicting the GDP growth rate of 6.5 percent in 2015, higher than the 6.2 percent projected by the government, thanks to improvement in both total supply and total demand.
According to the council, the GDP grew by 6.03 percent in the first quarter of 2015 in comparison with the same period last year, the highest growth rate in the last five years.
Glenn Maguire, Asia-Pacific Chief Economist of ANZ Bank, said 2015 could be a potential year for household spending in Vietnam after realizing the record breakthrough in Vietnamese consumer confidence index in the first two months of the year.
An ANZ survey found that 58 percent of Vietnamese consumers believe Vietnam's financial conditions would be in a "good" state in the upcoming 12 months, while only 13 percent of consumers predicted a bad situation. Sixty-six percent of Vietnamese consumers hope Vietnam's economy will be "good" in the next five years.
The Wall Street Journal believes that the policy allowing foreigners to possess real estate, to take effect from July 1, 2015, will help increase demand. If so, real estate developers would be able to sell some of their stocks, while commercial banks would see their bad debt decrease.
Pham Huyen