International tourists to Phu Quoc must use IGOVN and PC-Covid apps
Foreign visitors to Phu Quoc Island are required to install and use the IGOVN immigration application and the PC-Covid epidemic prevention application during their time in Vietnam.
Phu Quoc Airport.
The authorities of An Giang province have issued an adjusted roadmap to welcome foreign tourists with vaccine passports to Phu Quoc Island, which includes three phases.
Phase 1 from November 20, 2021: A pilot program to welcome international visitors to Phu Quoc through closed tours at selected tourist destinations in Phu Quoc city, on take charter flights or commercial flights to Vietnam.
Phase 2 from January 1, 2022: Foreign tourists can go to Phu Quoc on charter or commercial flights. Seven days after completing their tour in Phu Quoc, foreign visitors can travel to tourist destinations in Quang Nam, Khanh Hoa, Da Nang, Quang Ninh and other localities selected by the Ministry of Culture, Sports and Tourism.
Phase 3: Full reopening to international tourists. The starting time will be based on the actual epidemic situation and on the evaluation of the results of two previous phases.
According to the latest instructions, upon entry, international guests will undergo health screening at Phu Quoc International Airport, and they must install IGOVN and PC-Covid applications on their phones and use these Vietnamese apps during their time in Vietnam.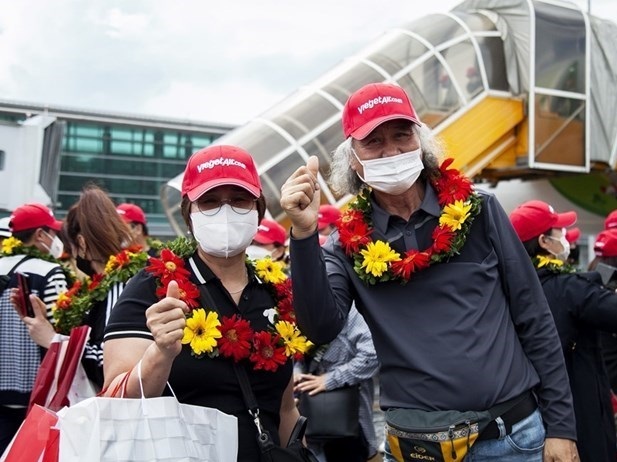 Two of the foreign visitors to Phu Quoc Island on November 20 (Photo: VNA).
As many as 204 tourists from the Republic of Korea landed on Phu Quoc at noon on November 20, marking the first group of foreign visitors to the resort island in the "new normal" period after nearly 2 years of closure.
Speaking at a welcome ceremony, Director General of the Vietnam National Tourism Administration Nguyen Trung Khanh described the event as an important milestone marking a new step in the efforts to restore the tourism industry.
Meanwhile, Deputy Chairman of the Kien Giang People's Committee Nguyen Luu Trung expressed his belief that with dynamism and close collaboration among enterprises, Phu Quoc con welcome up to 400,000 visitors, both Vietnamese and foreign, from now to the end of this year.
During their 4-day stay, the Korean visitors will be accommodated at an exclusive facility to keep away from the community and activities of other tourists. They will take the second COVID-19 test on the last day of their stay.
Van Anh

Phu Quoc Island in the Mekong Delta province of Kien Giang is expected to welcome a Vietjet Air flight carrying 250 Korean visitors to the tourist resort on November 20.