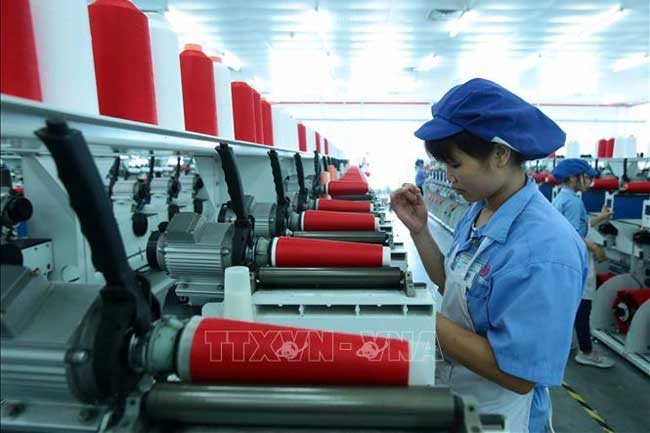 Workers are seen at Jasan Textile and Dyeing Vietnam Co., Ltd, a Chinese-invested firm in Hung Yen Province. The investment from China and Hong Kong in the first half of the year exceeds the figure seen in 2018 - PHOTO: VNA
Of the total, US$5.3 billion was pledged by investors from Hong Kong and US$2.2 billion from mainland China. The two numbers surged and doubled those recorded seen in 2017, respectively, Nguyen Viet Phong, head of the GSO's Construction and Investment Capital Statistics Department, said at a press briefing last week.
The number of newly approved projects of Chinese and Hong Kong firms and their registered capital in the six-month period doubled those in the same period last year.
GSO statistics showed that investors from China and Hong Kong committed to injecting US$3.15 billion into 437 projects in the period, doubling the figure from the same period last year.
The sectors of textiles and garments, footwear, automobile tires and electronic accessories attracted the most investment, Phong added.
GSO General Director Nguyen Bich Lam said China-U.S. trade tensions have led to a shift of investment to Vietnam but it would also spell trouble for the country.
Chinese goods could be shipped to Vietnam before they are sent on to the United States, putting Vietnamese products of same categories at risk.
The investment has also put pressure on domestic firms. Moreover, Vietnam has signed multiple free trade agreements with other countries. If local enterprises do not make preparations, they will lose opportunities to foreign rivals.
The China-U.S. trade war is also getting more complicated. So Vietnam should keep a close watch on local and global markets and issue appropriate policies, according to GSO. SGT
Thuy Dung

In the first half of this year, foreign investment in M&A deals doubled compared to the same period of last year, hitting $8.12 billion in a total of 4,020 deals.  
Vietnamese firms poured nearly US$200 million into 90 projects abroad in the first half of this year, according to the Foreign Investment Agency under the Ministry of Planning and Investment.