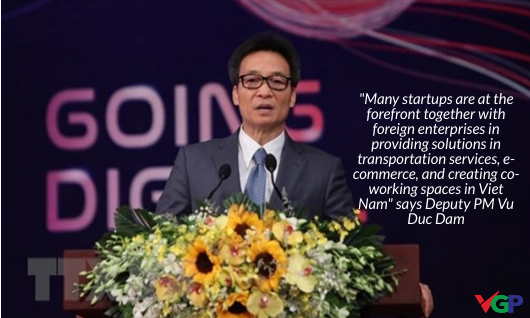 Deputy PM Vu Duc Dam at the Viet Nam Nam Venture Summit, Ha Noi, November 25, 2020  
The commitment was made at the Viet Nam Venture Summit 2020 (VVS) held on November 25 under the theme "Going Digital."  
Some typical investment funds are VinaCapital Ventures, 500 Startups, AlphaJWC, BeeNext, CyberAgent Capital, Do Ventures, FEBE Ventures, Genesia Ventures, Monk's Hill Ventures, Insignia Ventures, Patamar Capital, Smilegate, Vietnam Investment Group, and Viet Capital Ventures. 
Addressing the Summit, Deputy PM Vu Duc Dam said that if last year there was a sudden increase in the capital of investment funds poured into new Vietnamese companies, with US $800 million, the investment capital is just US$200-plus million by 2020.
However, the startup community of Viet Nam has some notable highlights such as many startups being at the forefront together with foreign enterprises in providing solutions in transportation services, e-commerce, and creating co-working spaces, according to Deputy PM Dam.
Minister of Planning and Investment Nguyen Chi Dung said that the Covid-19 pandemic has undermined creative start-up investment in 2020 and revealed that many startups have shortcomings, including those faring well in the international market. 
However, Viet Nam is determined to pursue innovation and reform, proactively and actively restructure the economy towards higher productivity, quality, efficiency and competitiveness.
Innovation and creativity are considered as an important driving force and the key to rapid and sustainable growth, Dung stressed.
The summit featured activities designed to connect innovative businesses. Through Startup-Pitching and Business-Matching, potential startups will connect with more than 100 investment funds to present their ideas. 
This year, the summit drew the attendance of about 800-1,000 delegates, leaders from several ministries and branches, nearly 50 international and domestic speakers, leaders of technology groups, investors, startups both from home and abroad, as well as representatives of institutions and universities across the country. 
VVS 2020 is of significant importance to motivate the development of digital enterprises, as well as to find solutions and opportunities for Viet Nam's innovation ecosystem to integrate into the global market.
Last year's summit gathered 18 domestic and international investment funds who pledged investment worth of US$425 million in driving startups growth and innovation in Viet Nam in 2019-2021. Until the beginning of this year, over US$220 million, which equals to 50% of the total amount pledged, has been disbursed./. VGP
Kim Loan

As a founder and chairman of the BestB business ecosystem as well as founder and CEO of Flower Farm, 32-year-old Pham Anh Cuong is a brand specialist and all-round start-up fanatic.