Investment sentiment upbeat in industrial property arena
The logistics sector has seen a number of large-scale investments in the first months of the year as it experiences a period of significant growth that is vital to the ongoing development of the country's economic recovery.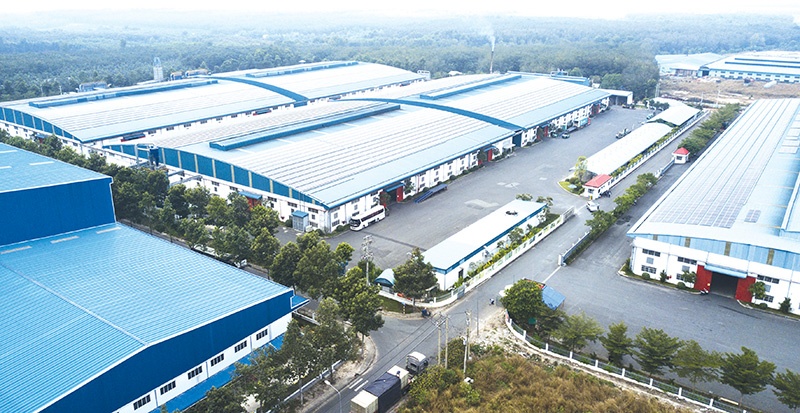 Many real estate developers are looking into industrial land for top-quality warehouses and more, Photo: Le Toan
This week Kenneth Gaw, president and co-founder of global private real estate equity firm Gaw Capital Partners will be one of the most high-profile foreign investors to visit Vietnam as the country attempts a full reopening from the pandemic.
Although Gaw Capital Partners' portfolios range from premium residents to hospitality, on March 9 in Ho Chi Minh City Gaw was scheduled to choose the angle of industrial real estate to share his vision for the fund to a series of local partners that will jointly develop Gaw's factory and logistics system in Vietnam.
Gaw NP Industrial in Vietnam is an industrial platform from Gaw NP Capital, with $200 million backed by Gaw Capital Partners and NP Capital Partners.
Gaw NP Industrial so far has two developments in Vietnam in the form of GNP Yen Binh Industrial Centres I and II, located in Thai Nguyen province, with other developers in the pipeline.
In the first two months of the year, the industrial property and logistics segment has revealed significant investment from abroad with large-scale plans announced.
Right after announcement of the establishment of GLP Vietnam Development Partners I, with an investment capacity of around $1.1 billion into developing modern and eco-friendly logistics facilities in Vietnam, its strategic joint venture between GLP and SEA Logistic Partners (SLP) commenced construction of SLP Park Xuyen A in Long An province's Duc Hoa district last month.
This is SLP's third project in Vietnam following others in the northern port city of Haiphong and the southern province of Long An.
CapitaLand Development (CLD), the development arm of CapitaLand Group, with portfolios of 35 properties in the Vietnamese real estate market so far, has also extended its footprint into the industrial property market via an MoU with Bac Giang People's Committee valued at over $1 billion. The MoU outlines CLD's and the provincial authorities' mutual interest in developing its first industrial park, logistics park, and township development in Vietnam.
Meanwhile, BW Industrial Development JSC, Vietnam's leading industrial and new real estate developer co-founded by Warburg Pincus and Becamex IDC, in January announced the acquisition of approximately 74,000 square metres of prime land in Bac Tien Phong Industrial Zone (IZ) in the northern province of Quang Ninh, developed by DEEP C IZs.
Talking with VIR, Matthew Lourey, managing partner of Acclime Vietnam, expressed that logistics represents a significant element of the supply chain, underpinning manufacturing and consumption in Vietnam.
"From consumer-driven distribution centres and cold-chain storage and handling to just-in-time inventory delivery to factories, a flexible and expanding logistics sector remains core to the economy," he said.
"Foreign investors, which control almost 75 per cent of Vietnamese exports, have a strong interest in how logistics interacts with their businesses and that, as production technologies change, the logistics sector needs to advance and change. Along with changing consumer habits and technology usage, opportunities have been created for foreign investors to address in the logistics sector," said Lourey.
According to Graeme Torre, managing director and head of Asia-Pacific Real Estate at APG Asset Management, with the continued global supply chain shifts to Vietnam, the country's logistics is believed to be an attractive opportunity for investors in the region.
Dutch pension fund manager APG was a new investor which participated in the establishment of the aforementioned GLP Vietnam Development Partners I in February.
"Vietnam's logistics market compliments very well with our existing regional logistics exposure, while also offering very strong risk-adjusted returns that will benefit our pension fund clients and their participants. With GLP's extensive global track record, credentials, and expertise in the logistics sector, we are pleased to be partnering with them in this venture for our first foray into Vietnam," said Torre.
In 2022, consultants have cited that warehouses and logistics continue to attract interest from investors.
According to JLL, the market expects to welcome many warehouse projects such as Phase 1 of a venture developed by Boustead and KTG in Yen Phong II-C with an area of 8.1ha; and Phase 3 of BW Industrial at VSIP Hai Duong with an area of 10.4ha.
"Due to great demand from domestic and foreign businesses, many real estate developers are paying attention to industrial land to build high-quality warehouses and factories, not only in the provinces and cities in the regional key economic zone in the north but also in neighbouring localities," said JLL's report.
In the south of the country, Long An, Ho Chi Minh City, and Binh Duong are still in the top five in the country in terms of attracting investment. In 2022, pharmaceuticals, medical devices, and data centres are predicted to be the new growth drivers for the market. IZ and warehouse investors have also begun to pay attention to the trend of sustainable development, with new factories meeting green standards being pipelined and built.
IZ real estate appraisers will still maintain the heat this year. SSI Research estimates that IZ land prices in Vietnam will increase by 8-9 per cent in the south and 6-7 per cent in the north by 2022. SSI expects land rental demand in IZs to recover when contracts signed last year will be completed this year.
Promoting public investment in infrastructure will also support industrial real estate. Vietnam's IZ land supply is being expanded to nearly 45,000ha by 2025, primarily located in the Red River Delta, north-central coast and central coast regions.
Soure: VIR

The provinces of Binh Duong and Long An are still active markets in the South, with both land price and rental rate soaring, while the industrial zones in the North are also attractive.