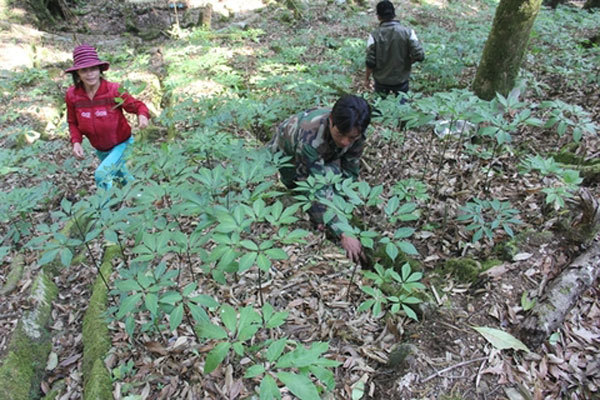 Farmers grow Ngoc Linh ginseng at a farm on the canopy of a forest in Nam Tra My District of Quang Nam Province. — VNS Photo Ngoc Tho
Nutifood said it had completed investing in 51 per cent in stocks and shares worth millions of dollars in the Ngoc Linh ginseng Quang Nam trade and pharma joint-stock company (Quasapharco), expanding hundreds of hectares of ginseng farms and high-value nutrition production.
A report from Quasapharco said it had grown 47,000 ginseng plants on 7.1 hectares to 2021, and planned to expand the ginseng area to 50 hectares by 2026.
A man checks the quality of a young Ngoc Linh ginseng plant on a farm in Tra Linh Commune of Quang Nam Province. Photo courtesy of Kim Tuyen
Vice-chairman of Nutifood and chairman of Quasapharco, Tran Bao Minh said the investment would help boost the ecological system for Ngoc Linh ginseng – the national brand – while bringing the product to more consumers in Vietnam and worldwide.
More reasonable prices on nutritional products from Ngoc Linh ginseng would come from the Nutifood investment project in the province, Minh added.
Earlier this year, Nutifood launched the Nutifood Nutrition Research Institute in Sweden, signing a communication agreement with the Ministry of Health, medical associations and medicine and pharmacy universities to bring European standard nutritional solutions to Vietnam.
Last week, Thien Nhan medicine joint-stock company, or Thien Nhan Hospital, agreed to investment co-operation with Viet Linh ginseng company for growing and production on a total of 5.98 hectares of Ngoc Linh ginseng farms in mountainous Nam Tra My District of the province.
The farm had grown ginseng plants to produce 30,000 ginseng seeds while planting 10,000 new ginseng plants per year.
Dr Ngo Duc Hai, chairman of Thien Nhan hospital, said the two companies would join hands in boosting research and production of pharmaceutical products from Ngoc Linh ginseng for wider use in treatment and the prevention of cancer.
He said the two companies also agreed to promote ginseng products at a higher nutrition value in healthcare services and for daily use.
A fresh kilo of Ngoc Linh ginseng is sold at VND100 million (US$4,300), but processed products including capsules, function food, essential oils, cosmetics, tonic drinks and tea would earn much more for the Quang Nam-based brand.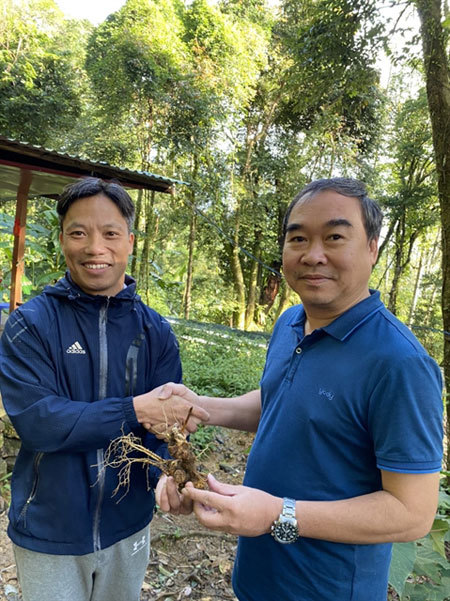 Two representatives of Viet Linh Ginseng Company and Thien Nhan Hospital agreed to produce Ngoc Linh ginseng as a medical product for healthcare and cancer prevention. Photo courtesy of Thien Nhan Hospital
The central province said about 26 businesses agreed to invest US$221 million to farm ginseng and process plants for essential oils, cosmetics, tonics and capsules from ginseng in Nam Tra My District.
Nam Tra My District and Hamyang County in South Korea agreed to boost tourism, agriculture, conservation and the development of Ngoc Linh ginseng.
More than 42,000 hectares of primary forest have been well preserved for the development of ginseng and native herbs.
Ngoc Linh ginseng, grown both in Nam Tra My District in Quang Nam Province and the central highlands Kon Tum, was recognised as a National Brand and given a Geographical Indication in 2018.
Source: Vietnam News

A group of men neatly wrapped themselves in three layers of clothing in the middle of a summer night in July, quietly chatting. They each had a cup of hot tea.

Eight years ago, Tra Linh Commune suffered extreme poverty, with many locals unable to buy or build decent homes.