It Thai Village – a rustic destination for nature lovers
Located at the foot of Khau Pha Mountain Pass, It Thai Village is an attractive destination for visitors to Cao Pha Commune, Mu Cang Chai District, Yen Bai Province, thanks to its beautiful landscapes and friendly people.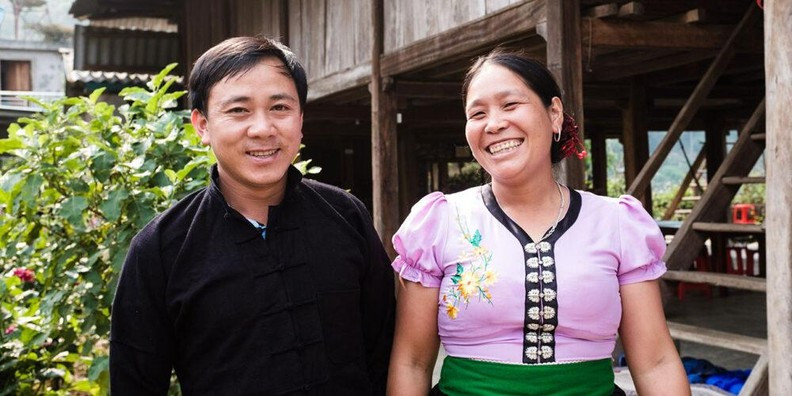 The homestay is named after its owners, Kien and his wife Panh, who are very friendly and supportive. (Photo: KPF)
The road to the village is small but clean with rice fields on the both sides of the road. Homestay Kien Phanh is one of the favourite accommodations for backpackers to the village.
The homestay is a wooden stilt house built in the traditional Thai ethnic architecture located in the centre of the village. With a permanent house and open space, the homestay can welcome up to 15 guests.
The house has two balconies – one overlooking a large rice field, the other overlooking a small garden with seasonal vegetables grown by the owners.
The space under the floor is a wide common living area for guests, connected to the kitchen and surrounded by a wall of trees, with flowers blooming all year round.
The homestay is named after its owners, Kien and his wife Panh, who are very friendly and supportive. Visitors to the homestay are welcomed with tea and 'khau hang' (young sticky rice) – a specialty of Thai ethnic community.
As one of four community-based accommodation facilities established under the KPF - Khau Pha Friends social enterprises, Kien Phanh's homestay provides visitors with tourism services in the most comfortable and considerate manner.
KPF was founded in January 2018 with the goal of supporting people in Khau Pha Valley with sustainable development. Its mission is to bring back the positive changes to ethnic minority communities in terms of economy, environment, and cultural preservation, thereby helping people create resistance to the development of urbanisation and the wave of mass tourism.
If visitors prefer to have dinner outdoor by the stream, which runs near the house, instead of in the house, the hosts will willingly to prepare a delicious meal with indigenous dishes.
When night falls, tourists can enjoy a cosy sleep on the spacious wooden floor, each person has a separate corner with clean blanket and mat.
Early in the morning, holidaymakers can admire the picturesque scenery of Lim Thai Valley, which is dotted with green mountains, white clouds, and rice fields. During the day, visitors can go trekking around the village, or go bathing in springs or hot springs.
If their travel time coincides with the paragliding festival, visitors can also enjoy watching the stunning performances of colourful parachutes flying from the top of Khau Pha Pass because Kien Panh Homestay is located near the paragliding landing ground.
Source: Nhan Dan