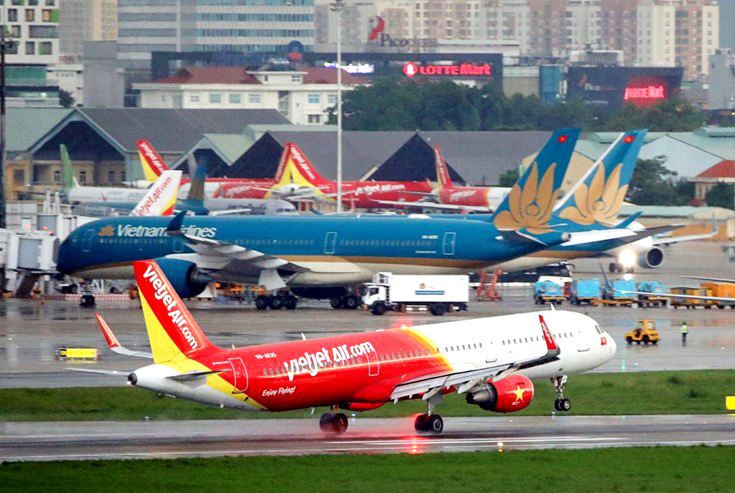 In a document to airlines, including Vietnam Airlines, Vietjet, Bamboo Airways and Pacific Airlines, dated January 14, CAAV said it would increase the number of routine international flights in the next period.
Currently, there is a modest quota of four international flights a week for all airlines and the flights are mostly provided by Vietnam Airlines. With the decision on raising the total number of flights to 57, each airline will have more opportunities. However, only Vietnam Airlines will fly to China and the US.
According to CAAV, the increase in the number of flights will satisfy demand from 140,000 overseas Vietnamese to return to Vietnam to celebrate Tet. It's estimated that 30,000 passengers will fly to Vietnam a week, including Vietnamese citizens, overseas Vietnamese, foreigners who are diplomats, businesspeople, specialists and investors.
As for the routine flights from France, Germany, UK and Russia, CAAV has proposed the resumption of flights with the initial frequency of 10 flights/week/each way for all airlines. If the proposal is approved by the Ministry of Transport (MOT), the agency will announce plans to organize flights to the markets.
CAAV has urged airlines to plan flights no later than January 20. If air carriers cannot organize flights as allocated, the agency will take back the quotas and allocate them to other airlines.
Vietnamese airlines have proposed a full reopening of international flights, with no limitations on the number of flights (the number of flights would be determined by airlines based on market demand).
Bui Doan Ne, Deputy Chair and Secretary of the Vietnam Aviation Business Association (VABA), said once the management agencies agree on resuming international routine flights, it would be better to stop so-called rescue and charter flights.
Explaining his proposal, Ne said passengers using the flights have to pay very high expenses and face an 'ask-and-grant' scheme.
Meanwhile, Vietnam's aviation and tourism sectors have been at a disadvantage when competing with other countries, because Vietnam has been slow in resuming routine flights.
Though the Government has approved the resumption of routine flights, implementation has been slow. Some technical barriers have been raised by some ministries, branches and localities, including requirements on quarantine and visa fees.
Ne has asked to remove all the regulations and technical barriers that are contrary to Resolution 128, and has asked the Government to receive international guests in accordance with international practices (fully vaccinated, negative Covid test, no quarantine required), and continue to apply the visa waiver policy. 
Ngoc Ha

The frequency of regular international routes to France, Germany, the UK, and Russia could be expanded to 10 flights per week for one-way tickets applicable to all airlines of each side for each respective market.

Seven countries and territories have basically agreed with Vietnam's proposal on a plan to resume regular international routes, according to the Civil Aviation Authority of Vietnam (CAAV).