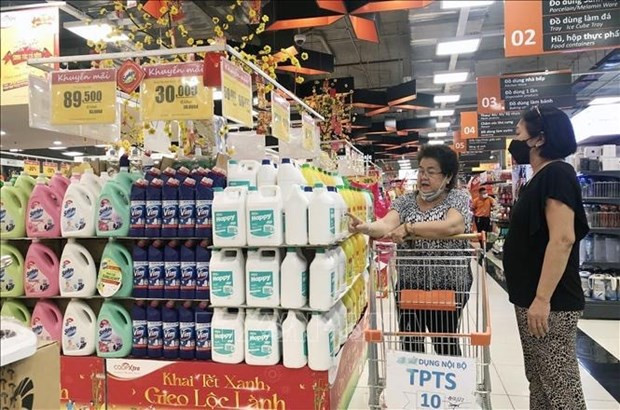 January's CPI increases 0.52% due to high Tet demand (Photo: VNA)
In addition, the prices of goods, food and foodstuffs went up during the final lunar month to prepare for the longest annual holiday and domestic fuel prices rose to global levels, contributing to the rise of the index.
This month's CPI increased by 4.89 % year-on-year, while the core inflation in January inched up 5.21%.
Among the 11 main commodity groups, nine marked a month-on-month increase in prices, and the rest registered a decline.
Transport services reported the highest rise of 1.39 %, followed by beverage and cigarette with 1.12%.
The prices of catering, other goods and services, apparel, footwear and hat, gold prices, restaurant services, cultural activities, and entertainment posted a growth of 0.82%, 0.72%, 0.62%, 0.57%, 0.46% and 0.42%, respectively.
Household equipment and appliances reported the smallest increase, at 0.36%.
Meanwhile, the prices of housing and construction materials and education fell by 0.12% and 0.15%, respectively./. VNA