VietNamNet Bridge – Plans to build national centres for the elderly following a Japanese model have been on the agenda of health care co-operation between Viet Nam and Japan, officials said.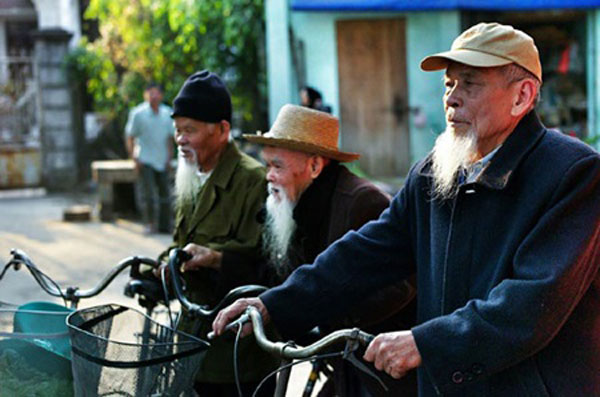 Elderly people practise cycling in Kim Lan Village in Ha Noi's Gia Lam District. Viet Nam plans to build national centres for the elderly following a Japanese model.
Japan's Chairman of the Lower House Committee on Rules and Administration, Aisawa Ichiro, said last week that although Viet Nam was still enjoying what is called a "golden population period" right now, it needed to prepare for the advent of an ageing population.
A meeting was held in Ha Noi to made an announcement for the co-operation.
"The meeting was a good chance for Viet Nam to learn from Japan's models and its experience in providing health care services to the elderly," said Health Deputy Minister Nguyen Thi Xuyen.
Japan purportedly has the highest proportion of elderly citizens in the world with about 26 per cent of its residents at or above the age of 65, according to the Statistics Bureau of Japan's Ministry of International Affairs and Communications.
According to the United Nations Population Fund in Viet Nam, the country has a golden population structure - for every two or more people working there is only one dependant.
The proportion of elderly citizens in the country's population, however, has been increasing. According to the General Office for Population and Family Planning, from 2012 to 2014 the number of elderly increased from seven to 10.5 per cent.
Research by the Central Geriatric Hospital of Ha Noi shows that Vietnamese elderly tend to have an average of three chronic sicknesses in their life span, and can increase up to five or six when hospitalised.
Such health issues typically found in elderly populations are frailty or Alzheimer which require special care.
Participants at the meeting also discussed plans for further co-operation between the two countries' health sectors in 2015, in particular providing human resource training and technical assistance for Vietnamese hospital projects.
Health Deputy Minister Nguyen Thi Xuyen also asked the Japanese government to make healthcare a top priority on their Official Development Assistance policy for Viet Nam.
Elderly receive high-tech treatment
The Ha Noi-based Central Geriatrics Hospital has opened a building for high-tech treatment and examination. The building took 14 months to build.
The building has 150 beds for inpatients and is part of a VND120 billion (US$5.6 million) project to upgrade the old Central Geriatrics Hospital.
Deputy Prime Minister Vu Duc Dam, Health Minister Nguyen Thi Kim Tien, and former Chairman of Viet Nam Fatherland's Front Pham The Duyet attended the opening ceremony on Monday.
The high-tech treatment department will be able to examine and treat 500 in-and-out patients every day.
According to the hospital management board, constructors will also repair an old five-storey apartment building on the site by the end of the year and also improve technical infrastructure.
When the project finishes, 300 inpatient beds will be able to handle 1,000 patients a day - but management said that there would be no bed sharing.
Health Minister Tien said 40 per cent of district-level hospitals now had geriatric departments.
The ministry also has plans to open a unit of the Central Geriatrics Hospital in Ha Nam Province.
VNS