VietNamNet Bridge – Le Cong Vinh, the Vietnamese striker, has won the heart of many Japanese fans although he has joined the Consadole Sapporo FC for less than four weeks.
Cong Vinh has good start in Japan
Cong Vinh presents himself before Japanese media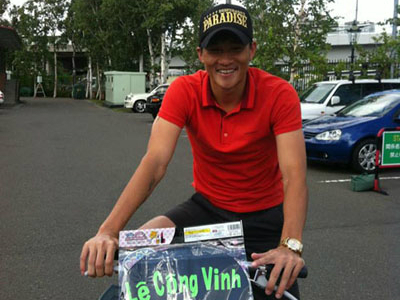 Cong Vinh with the gift from a Japanese fan after a drilling.
Cong Vinh shared on his facebook: "After the drill, a Japanese audience gave me a fan with my name Le Cong Vinh." The status is accompanied by a picture featuring Vinh with his new bike and the fan with his name in both Vietnamese and Japanese.
This was not the first time Cong Vinh received gifts from fans since he has been in Japan, but this gift is very lovely. The fan also wrote his name correctly in Vietnamese. Previously, some fans wrongly transcribed Le Cong Vinh into Leconbin.
Earlier, Cong Vinh had received a letter from a Japanese fan to welcome him to Sapporo. The letter was translated by Google Translate then copied to a postcard so it has plenty of grammatical errors. However, Vinh said that that sentiment is very much appreciated.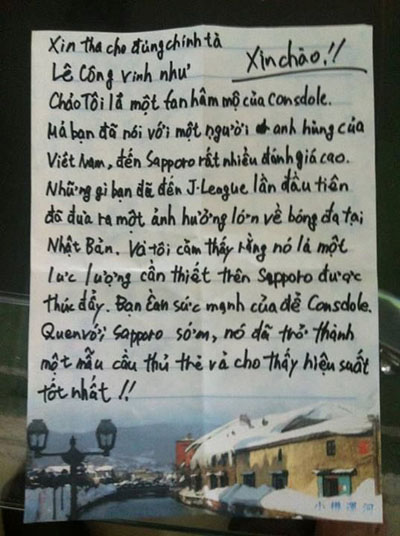 The letter has many grammatical errors but it contains precious sentiments.
Since joining Sapporo, Cong Vinh has been enthusiastically welcomed by local audience. In the matches at the home stadium of Sapporo, many flags of Vietnam appeared and Cong Vinh were strongly encouraged whenever he appeared. Cong Vinh said: "The audience here is great. They always keep pace with players and know how to cheer and share with the team even in success or failure."
Cong Vinh wrote on his facebook when he just went to Japan: "The people here go to work by bike and train so the air is fresh. I must learn from them. When returning to Vietnam, I will buy a bike."
In Japan, Vinh bought a bike for around 10,000 yen ($100) as his major means of transport.
Cong Vinh is still in the process of integration with the new team. In the game on the home stadium of Sapporo this weekend, he has a big chance to appear on the playground because Brazilian striker Felipe Almeida will be banned from this game after taking a red card in the previous round.
Nguyen Nam