VietNamNet Bridge – Japanese FC Consadole Sapporo has transferred VND5 billion ($250,000) for Song Lam Nghe An (SLNA) FC in exchange for the signature of Vietnam's top striker Cong Vinh. Vinh will be provided with a car, a bodyguards and an apartment to take his wife and child to Japan.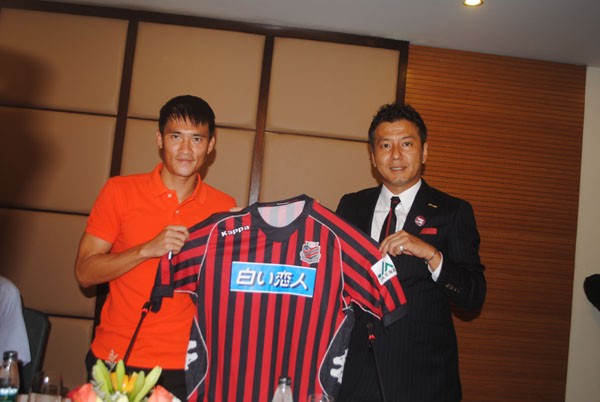 During the farewell party before Cong Vinh left Japan, Consadole Sapporo's manager met Vinh to offer the pay of $100,000 to SLNA FC, Vinh's owner.
One month later, the Japanese FC raised the pay by five times. It transferred $240,000 to the account of SLNA as deposit. Consadole Sapporo's officials went to Vietnam to meet with SLNA to discuss the affair. The Japanese FC is determined to have Cong Vinh.
There are many reasons for Consadole Sapporo's determination. First, Cong Vinh is considered an influential player on the team. Second, Cong Vinh is a good scorer, who made important goals for Consadole Sapporo. Third, Vinh and his wife – singer Thuy Tien – have a lot of fans.
Moreover, the Japanese Prime Minister recently mentioned Cong Vinh twice and the Japanese Foreign Ministry invited Vinh to a banquet to celebrate the 40th anniversary of ASEAN-Japan partnership and the 5th Mekong-Japan Summit.
The Japanese FC is also will to meet all requirements of Vinh. Initially, Vinh's salary will be increased by 30 percent, to $10,000.
In addition, Vinh will be rewarded for each score or each contribution he makes to the team. In Japan, Vinh will be surely invited to be a brand ambassador for many companies.
The FC also promised to give Cong Vinh a car, a bodyguard and an apartment. He can also choose the desired jersey number and most importantly, he can decide the duration of the contract. In addition, the club will grant a scholarship for a coach course in Japan for Cong Vinh.
The opportunities in Japan are too attractive to Cong Vinh but it would be difficult for Vinh to choose because of his deep affection with SLNA. This team welcomed Vinh during his difficult time times.
Nam Nguyen