Japanese gas firm buys 21% in PV Low Pressure Gas

Japan-based firm Saibu Gas Co Ltd has become the large shareholder in PetroVietnam Low Pressure Gas JSC (PV GasD).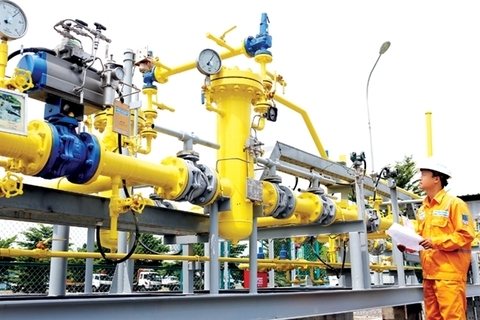 A worker at PetroVietnam Low Pressure Gas JSC (HoSE: PGD). — Photo congthuong.vn
Saibu Gas has bought in 18.9 million PV GasD shares, raising its stake in the latter to 21 per cent, the Vietnamese firm said in a statement on Wednesday.
The Japanese company previously had no shares in the local gas supplier.
The deal was done on January 10 in a put-through transaction worth VND1.02 trillion (US$44 million).
The share purchasing deal was also the biggest trade made by foreign investors in the week of January 6-10.
PV GasD is listing nearly 90 million shares on the Ho Chi Minh Stock Exchange with code PGD.
The company's shares plummeted 6.9 per cent to end Thursday at VND37,750 per share.
Its shares have lost a total of 30.7 per cent in value since January 9, including a three-day losing streak between January 10 and January 14 as its shares hit the daily floor price.
On December 30, the company adjusted its full-year earnings targets for 2019.
In the decision, gas consumption was cut by 30 million cubic metres to 920 million cubic metres.
Of the figure, low-pressure gas consumption was curbed to 584 million cubic metres and compressed natural gas (CNG) consumption was 336 million cubic metres.
The company slashed its full-year expected revenue by VND371 billion to VND7.8 trillion for 2019. — VNS

The deal is expected to be worth about 15 billion Japanese yen (US$139 million).

Vietnam has been tapped by Japanese firms as the most promising place in Asia to invest in 2020, with India and Southeast Asian countries dominating other top spots, Kyodo News cited a survey as showing on January 8.