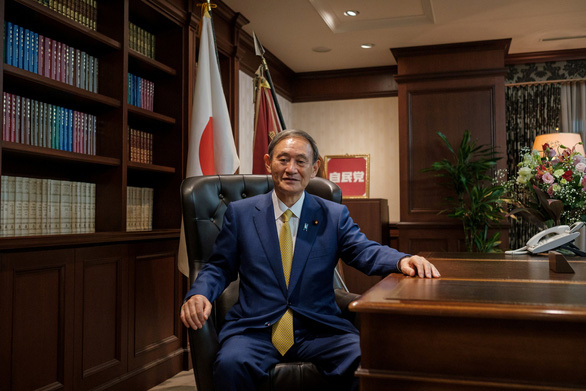 Japanese Prime Minister Suga Yoshihide. Photo: Reuters
At the invitation of Prime Minister Nguyen Xuan Phuc and his spouse, Japanese Prime Minister Suga Yoshihide and his spouse will visit Vietnam on October 18 - 20.
Foreign Ministry spokesperson Le Thi Thu Hang on October 15 said that this was the second time in a row that a Japanese Prime Minister chose Vietnam as the first country to visit after taking office.
In 2013, Japanese Prime Minister Shinzo Abe also chose Vietnam as the first point on his trip right after taking office. The spokesperson said Mr. Suga's choice is a clear testament to the good, strong and substantive development in many areas of the strategic partnership between the two countries.
The Japanese Prime Minister's visit aims to strengthening relations with Vietnam, to exchanging measures to promote cooperation in all fields and to exchanging views on regional and international issues of mutual interest. Mr. Suga is scheduled to hold talks with Prime Minister Nguyen Xuan Phuc and pay courtesy to Vietnam's senior leaders.
Mr. Suga's visit took place in the context of thriving Vietnam-Japan relationships, and Japan continues to be Vietnam's leading economic partner. Japan is the leading ODA provider to Vietnam, the second largest investor and the fourth largest trading partner of Vietnam.
Regarding trade, the total import and export turnover in the first 9 months of 2020 reached $28.6 billion, with imports of $14.6 billion (up 3.1% over the same period of 2019) and exports $14 billion.
Japan has 4,595 valid FDI projects in Vietnam with a total registered investment capital of $59.87 billion, ranking 2nd among 136 countries and territories investing in Vietnam.
In 2019, the number of Japanese tourists to Vietnam reached 951,962 people, ranked third, up 15.2% over the same period last year.
Since the beginning of 2020, the Covid-19 epidemic has affected the extensive strategic partnership between Vietnam and Japan in many fields. However, the two countries still maintain exchanges of high-level and various levels in many forms.
Vietnam-Japan ties a model of win-win partnership: Diplomat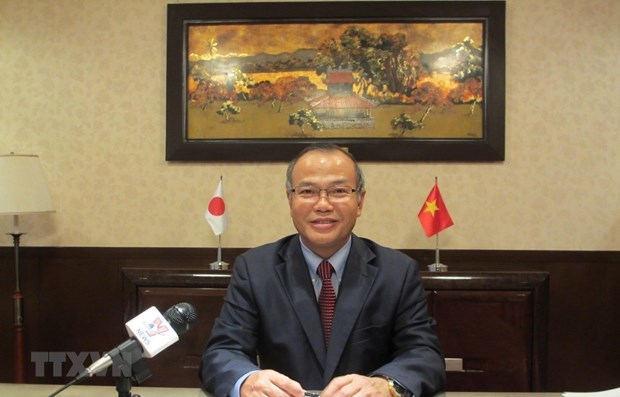 Vietnamese Ambassador to Japan Vu Hong Nam (Photo: VNA)
The Vietnam-Japan relationship has become a model of friendship and win-win partnerships, creating a foundation for cooperation in ensuring stability and peace in Southeast Asia and beyond, Vietnamese Ambassador to Japan Vu Hong Nam has said.
He made the statement in an exclusive interview with Vietnam News Agency (VNA) correspondents in Tokyo ahead of the visit to Vietnam by Japanese Prime Minister Suga Yoshihide, which is being made at the invitation of Prime Minister Nguyen Xuan Phuc.
Slated for October 18-20, the visit will mark the second time Vietnam has been selected by a new Japanese PM as their first overseas destination upon taking office.

According to Ambassador Nam, PM Suga's decision to visit Vietnam and Indonesia during his first overseas trip expresses Japan's regard for the Southeast Asian region.
The PM's policies towards Vietnam will be a continuation of Japanese policies over the years, especially under PM Abe Shinzo's administration. Nearly 50 years since the establishment of bilateral diplomatic ties, Vietnam and Japan have become trustworthy partners in an extensive strategic partnership for peace and prosperity in Asia. Japan has made important contributions to Vietnam's economic growth and vice-versa, the diplomat said.
He noted that relations have expanded strongly over the last decade and more, especially during the administration of PM Abe. All indicators on bilateral cooperation rose strongly, especially in the fields of investment, trade, and people-to-people exchange.
Some 500,000 Vietnamese people are now living in Japan, making it the largest foreign community in the country.
Japanese investors, meanwhile, consider Vietnam an attractive, reliable, and safe investment destination. Japan now stands as Vietnam's second-largest investor, with committed investment of over 60 billion USD.
The ambassador expressed his belief that with Japan's policy of diversifying supply chains, more Japanese investors will come to Vietnam.
Regarding the major agenda items at the upcoming meeting between the Vietnamese and Japanese PMs, Ambassador Nam said they will discuss a wide range of issues relating to bilateral ties, including measures to continue reinforcing and developing bilateral economic ties.
At the same time, amid emerging challenges in Asia and Southeast Asia in particular, they will exchange viewpoints on security and political matters as well as diplomatic and cooperative relations in the world.
They will also discuss cooperation in COVID-19 prevention and control, especially the re-opening of the border and commercial flights between the two countries, to maintain and expand bilateral trade, economic exchange, and people-to-people contacts.
The ambassador said he expects the Japanese PM's visit will be fruitful, creating an important milestone in political-diplomatic relations between the two countries.
Thanh Nam

Japanese Prime Minister Suga Yoshihide will pay an official visit to Vietnam in the very near future at the invitation of his Vietnamese counterpart Nguyen Xuan Phuc, Foreign Ministry spokesperson Le Thi Thu Hang affirmed on October 15.