Korea menswear designer to join Fashion Week
Zio Song, known for men's fashion in South Korea, will showcase his latest creations for Spring-Summer 2015 season to local audiences at the first Vietnam Int'l Fashion Week (VIFW) from December 1 to 6 at the Gem Center in HCMC's District 1.
The event will also be attended by Italian designer Antonio Grimaldi, duo Livia Stoianova and Yassen Samouilov from France, Frederick Lee from Singapore, Tamae Hirokawa from Japan, Thai designer Roj Singhakul, Tsolmandakh Munkhuu from Mongolia and Vietnam veteran designer Nguyen Cong Tri who was acknowledged early this year as a member of the Singapore-based Asian Couture Federation (ACF).
Some local popular fashion designers like Adrian Anh Tuan, Chung Thanh Phong, Hoang Hai, Hoang Minh Ha and Ly Giam Tien, who won the Project Runway Vietnam contests in 2012 and 2013, Le Thanh Hoa, Li Lam and Paris-based Vietnamese designer Thanh Nga are also expected to show up at the event.
VIFW is being co-organized by HCMC-based Multimedia JSC who has produced some popular fashion reality shows like Vietnam's Next Top Model and Project Runway and FIDé Fashion Weeks established in 2011 in Singapore consisting of Men's Fashion Week, Women's Fashion Week, French Couture Week and Asian Couture Week.
"We will invite international media to Vietnam to promote not only this fashion event but also the image of the country to the world," said Le Thi Quynh Trang, CEO of Multimedia JSC.
The opening night of the VIFW on December 1 is where attendees can admire a combination of fashion and gastronomy and meet with some well-known designers and celebrities.
Further information can be found at www.facebook.com/VNIFW.
Heavy Tiger shows girl power in rock
Rock 'n' roll band Heavy Tiger from Sweden promises to stir up a concert tonight at Cargo Bar in HCMC's District 4 at 8 p.m.
Consisting of guitarist/singer Maja Linn, drummer Astrid Carsbring and bassist Sara Frendin, the band was formed in 2010 when the girls turned 17. Heavy Tiger has staged performances all over Scandinavia and in the UK. Their original songs and performances are inspired by KISS, Thin Lizzy and The Clash.
Local rock band WhiteNoiz will also share the stage with Heavy Tiger.
Tickets are priced from VND100,000 per person (for valid student ID card) to VND200,000 per person. Cargo Bar is located at 7 Nguyen Tat Thanh Street, District 4, HCMC.
Pop star My Tam stages free concerts
Pop singer My Tam will launch a free "Heartbeat" live concert for students at Military Zone 7 Stadium in HCMC's Phu Nhuan District on Sunday and another at Hang Day Stadium in Hanoi on November 23.
Between 20,000 and 30,000 people are expected to come to each concert night where Tam will present her hits in the music career. Veteran musician Le Quang and young composer Tam Vinh will remix some old songs.
Especially, Tam will sing a new song dedicated to the show and demonstrate her dance moves choreographed by Vietnamese Canadian John Huy Tran, So You Think You Can Dance 2012 winner Lam Vinh Hai, and members of MTE dance group.
Exhibition highlights Ho Chi Minh's life in Russia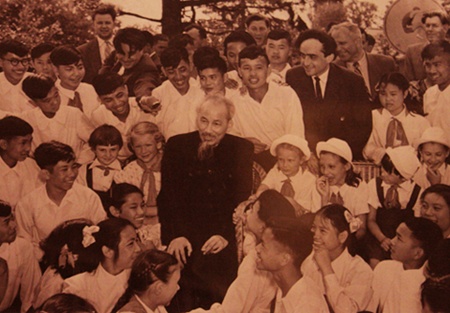 More than 200 documents, photographs and objects related to late President Ho Chi Minh's activities in Russia are on display at a new exhibition
in Ha Noi.
The exhibition focuses on Ho Chi Minh and his journey to Russia to find a way to liberate Viet Nam; the friendship between Viet Nam and the Soviet Union during the time Ho Chi Minh was President (1945-1969); and the Russian people's sentiments towards the Vietnamese leader.
"Some of the objects and photos on display here are very precious and have been preserved for more than 90 years at the Federal Archival Agency of Russia. This is the first time they are being displayed in Viet Nam," said Vu Thi Minh Huong, head of the Vietnam Records and Archives Association.
"We hope that the exhibition helps the public to know more about the challenging and revolutionary life of Ho Chi Minh and his efforts to find a way to liberate Viet Nam," she added.
The event aims to highlight the late President's diplomatic strategies, consolidate the traditional relations between Viet Nam and Russia, and enhance the public's understanding of the role of archives in building and protecting the nation.
The exhibits also reflect the friendly relations between the Vietnamese and Russian parties and people, and the Russian people's support for Ho Chi Minh.
"Ho Chi Minh is a great example for national liberation movements in the world. He devoted his whole life to the liberation of Viet Nam and made tireless efforts for world peace and human progress," said Andrey G Kovtun, Russia's Ambassador to Viet Nam.
The exhibition, entitled "President Ho Chi Minh and Russia – Archives and Records", is being jointly organised by the Vietnam Records and Archives Association and the Federal Archival Agency of Russia as part of the celebrations for the 97th anniversary of the Russian October
Revolution (1917-2014) and the 65th anniversary of the establishment of diplomatic relations between Viet Nam and Russia (1950-2015).
The exhibition will run at the Ho Chi Minh Museum, 19 Ngoc Ha Street, Ba Dinh District, till December 5.
Couples to run for 'love of the sea'
As many as 500 couples will hold hands for a collective colour run and then clear rubblish from Ha Long Bay in the 2014 Run for Love of Sea and Islands.
The northern province of Quang Ninh's authorities organised the event, which will take place at Bai Chay tourism site near Ha Long Bay.
The event is part of the 20th anniversary celebration of Ha Long Bay's title as a UNESCO World Natural Heritage site.
It will also promote a project encouraging young people to settle down in deserted islands.
Conference spotlights historical book
A conference about a French book which reveals the true story about the patriotism of Vietnamese soldiers and workers in France during the
First World War will take place at the library of HCM City's Institute for Cultural Exchange with France (IDECAF) tomorrow from 6pm.
The book Immigres de Force, les Travailleurs Indochinois en France 1939-1952 (Immigrants Force, the Indochinese workers in France 1939-1952) will be presided over by Prof Ha Minh Hong, former dean of the history faculty at HCM City University of Social Sciences and Humanities, and translator Tran Huu Khanh.
Written by French journalist Pierre Daum and released in 2009, the book leaped to fame, then was reprinted several times, adapted into film, and was later the subject of an exhibition and conference in France.
Entrance is free. The discussion will be in Vietnamese.
Asian Food and Culture Festival 2014 in Ukraine
The Asian Food and Culture Festival 2014 took place in Ukraine House, Kiev on November 8 following the initiative of embassies of Vietnam, Malaysia, Indonesia, the Republic of Korea, Japan and Pakistan.
The Festival is organized for charitable cause with the aim to enhance and strengthen people-to-people contacts and also for the promotion of cultural relations between participating Asian countries and Ukraine. Through this event, it is hoped that Ukrainians would be interested to experience and better understand the uniqueness and diversity of Asian food, culture, and arts.
Addressing the ceremony, Vietnamese Ambassador to Ukraine and Moldova Nguyen Minh Tri emphasized that the festival helps to reinforce friendship and solidarity among ASEAN countries in general and between ASEAN and Ukraine in particular in the lead-up to the establishment of ASEAN Community in 2015.
The Vietnamese stall at the festival is decorated with images of traditional culture. Vietnamese traditional dishes such as nem (spring roll), bánh cuốn (steamed rice rolls) and súp nấm gà (chicken mushroom soup) are also displayed.
Visitors also enjoyed an Ao Dai (Vietnamese traditional long dress) fashion show performed by Ukraine's students who are studying Vietnamese, a conical hat dance of Vietnamese students and a singing performance of Vietnamese expatriates in Odessa.
In 2015, the Vietnamese Embassy in Ukraine will be responsible for ASEAN activities in Ukraine, including the Asian Food and Culture Festival.
Vietnam's ancient masterpieces on display
As many as 60 sacred animal sculptures from the Ly, Tran and the later Le dynasties are being showcased at an exhibition on Vietnam's ancient feline masterpieces in Hanoi on November 7.
The exhibition, the first of its kind, is jointly organised by the Vietnam Fine Arts Museum and Nam Dinh Museum, with a view to introducing and popularising the nation's art heritage and providing an opportunity for the public to learn more about two traditional holy animals: lion and Nghe which is a fictional creature with lion-like head, long tail and dog-like body.
Speaking at the opening ceremony, the Director of the Vietnam Fine Arts Museum said the exhibition aimed to increase the nation's awareness of Vietnam's unique spiritual artistic heritage at a time when foreign art influences were starting to displace Vietnamese art.
Most of the objects on display at the exhibition belong to the Vietnam Fine Arts Museum and Nam Dinh Museum.
A number of objects on the beauty of Vietnamese spiritual art ranging from the Ly to Nguyen dynasties also feature in the exhibition.
An interactive education programme, including a variety of creative activities, was developed in order to boost students' knowledge and foster respect for the country's traditional cultural heritage.
The exhibition is being held at the Vietnam Fine Arts Museum, 66 Nguyen Thai Hoc Street, Ba Dinh District, Hanoi, until November 17.
Youth dance to promote kindness
As many as 600 young volunteers will take part in a special programme named Dance for Kindness 2014 which is scheduled for November 9 at Vincom Royal City (10am) and Indochina Plaza Hanoi (3pm) in respond to World Kindness Day.
The global event, initiated by Life Vest Inside, will be taking place in more than 80 cities of 30 countries.
Accordingly, on the same day, participating volunteers across the world will join FreezeMob and Flashmob with the aim of filling the world with kindness, trust, hope and love.
In addition, they will present flowers made from recycled papers and card messages to each other.
According to the organising board, the event contributes to promoting beauty and kindness which is becoming a luxury in modern life.
Dance for Kindness 2014 in Vietnam is co-organised by Do Tank Centre of Education Technology, the Institute for Studies of Society, Economics and Environment (iSEE), and other charity organisations.
New York- based Life Vest Inside, is a non-profit organization with a mission to empower & unite the world with kindness.
National Tourism Year 2015 plans underway
A conference on November 8 was held jointly by the Ministry of Culture, Sports and Tourism and the Thanh Hoa province People's Commitee to discuss preparations for the upcoming National Tourism Year 2015 festivities.
Under the theme 'Connecting World Heritages', a diversity of activities highlighting the nation's cultural values and its eight world cultural heritage sites are in the works.
Speaking at the conference, Minister of Culture, Sports and Tourism Hoang Anh Tuan spoke highly of the efforts of Thanh Hoa province and other provinces in preparation for next year's National Tourism Year.
He emphasised the need to raise funds to support the event from the public and private sectors and called for integration of local and international cultural and sports programmes at the event.
In addition, there should be exhibitions to display the country's unique cultural and historical products, he said.
He called for greater efforts to publicise the event, upgrade accomodations, historic relics and ask relevant localities to finalise art programmes for the opening ceremony.
Ha Long Bay enters world's 20 geological wonders
Ha Long Bay in the northern coastal province of Quang Ninh has been listed in the 20 geological wonders of the world by travel guide website Rough Guides.
Ha Long Bay , which spans 1,553km2 and includes 1,969 islands of various sizes, was twice recognised as a UNESCO World Heritage Site in 1994 and 2000.
In 2011, Ha Long Bay outranked 261 other landscapes from all over the world and was voted one of the seven new natural wonders of the world.
The recognition acknowledges the bay's exceptional rock cave and limestone mountain system which took millions of years to form, as well as its outstanding biodiversity.
Other places on the list of Rough Guides include Lying areas Danakil (Ethiopia), Cal Orko stonewalls (Bolivia ), De l'Ankarana National Park (Madagascar) , Nitmiluk canyon (Australia); Brighstone Bay (UK) and Antelope Canyon (the US).
Rough Guides is a leading publisher of travel and reference information known for its 'tell it like it is' attitude, accurate, up-to-date content and informed contemporary writing.
Vietnam's Phu Quoc Island among world's top winter destinations
Phu Quoc Island in Vietnam has been cited among the world's top winter destinations for 2014 thanks partly to its deep sand beaches and warm waters.
The Vietnamese National Administration of Tourism said Wednesday on its website that the island – known as the Southeast Asian country's tourism haven – ranked third in a list of 15 recommended destinations for the best winter trips this year released by U.S. magazine National Geographic Traveler's website, which promotes beautiful landscapes around the world.
"Some of Vietnam's best beaches are on heart-shaped Phu Quoc Island... Located in the Gulf of Thailand ... Phu Quoc once housed the so-called 'coconut tree prison' where prisoners of war were held through 1973," the site said about the island.
"What's bringing international travelers and, so far, restrained development to Phu Quoc today are its warm, turquoise waters; secluded, deep sand beaches; and lush, mountainous interior (protected as a national park)," it explained when discussing why foreigners love the island.
Renowned globally as a paradise-like island, Phu Quoc covers 589.23 km2 off the southern province of Kien Giang. Administratively speaking, the island is classified as a district administered by the Kien Giang administration.
Besides giving general information about Phu Quoc, National Geographic Traveler's website also recommended that travelers visit it from December to March, which is the dry season with ideal average daytime temperatures between 77°F (25°C) and 82°F (28°C).
Other suggestions including accommodation and must-eat food were also cited on the site.
"Pull up a plastic chair and sit under the stars at the bustling Dinh Cau Night Market to try whatever local fishermen hauled in that day," it said.
National Geographic Traveler ended its description with a fun fact about Phu Quoc that the island is Vietnam's nuoc mam (fish sauce) capital.
Its signature (and powerfully pungent) sweet-sour Phu Quoc sauce is the essential Vietnamese condiment and, in 2013, became the country's first product to receive European Union Protected Designation of Origin (PDO) status.
The Phu Quoc fish sauce production line has been developed for 200 years, and this specialty of Vietnam has become more popular at home and abroad since it is exported to the U.S., EU, and a number of Asian countries.
On February 14 this year, Phu Quoc Island welcomed its first international flight, carrying 290 Russian passengers.
The island's new airport, which was officially opened in 2012, is capable of handling 2.6 million visitors and expected to serve its development for the next 15 or 20 years, according to Dao Viet Dung, director of Phu Quoc airport.
VNS/VOV/VNA/SGT/SGGP