Lack of semiconductor chip to affect car sales
The global vaccination led to a positive economic outlook, resulting in faster and stronger demand for car.
Lack of semiconductors will likely affect car production and eventually flatten sale number in the second and third quarters of this year, according to Viet Dragon Securities Company (VDSC).
"The sale figure, however, will increase again in the fourth quarter when supplies are restocked," stated the firm in a note.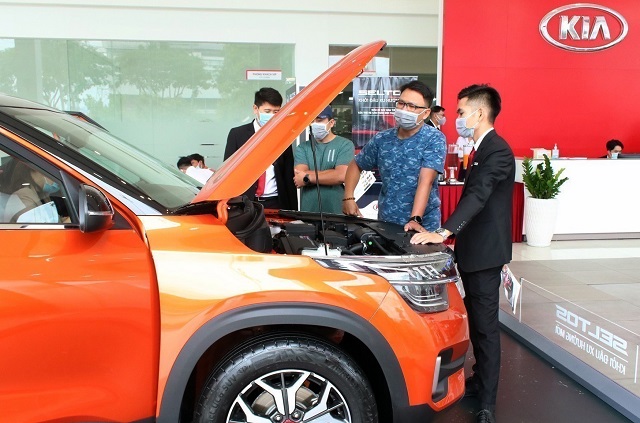 Customers at a showroom in Hanoi. Photo: Le Nam
According to the report, the Covid-19 outbreak has caused major impacts on the global economy, in turn leading to a low demand for cars. By contrast, the working from home approach results in higher demand for electronic devices such as smart-phones and laptops, prompting semiconductor factories to convert their production lines towards chips for electronic devices.
In 2020, global sales of chips for cars decreased by 9% year-on-year, while sales of  chips for electronics increased by 11%.
However, the global vaccination led to a more positive economic outlook, resulting in faster and stronger demand for car. At the same time, both cars and electronic devices are increasingly relied on technology using semiconductors, leading to a growing number of chips used in each car.
"Given the current context, it is expected that there would be a shortage of semiconductor chips to produce cars, but semiconductor companies expect the scarcity will be resolved as early as the fourth quarter of 2021," noted the report.
Meanwhile, car prices are set to be unchanged in the future, as the costs of raw materials, including steel, are rising, not to mention high demand for cars due to the positive prospect of Vietnam's economy, and low pressure from car dealers to liquidate inventories.
Data from the Vietnam Automobile Manufacturers' Association (VAMA) revealed sales number in the first quarter rose by 32% year-on-year to 66,191 units.
From the total, passenger car sales had a strong recovery with an increase of 34% YoY, reaching 49,428 units, as the report pointed to a number of reasons for such growth, including support for registration fees by car manufacturers for customers as the policy of supporting 50% of registration fees from the Government ended last year; 2021 is the first year in a five-year circle that new car models are launched; Vietnam's effective Covid-19 containment helped the economy to grow, thereby contributing to boost the demand.
SSI Securities Corporation in its recent study expected there would be an upward trend in Vietnam's automobile industry with a 16.3% year-on-year growth rate in terms of car sales number, citing high demand from the domestic market for cars.
SSI added Vietnam's income per capita is on the rise and set to grow at an average of 8-10% in the next decade.
"Compared to regional countries, the current income per capita is fast approaching to a point of bursting demand for cars," asserted the SSI, adding cars would soon move from the luxury category with a passenger vehicle density of 34 per 1,000 to a more ordinary one with a density level comparable to countries in the region.
Hanoitimes

Automobile sales in Vietnam are forecast to reach 1 million units a year by 2025, opening up substantial opportunities for businesses to develop a supporting industry for the sector.