2020 was a tough year for Vietnam's real estate market in general and HCM City market in particular. The Covid-19 pandemic dealt a strong blow to real estate firms, while legal problems lowered supply.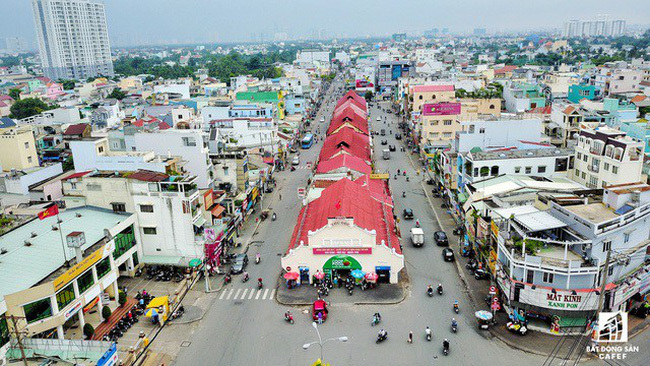 However, land and house prices in HCM City have been rising, especially in the eastern part of the city, which will become Thu Duc City in the future.
Thu Duc City will be established by merging districts 2, 9 and Thu Duc. It will be the first city to be under the jurisdiction of a centrally-run city in Vietnam.
Lam, a well-known broker in Thu Duc district, said the prices began escalating when people heard that a new city will be formed from the three districts in the eastern part. The sharpest price increases are seen in the wards of Binh Tho and Truong Tho in Thu Duc district.
A 60 square meter street-facing house on Nguyen Van Ba street in Truong Tho ward sold for VND2 billion earlier this year. The new owner two weeks later sold the house to another man for VND2.6 billion.
Binh Tho is the central ward in Thu Duc district.
Meanwhile, rumors spread that Truong Tho would be the new administrative center of Thu Duc City in the future. The land prices there have been escalating.
Not only central wards, but wards in the periphery of Thu Duc district, including Linh Trung, Linh Xuan and Hiep Binh Phuoc, are witnessing 'land fever'.

The news about the establishment of Thu Duc City has pushed up land and house prices in the eastern part of HCM City.
"People are rushing to buy land for investments, which increases the prices every day," Lam said.
The land and house prices on the main roads of district 9, including Nguyen Duy Trinh and Nguyen Xien, have surged to VND70-100 million per square meter, while the remaining areas are VND30-60 million.
The land prices in district 2 have also risen. The owner of a street-facing house on Luong Dinh Cua Road in Binh An ward is offering it at VND12 billion. The price is three times higher than the average price of VND50 million per square meter in district 2 reported by a market analysis firm in 2014.
Not only land and houses, but apartments have also seen prices rising.
One man said he has been looking for an apartment with two bedrooms priced at VND2 billion or lower for the last year. However, he has not found one as prices keep going up. His family is still living in a rented house and paying VND6 million monthly.
He admitted it was very difficult to buy an apartment in Thu Duc district, let alone in the central district. In the suburban districts such as Binh Tan and Binh Chanh, the apartment prices have risen to VND30 million per square meter.
The HCM City Construction Department reported that only 26 housing projects in HCM City, comprising 15,087 apartments, can meet their capital requirements. Of these, 5,339 high-end apartments have selling prices of over VND40 million per sq meter and 9,585 mid-end apartments at VND20-40 million per sq meter.
Meanwhile, the supply of low-cost apartments, priced at below VND20 million per square meter, is low with just 163 products. The figure was 12,366 apartments the same period last year.
According to Le Hoang Chau, chair of the HCM City Real Estate Association, between 2018 and 2020, the HCM City Real Estate market saw a sharp fall in supply, project size, and number of transactions.
The decline has made it difficult for middle- and low-income earners in urban areas and migrants to access housing products.
Chau noted that affordable supply is very low, while demand is very high in this market segment. The current prices are beyond the affordability of lower average income earners. It is nearly impossible to buy houses at prices of VND1.5 billion and lower.
A Q3 report from the Vietnam Real Estate Broker Association showed that affordable apartments are not available now in HCM City, while apartment prices increased by 15-20 percent in Q3 compared with Q2.
Meanwhile, a report from the Ministry of Construction says that apartment prices in Q3 increased by 0.35 percent compared with Q2, while house prices rose by 0.26 percent. 
Ho Van

HCM City must ensure transparent governance before establishing a "new city within a city" from the proposed merger of three city districts, experts said on Wednesday at a seminar in the city.

After merging districts 2, 9 and Thu Duc to form Thu Duc City, 399 officers in HCM City would become redundant.