Land clearance woes delay 'black to green' plans
VietNamNet Bridge – Authorities say they want to replace the "black" of coal mines with "green" tourism projects, but many residents in Quang Ninh Province are yet to come on board.
VietNamNet Bridge – Authorities say they want to replace the "black" of coal mines with "green" tourism projects, but many residents in Quang Ninh Province are yet to come on board.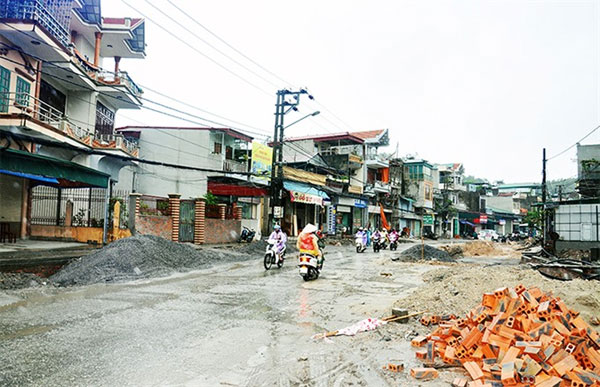 A site marked for land clearance to serve a road upgrade project underway in Cao Thang Ward, Ha Long City. — Photo baoquangninh.com.vn
Many have refused to move, demanding getter relocation terms including more compensation.
The province recently lauded several households who'd given up their land earlier than scheduled for the projects.
"I was excited to learning that our land had been chosen for a large-scale construction. When we received information about site clearance, our family quickly reached consensus, handed over the land and moved to a shelter arranged by the district authorities," said Nguyen Thi Lan, a resident of Bach Dang Ward, Ha Long City.
"We will move to apartments in a resettlement area in a year, local authorities have promised," she said.
Lan's family was one of 33 households who were officially lauded last month by the Hạ Long City People's Committee in Quang Ninh Province. These families had handed over their land earlier than the specified time to the investor of Bach Dang Ward's Building and Office Complex project.
Quang Ninh has been implementing a large-scale land clearance campaign for key transportation, entertainment and service projects, said Pham Van Cuong, Deputy Director of the provincial Department of Natural Resources and Environment.
"We, authorities and the people of Quang Ninh, have big coal mines and the UNESCO-World Heritage site of Ha Long Bay, and are on the way to build a green-growth strategy for the whole province, one that replaces the black colour of coal mines with the green of tourism projects," Cuong told reporters recently.
"We will speed up construction in resettlement areas to create the best conditions for residents to settle down," he said.
Many households, however, are not convinced. They are still weighing their options, and not actively co-operating with authorities in the work of land clearance.
"Several families with houses in land clearance areas have ignored the provincial authorities' policy. They have complained and are filing cases against local authorities regarding compensation," a Ha Long official said.
He said these families should follow the example set by the 33 households, in order to create favourable conditions for the project that will contribute to the city's modernisation and serve the residents themselves.
Bach Dang Ward's VND1.3 trillion (US$59.1 million) project, invested in by the Ha Long Myway Hotel and Investment Joint Stock Company, covers 1.94ha of land that has a three-storey apartment block built in the 1960s and 70s.
The provincial People's Committee has officially approved a project to upgrade the seriously-degraded residential apartment complex. A total of 229 households affected by the project's development have to be moved.
Ha Long City authorities promulgated a decision on August 24, 2016 dealing with support for households affected by site clearance for projects.
Besides, Deputy Environment Minister Pham Van Cuong also said that his ministry had examined and resolved thoroughly the concerns expressed by affected households.
However, on September 10, the deadline for handing over the land to the investor had passed, and several households hadn't moved.
More force
"For the mutual benefit of the community and the city's modern development, we think that those remaining should co-operate and agree to move early, and if not, more forceful measures may become necessary," Cuong said.
Besides real estate developments, several important transport projects are underway in Quang Ninh, including the Ha Long-Van Don Expressway and the 57km-long 18A Uong Bi-Bac Ninh road upgrade.
These projects affected many residents in Ha Long and Cam Pha cities as well as Hoanh Bo District.
Authorities in these three localities have been making headway in land clearance and compensation thanks to the role of negotiators selected from local mass organisations.
Bui Van Quang, deputy chairman of Cua Ong Ward's Fatherland Front Committee in Cam Pha City, provided detailed information to traders in the Cua Ong Temple about problems involved in land clearance policy for transport projects. He forwarded the issues raised in these meetings to local authorities and other relevant offices.
Cam Pha City has handed over 14.7km out of 28km for the 18A Highway upgrade project in the Ha Long-Mong Duong section, and 14.4km for the 20km Ha Long-Van Don Expressway project. The city has become a leading locality in the handover of land for projects.
An official with the city's Land-fund Development Centre under the Department of Natural Resources and Environment said that every staff member was mobilised in order to speed up payment of compensation to households during June and July, in order to meet the deadline.
However, Ha Long City officials have struggled with providing compensation for land clearance.
It has only been able to handover to investors 1.2km of 2.8km needed for the 18A Ha Long-Mong Duong project, and 4.5km of 7.8km for the Ha Long-Van Don project.
A Hoanh Bo District official said they recognised that site clearance compensation was an important factor in accelerating projects.
The district has handed over 12km of 28km for the Ha Long-Van Don project.
During the land clearance process, district authorities were faced with the big problem of removing tombs and resident's claims that the level of compensation was inadequate, the official said.
The Ha Noi–Hai Phong–Ha Long-Van Don route is expected to reduce traffic congestion and shorten travel times from Ha Noi to Ha Long City and the Van Don District Special Economic Zone.
It is also expected to boost investment from both international and domestic investors, promoting social-economic development in Quang Ninh and the northern key economic region.
Local authorities are hoping the remaining households will accept their arguments and hand over their land to enable faster completion of several projects.
Nguyen Van Ha, a resident of Mong Duong, said, "Many families including mine always follow the law. We see that the policy of removing households from old and degraded residential apartments is correct.
Initially, we did not agree with the compensation and support offered. However, we have gradually understood the State's policy to move residents to resettlement areas. We're happy to wait for some time to move into a new house."
VNS
Kieu Van