In its Land Transparency Study released at a ceremony yesterday, the World Bank ranked southern Can Tho City number one in Viet Nam for providing comprehensive, easily accessible land-related information through its website.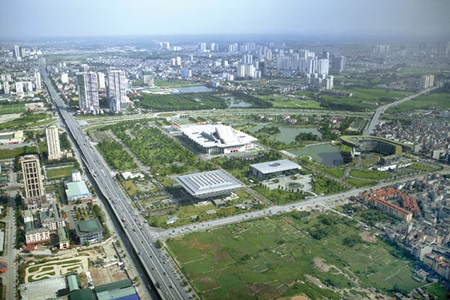 Central Thua Thien Hue Province placed second, Ha Noi third and HCM City fourth. Mekong Delta Soc Trang Province ranked 63rd.
A group of experts from the World Bank and the Development and Policies Research Centre conducted the study between late 2013 and early 2014 in 63 provinces and cities throughout the country.
Tran Thi Lan Huong, a World Bank governance expert, helped conduct the study. She said she and her colleagues analysed 63 provincial websites and visited provincial, district and commune government offices in 63 localities to ask for legally available land information.
Offices should be able to provide land-related information on administrative procedures; land use plans; urban planning; compensation, support and resettlement; land allocation and leases; and land-related charges, fees and taxes, she said.
Central Thanh Hoa Province ranked first in providing land-related information at its physical office, according to the study. HCM City ranked 41st, Ha Noi ranked 56th and Dien Bien ranked 63rd.
The study found that reforms in recent decades have made information on land issues more publicly available, but in many cases public officials still failed to provide the information.
Huong said that in some localities, staff at commune-level government offices did not know about obligation to provide land-related information for people on site as regulations.
According to the World Bank, the experts encountered problems with attitude, capacity and leadership. Some officials simply refused requests or demanded letters of authorisation. At the commune level, officials were unavailable during working hours or said they lacked the requested information.
How to improve
The study suggested recommendations for improving localities' disclosure practices, and all provinces received information on good disclosures practices used in different offices so they could learn from one another.
"This means that it is now clear exactly what a province or district or commune needs to do to improve transparency," Huong said.
Victoria Kwakwa, the country director for the World Bank in Viet Nam, said enhancing transparency in land management was critical for more efficient and sustainable use of Viet Nam's land resources.
"The study is imperative for Viet Nam," said Nguyen Manh Hien, deputy minister of Natural Resources and Environment.
Next year, the Government would issue a decree listing the land-related information government offices should be able to provide, he said.
Ha Noi red book issuance hits record high
Data from Ha Noi Department of Environment and Natural Resources (DENR) show that the capital city has issued more than 40,000 house ownership certificates, or red books, this year.
People with red books are granted land-use rights and certificates of ownership over houses and land-related properties. To date, DENR has revealed that the number of red books issued has reached 101.25 per cent of their plan.
The number of red books that Ha Noi issued in 2014 alone is noticeably higher than the combined quantity of those granted in earlier years. DENR's statistics reveal that prior to 2014, Ha Noi had granted only 36,110 red books in total.
According to Nguyen Huu Nghia, DENR's deputy director, the record high number of issued red books is attributable to the public administration reform implemented by the department this year. These reforms include clear public announcements of regulations on red book issuance and the rights and responsibilities of relevant branches. DENR also issued relevant information to avoid overlap in the implementation of the regulations.
More importantly, the screening period for red book application files was shortened from 52 days to 20 days.
According to the department leader, the red book issuance system will still face future difficulties since the demand for red books mostly come from buyers of new residential projects.
Moreover, it takes time to check the legal status of projects and determine project implementation speed. Time should also be allocated to inspect whether the investor has violated any city regulation on environmental protection and construction planning.
VNS/VNN